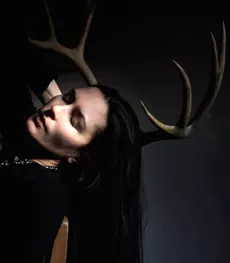 Jesse Sykes looks like a stunt double for a young Emmylou Harris, and over the course of her decade-long career, she has almost sounded like she wanted to play that part. But with guitarist Phil Wandscher and her evolving band the Sweet Hereafter, Sykes has deliberately pushed against country folk to explore sounds that could be loosely described as psychedelic, though the colors are dark, illuminated only in chiaroscuro.
Marble Son, the fourth album from Jesse Sykes and the Sweet Hereafter, is by turns heavy and weightless, stormy and hypnotic. The songs may be Sykes' personal hejira but the band spirits them away on squalls of guitars, flickering harmonies and flares of ecstatic improvisation.
I caught up with Sykes as the Seattle-based band (though Sykes now makes a home in Ames, Iowa) traveled across the Midwest, heading towards St. Louis for a show at the Old Rock House (1200 South Seventh Street, 314-588-0505) on Tuesday, November 22.
Roy Kasten: Tell me how you first met Phil.
Jesse Sykes: That was back in '98. Phil had left Whiskeytown, due to some internal friction. It was in this neighborhood in Seattle called Ballard, the Tractor Tavern, the center of the universe for Americana back in the day. I was there with a girlfriend, we were getting ready to leave, and Phil sat down and offered to buy us a drink. We just started talking and the rest is history. It was a chance meeting in a sense.
The two of you are no long romantic partners.
We're not. We ended it three years ago officially. It's been an interesting journey. Without sounding self-aggrandizing, we're just unique people. We're not seemingly well-adjusted, indie-rock archetypes. We've given each other a lot of room to be who we are. Anyone who knows anything about our band knows that it's always been volatile. We don't hide it. When we were together the intensity was just clear from the get-go. So much of our relationship was our collective vision, our passion for what we did. That never suffered. We guard it like a couple of Dobermans; we weren't going to let that part of us die. There's a familial love there. I feel strongly that you don't just make a bunch of records with someone and have a life and walk away, just because one aspect of that love has ended.
It's been four years since your last album. Can you talk about the music you've been exposed to since then?
For me, music started more stripped down, and there were a couple of country songs on each of the early records, but that was never the intention. Recently I did that collaboration with SunnO))) and Boris. We were in awe to some degree. I got to do a couple of All Tomorrow's Parties with them. You can't help but be inspired with those people, Boris especially. To be honest, there was so much subconscious fear that the whole thing would collapse, so any idea was up for grabs. I wasn't sure [Marble Son] would see the light of day, because we were going through some rough emotional times. That just made us fearless on an artistic level.
For me, life has to mirror what goes on sonically. I like to think of it more as an artist than as a musician. Life becomes more intense as you get older. A country folk song can't capture that. The parameters are too narrow. We're not reinventing any wheels here, but there were no parameters and that's what's important.
The album begins with one of the heaviest, longest tracks, "Hushed By Devotion." It's a statement, but could it be taken the wrong way?
You mean like flipping people off almost?
In the sense that this is a total break. You're not going to get what you got before.
For me that song had a classical element to it. It signifies a journey. Our records demand a commitment. They're not the kind of records you put on and get right away. You have to let them seep in. I don't want to sound arrogant. We're not always successful at everything, but this is what we shoot for. I can't take credit for that beginning, that weird harmonic thing. I think that's Phil's most elegant moment. It's a movement, Dionysian in a way.
The other song that's captivated me is "Birds of Passerine," which you wrote for Mark Linkous of Sparklehorse.
I was deeply affected by his death. It's one of the darkest, most tragic things. I can't even get my head around someone taking a shotgun and shooting himself in the chest. But the song is sort of minimalist. It's more about a feeling.
Are you still writing on the acoustic guitar?
Mostly, but when I show a song to Phil, he's always playing electric. Like on "Birds of Passerine," I will hear some notion of what I want it to be. It's not limiting to write on the acoustic. The song "Pleasuring the Divine," I came up with the chords, and it was like, "Great, we're ripping off Pink Floyd," but then Phil came up with the hook and it was something else. That song was born in one sitting, which always scares me, you know, if I didn't suffer over it. It's more about the music and the visceral aspect. It's not really a singer-songwriter song. It's just music. I had to let all that go. I'm more interested in the whole spectrum.
Your concerns on the album are mystical, evocative of mystery. One of the biggest pitfalls of what's called psychedelic music is that you can communicate those mysteries in sound, in music, but then, often, the lyrical content never captures that. The words just come across as absurd.
There's not much room for lyrics, for one thing. In the bigger, epic, expansive rock songs, there just isn't room. It's context. Back in 1967, when you had these "Leave It to Beaver" families and discovering sexuality, it was all about the energy, and you could have lyrics about lemons or whatever. But now it's a big problem. I'm conscious of this quandary. How do you make this kind of music, so that it's not just sunshine on meadows and honey dripping from a tree? It's got to be relevant.
I'm trying to find things emotionally in my life, at this age, living in this era. Like in that song "Servant of Your Vision," I like the idea that I've clearly proven that I've given my life up to my art. I'm 44 years old, I don't have health insurance, I don't really make a living, and my band has almost killed me. It's just honest. Love can jeopardize your path as an artist. Sometimes I want the safety of a normal life, someone to take care of me. But rock & roll, or any kind of art, you have to devote yourself and give up that day-to-day security.