Since 1996, The Conformists has been making music that has confounded the brain and put terror into the heart. Full of kinetic odd-timing, a calculated exercise in repetition, and disjointed melody, its music remains challenging and fresh. Sure to make any fan of U.S. Maple or Shellac take notice, this quartet has spent years designing a plan to destroy rock n roll.
Now after three full-length records, six different drummers, several U.S. tours, and most recently a European tour, the band is about to put an end to another chapter. Having put in fifteen years as a Conformist, soon-to-be ex-lead singer Mike Benker will be retiring from the band. As a founding member and integral part of the band's driving force, Benker leaves behind drummer Patrick Bolan, bassist James Winkeler, and guitarist Chris Dee. In honor of Benker's stepping down and celebration of the fifteen year anniversary, the Conformists will be playing two "good-bye" shows this weekend. The first on Friday, the 18th at the Schlafly Tap Room and the second on Saturday, the 19th at Chicago's Quencher's Lounge. Both shows are free and open to the public - Spelling Bee and Airport Elementary School will also play the St. Louis show.
We talked to Benker about his experience in the band, why he's ready to move on and what advice he has for aspiring musicians ("Get in the basement and play your asses off.")
Josh Levi: How did the band begin?
Mike Benker: It is pretty standard stuff really. It was 1995. Everyone we listened to were making horrible records at the time. Chris and I decided it was time to play stuff that we would listen to. We got our act together in fall 1996. We each brought in a childhood friend and wrote some songs. We were young and didn't know hardly anyone in bands and we did everything wrong the first time. We were clueless and young. We played bass through guitar amps. We tried to record ourselves and failed a lot at first. We tried to get shows and begged people to let us play at absolutely horrendous places. We handed out shitty demos and handed out flyers at gas stations. We tried open mic nights. One time we played open mic night at Panama Red's on Locust and we put out fliers that read "See the Conformists tonight and EVERY Monday night at Panama Red's" They coincidentally stopped open mic night after our first one.
We had no place to practice and would jump around practicing at people's parents' house. Our equipment got stolen by our drummer's idiot brother. We played wild shows and had a great time. We played a high school in New Baden and absolutely destroyed. We played the old Creepy Crawl like twice a month to 4 people at a time. We didn't care. We were having a blast.
When you initially started, what did you plan to establish/complete?
We have never asked each other what we want to sound like. Never. We all got together and this nasty rock music came out. When Tom joined he was a far superior drummer and he and Chris began messing around with song structure and off-time stuff. He helped make us solid and precise. We all evolved together.
Your lyrics are often abstract, yet personal. How do you approach writing lyrics?
In the early days we wrote songs to things that I had written and sometimes I found things that I wrote that fit the music. Then for a few years I faked it by singing nonsense along to the song until recording day and I made lyrics fit the nonsense. On None Hundred, I actually wrote specifically for the songs.
I sometimes have abstract ways to express something personal, too. Sometimes I reference things that only I will understand. I let people interpret them how they want to, though. If it means something really important to them, who am I to burst their bubble?
The band has been known for a wide array of pranks (shaving male pattern baldness into your hairline) and challenging performances (Airhorns at the Lemp Neighborhood Arts Center). As you look back over fifteen years of live shows, what have been your favorite/craziest/most notable performances?
Not a Conformists' show per se but we played as the Mellowfeathers at an event called Outside the Box, which was held in the Lemp Brewery and we covered the floor with porn magazine pages and handed out firecrackers to the crowd. We played with many half stacks and we were loud as hell. That shit got out of control fast. It was smoky and my eyes were burning and I was slipping on glossy naked ladies. It was awesome. People were everywhere.
That time we played that basement show in Milwaukee -- you were there -- with Corbeta Corbata was awesome. It was super packed and the crowd acted as one large sea of sweaty energy and I was being pummeled on the back while attempting to hold back the people -- unsuccessfully -- from crashing into the amps.
We had a great show in Amherst at Jack Callahan's place in 2010. Another one of those wild, fun basement shows that you constantly hope to have. I feel sorry for bands that want to play in legit generic rock clubs all of the time. How boring.
As the Conformists have served as inspiration for countless of testosterone-fueled fans, what local bands inspired you growing up?
In high school, I saw Fragile Porcelain Mice a bunch of times. They were my idea of "big time" for a while.
I wish like hell that I would have seen the Dazzling Killmen. I love those guys but I am just slightly too young to have seen them.
I am not sure if we were inspired by local bands until much later. We were friends with a lot of bad bands who sounded like Korn.
I see all sorts of great, inspiring locals now. It took a while, though.
What do you see wrong with the current state of St. Louis music? How can the St. Louis music scene improve?
Stop referring to itself. Stop wondering what is wrong with it. Play music with your friends. Go see other bands play. Book great out of town bands to play with your band and your friends' bands. Don't bicker and squabble amongst yourselves. It's whiny and tired. Play at places where people might hate you. Play with bands that are different than you. Play at places that might only let you play once. Stop pestering your friends to see your band every week. Just promote the big shows to make them bigger. Talk to your friends about your favorite local bands or one that they may not have heard of.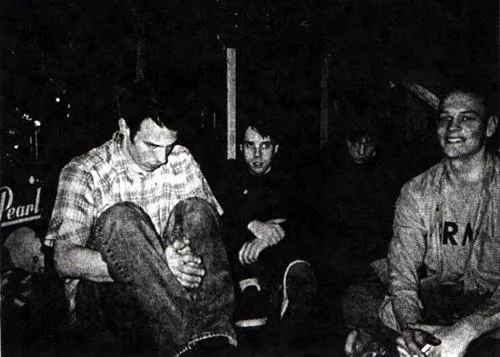 Courtesy of the Conformists
As all members of the Conformists proudly count Shellac as a favorite band, Why did you choose to record with Steve Albini?
We needed a big name producer to get that "pop" to the album when the single drops. So, naturally we looked in the phone book of famous people but Captain Lou Albino was busy.
Oh, and he helps badass bands make badass records.
After the release of your third album, numerous tours under your belt, and growing recognition in the U.S. and Europe, why are you leaving the band?
Because I think getting respect is selling out.
Actually, it's because both sides of my life were pulling apart in opposite directions for quite a while now. I was becoming the reason we didn't play out of town so much. I was the reason we said no to a lot of shows. I am sick of letting my friends down.
We had several good talks about where to go from here. I had said that they would have to throw me out before I would quit and that I would do it for as long as possible. I heard from a mutual friend that band members thought we were deadlocked because they didn't want to kick me out and I didn't want to leave. This opened my eyes because I realized that it would be way better for everyone to just walk away. I did fifteen years. It was a good run. I am leaving on top. Time to turn the page.....
Most people may not understand but most people are not Mike Benker
What does the future hold for the current Conformists line-up?
That is for them to decide. There is no more us, only them. I will be serving on the Executive Council for life, however.
Chris Dee will not compromise this band's quality one bit. There were times I thought my way was better but he was always right. You were always right.
I expect the culture of excellence will prevail.
What can fans expect from the anniversary show?
Possibly the second longest Conformists performance ever and Patty's margarita happy hour. Beards, mustaches, and unencumbered folks.
What advice do you have for aspiring musicians?
I have been waiting fifteen years for this question:
1. DO NOT PLAY LONGER THAN 35 MINUTES, TOPS. Leave people wanting more not less. The first Black Sabbath record is just under 38 minutes. Are you better than that record? Nope.
2. GET THE FUCK OFF OF THE STAGE. Grab your drums and move out of the way. When you set up, take as long as you want. You are burning up your 35 minutes. When you are chit-chatting about how you just weren't "feeling it tonight" while you remove wing nuts from cymbal stands, know that a band is ready to run you over. If you see another band helping you off the stage, that is a bad sign. Figure it out.
3. STOP FORMING BANDS AND TRYING TO FIGURE OUT HOW TO SOUND. Get in the basement and play your asses off. Write ten songs and play the shit out of them then plays some shows. Scrap seven of the songs and write more before you dare record. The first ten songs a new band writes are usually not that good. Keep the best three. Not all of your ideas are good, numbnuts. Stop recording and releasing everything.
4. IF SOMEONE SAYS "GOOD SHOW" SAY "THANK YOU". If you complain about your set to someone who liked it, you look like a douche. Don't be a whiner. Take the compliment and try harder next time.
I could go on all day, but I will try to keep this simple...
What is the one thing that you hope fans can take away from your music? What have you gained from your time in the band?
Try something different. Be selective with what you put out there. If you write 100 songs and only nine are top quality songs, then release the best five. You will get a reputation for being elite.
I am not a good singer but I made it work. I can perform and I will do it with gusto two more times. Be there or miss the boat forever.
The Conformists have always done whatever we wanted.