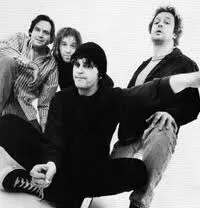 On Thanksgiving evening, after all of the turkey, pie and Pepto-Bismol, a group of local musicians will gather at Off Broadway to pay tribute to one of the most influential rock bands of the past two decades: Guided by Voices. The show will feature Bunnygrunt, Karate Bikini, Popular Mechanics, Finn's Motel and Warm Jets USA among others (the full lineup with set times is at the bottom of this post).
Guided by Voices isn't an obvious choice for a tribute show. The band is still active in some sense and irreverent frontman Robert Pollard would likely cringe at the idea. Though they've supposedly played their last show, they have a new album scheduled to drop in January and there are rumors of another to come in early summer. That said, we think it's a solid choice. GBV has a massive catalog full of tasty side dishes that hardcore fans can sing and bop along to, but which more casual fans can still easily enjoy.
We spoke with organizer and Bunnygrunt frontman Matt Harnish about the show via email. Apparently he had GBV on the brain in a major way.
Chris Bay: What do you think GBV's legacy will be?
Matt Harnish: I think they spread enough awful bliss that fans will always hear the revolution & their deeds are apt to outlive even those of Fertile Jim. I definitely give these large-hearted robot boys a gold star.
What are your thoughts on the band's recent reunion, upcoming album, and imminent ending?
Being a big fan of the pigpen, I think it was perfectly reasonable for them to remake the young flyer, & it doesn't take the Teenage FBI to figure out it would be a world of fun. I'd be sad if I lost it again, but I wouldn't go kick an elf or anything.
What was it about their music that resonated with you when you first heard it?
I'm no scientist, but something about the quality of their armor just always crushed me.
Robert Pollard is famously prolific outside of GBV. Is his solo and side project material off limits for this show?
The man isn't called "aerodynamics" for nothing. I figure every hunting knife he has is equally valuable.
The show is on Thanksgiving Day, but it's often noted that the day before Thanksgiving is the biggest drinking day of the year. Wouldn't that make it a more appropriate day for the show, given the band's well-documented habit of consuming large amounts of alcohol on stage?
By 8:00 Thanksgiving night, the game of pricks will be over, & most hot freaks'll be smothered in hugs & ready to cut-out, which should work out pretty well for a salty salute like this.
If the band's catalog were Thanksgiving dinner which song would be the turkey and which song would be the weird, green, chunky salad thing your grandma always makes?
Turkey? I'm partial to buzzards and/or dreadful crows.
Show schedule:
8:30 Bunnygrunt 8:50 Karate Bikini 9:10 Eddie Ecker 9:20 Picture Day 9:40 Popular Mechanics 10:10 Corey Saathoff 10:20 Deciders Deluxe 10:50 Tony Renner 11:00 Escalade 11:20 Nate Jones 11:30 Finn's Motel 11:50 Warm Jets USA