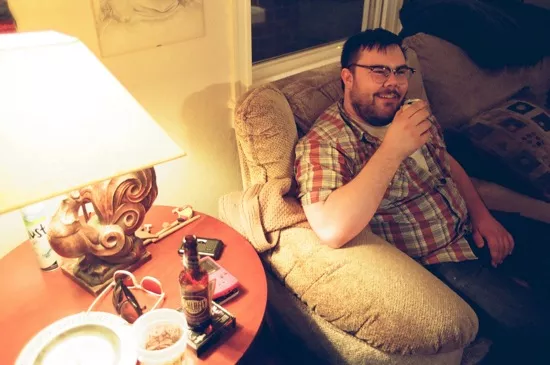 Photo by Jarred Gastreich for Show Me Shows
Stephen Baier of Dots Not Feathers
Only four installments in, Jarred Gastreich's Show Me Shows video series is quickly becoming a must-see for St. Louis music fans. You can check KDHX for archives that include live performances from Ian Fisher, Denver's Fiction is Fun and Phantom Limb. And we are happy today to point you in the direction of number four: Dots Not Feathers, the five-piece folk band coming into its own in a big way. Recipients of the Best New Band award in this year's RFT Music Awards, DNF just finished recording a new EP called Mountain. Below, watch the Show Me Show performance of the title track, shot in the band's house in the Hill neighborhood. Gastreich is the videographer and R&R Music Labs handles sound. Your next chance to catch Dots Not Feathers live is at the Halo Bar on November 16th.
Dots Not Feathers - Mountain (A Show Me Show) from Jarred Gastreich on Vimeo.