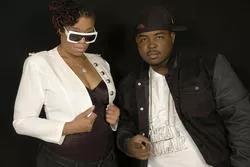 Saturday Night Live star Andy Samberg and his Lonely Island group are at the center of a copyright and royalty lawsuit filed by the St. Louis-based production group StarStrukk.

The lawsuit filed in federal court in New York by Aleric "Rick Tha Ruler" Banks and Monique Hines says that they created the music that became the basis of the popular SNL sketches "Shy Ronnie" and "Like A Boss." The pair says they never received royalties for their work, according to the lawsuit.

Banks told The Riverfront Times in May that he and Hines met Samberg through a mutual friend and gave them some tracks as Samberg prepped the release of his first album. In addition to Samberg, the lawsuit names the group itself, members Akiva Schaffer and Jorma Taccone, NBC Universal and Universal Republic Records as defendants.


The lawsuit says that the backing band for the first Lonely Island album used Banks' and Hines' original master recordings with lyrics added by Samberg and his group. Banks says he received a producer declaration for that he filled out saying that as the writer of the songs, he was entitled to 50 percent ownership of the copyrights. However, he later received a letter saying that his agreement with Lonely Island only entitled him only 25 percent. Regardless, he says he never received a cent for his work, according to the lawsuit.

Samberg created new versions of the songs for SNL. He and actor Seth Rogen performed "Like A Boss" on April 4, 2009. He and Grammy Award winning pop star Rihanna performed "Shy Ronnie" on Dec. 5, 2009. "Shy Ronnie" was nominated for an Emmy for Outstanding Original Music and Lyrics.

StarStrukk is seeking an order requiring that the defendants "destroy all infringing materials including, but not limited to all DVDs, videocassettes and other home media containing the comedy skit "Shy Ronnie," the lawsuit says. It also seeks to ban the group from using the sketch on The Lonely Island Web site. They are also seeking royalties and legal fees.

Reached by email Tuesday, StarStrukk's manager Sam Bradford forwarded all questions to the group's attorney, entertainment lawyer Daniel Friedman. Friedman didn't return messages left at his Chesterfield office. The group's New York-based attorney Adam Richards also didn't return messages.