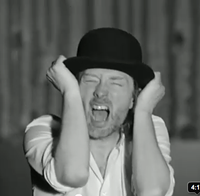 Don't be like this dance enthusiast and miss out.
Update 3/6: Presale tickets for the May and June shows in Mansfield, Newark, DC, Cincinnati, Cuyahoga Falls, Chicago, Auburn Hills, Camden, Montreal and Toronto go on sale March 8. The presale goes live on the w.a.s.t.e. site here. That's the link you should start refreshing at midnight on the 8th -- the last batch of shows went on sale shortly after 6 a.m. and sold out in under two hours. It was also 6 a.m. CST (7 a.m. EST) for most of 2008's shows, though it hasn't always been at that time. If you'd trade a night of sleep spent constantly refreshing a browser for tickets, start at midnight. If you're willing to roll the dice a bit, set the alarm for 5:30 a.m. (6:30 on the East Coast) and start refreshing it then. Again, here's where you go.
Original clusterfuck from November follows...
Update, 7:45 a.m. 11/9: The St. Louis presale now appears to be officially sold out. General sale is Saturday at 10 a.m.
Update, 7 a.m. 11/9: The time has come! Our source on Twitter logged on just after 6 a.m. (for what we're guessing is the vicinity of the 100th time in the past six hours) and managed to get tickets. As recently as fifteen minutes ago, there were still tickets left. We'll let you know when they are for sure gone.
You know by now: Radiohead has announced the first leg of its 2012 tour and St. Louis has one of the shows. It's on March 9th at the Scottrade Center, and tickets go on sale through Ticketmaster on Saturday at 10 a.m. But some spots (history tells us it's typically the better ones) are available at an unspecified time tomorrow. So, how does one secure Radiohead tickets through the W.A.S.T.E. presale?
Radiohead has done these in the past -- a small number (ten to twenty percent, usually) of tickets go on sale ahead of time. They have gone live as early as four in the morning, but lately it's been more reasonable: 6 a.m. for most of the 2008 tour presales and 10 a.m. for this past September's shows in New York.
Ticket prices for the St. Louis show are $49 and $69. That puts us on the high end (though it's all close) -- we told you yesterday about the range in Dallas ($45 to $69) and Phoenix ($34 to $54). A couple more have been added: Kansas City is $48 to $58 and Houston is $45 to $69. So you get the idea.
To get presale tickets, go to the W.A.S.T.E. ticketing site. It does not appear that you have to join the W.A.S.T.E. Central fan site ahead of time. Generally, these things have been posted on the hour, and Radiohead's web site helpfully narrows the window to "am EST."
All tickets for September's New York shows were will call to circumvent scalping; expect that to be the case here as well. The presale is also designed to reward the true fans -- namely, people willing to forgo sleep and keep the trigger finger refreshing the browser window.
Why bother with the presale when the general sale comes at a known, reasonable time on a Saturday? We already mentioned the possibility that you get better seats. In the past, W.A.S.T.E. ticket holders have sometimes had a separate entrance to the venue so you don't have as much of a wait on the day of the show. Plus, you avoid Ticketmaster's hefty fees. But the biggest reason you might try for the presale is that your chances are better of actually getting tickets. Yes, there are fewer available, but with a standard on-sale time you have to compete with everyone: Scalpers, casual fans, people buying gifts, etc. The pool is much, much larger than those willing to seek out the presale information and then keep checking the site to see if it's gone live. Of course, the presale still tends to sell out with a hell of a quickness, so you might decide to roll the dice on Saturday's general sale.
Guitarist Ed O'Brien talked to the BBC in October about the upcoming tour -- he goes into the way the setlist will be structured (drawing heavily from the two most recent albums) and other ways this will be different from 2008's In Rainbows tour.
Links to the presale and other relevant things to tide you over on the next page. W.A.S.T.E. Presale Ticketing Site
Ed O'Brien interview about this tour
Annie Zaleski's review of 2008's In Rainbows tour stop.
Ticketmaster page for Radiohead tickets (Note: St. Louis' show is not yet listed.)
And, of course...