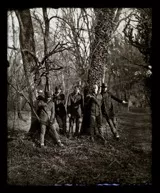 Update: There will be a four ticket maximum per person for those purchasing through Live Nation. Prices for the St. Louis show have not yet been announced. However, they range from $45 to $69 for the Dallas show (before fees) and $34 to $54 for the Phoenix one. Other Lives will open this entire leg of the tour, including the St. Louis show. The Stillwater, Oklahoma band is a couple albums into a thus far relatively quiet career on TBD. Safe to say this changes things.
Original post follows.
Radiohead has just announced of tour dates for next spring, and St. Louis has one of them! The band is currently only scheduled for ten shows on this tour, and its stop at the Scottrade Center comes on Friday, March 9th. Tickets go on sale this Saturday, November 12 at 10 a.m. through ticketmaster. There wil also be a presale this Wednesday for W.A.S.T.E. members; the Radiohead website somewhat cryptically only offers that they will be available "am EST."
Hell. Yes.
To the best of our knowledge, this is Radiohead's first St. Louis show since 2008. Among the cities missing out on shows for this particular 2012 tour (at least for now)? New York, Chicago, LA, etc.