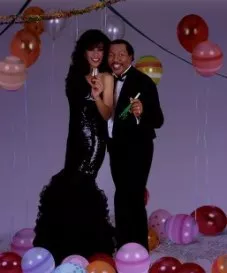 McCoo and Davis, Jr.'s website
Marilyn McCoo and Billy Davis, Jr., put foolios like Kim Kardashian to shame in the arena of marriage longevity.
Marriage isn't what it used to be. From alternative rock demigods to bloodsucking fame parasites, matrimony these days seem rather fleeting.
But some love affairs do last. Just ask Marilyn McCoo and Billy Davis, Jr., two members of The 5th Dimension.
Davis Jr., and McCoo were the two protagonists in "Wedding Bell Blues," a Laura Nyro-penned song that was at the top of the Billboard Easy Listening Singles charts on this day in 1969. Three original members of the R&B supergroup - including Davis, Jr., Lamonte McLemore and Ron Townson -- hail from St. Louis.
The 5th Dimension was already having a darn good 1969 before "Wedding Bell Blues" started going up the Billboard charts. The group's rendition of "Aquarius/Let the Sunshine In" was number one on the Hot 100 charts earlier in the year. The song later won a Grammy for Record of the Year.
And in addition to reaching number one on the Easy Listening charts, "Wedding Bell Blues" climbed to number one on the Hot 100 on November 8, 1969. It was eventually dethroned by the Beatles' "Come Together" and "Something."
In the tune, McCoo goes back and forth between professing her love for "Bill" and expressing frustration about not yet tying the not. Even though "Bill's" voice produces "a choir of carousels," McCoo emphasizes that "kisses and love won't carry me - til you marry me Bill."
"And though devotion rules my heart, I take no bows," McCoo says later in the song. "But Bill, you're never gonna take those wedding vows."
Although Nyro wrote the song well before The 5th Dimension recorded its version, McCoo and Davis, Jr., were actually engaged when it was recorded. The two eventually got married and are still together as a couple to this day.
So for the three or four people flabbergasted by the disintegration of Kim Kardashian's marriage to an average basketball player, take heart. Not all marriages between famous people devolve into laughable failure.
FUN FACTS ABOUT "WEDDING BELL BLUES:"
- Before "Wedding Bell Blues," The 5th Dimension had already produced successful covers of Nyro's songs. In 1968 alone, the group recorded renditions of Nyro's "Stoned Soul Picnic" and "Sweet Blindness."
- The 5th Dimension wasn't the only group to make hits out of Nyro's songs. Peter, Paul and Mary and Blood, Sweat and Tears recorded popular renditions of "And When I Die," while Three Dog Night released a version "Eli's Coming" on their 1969 album Suitable For Framing.
- "Wedding Bell Blues" happens to be the name of a film that made $44,052 at the box office.
- McCoo and Davis, Jr., do have at least one commonality with Kardashian. The couple had their own television show in the 1970s.
Here's The 5th Dimension's rendition of the song:
And here's Nyro's version: