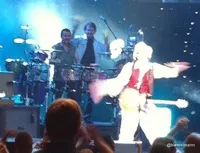 TLR shakin' it onstage with Santana earlier this year.
It's been an emotional roller-coaster for St. Louis Cardinals fans: a heart-stopping Game 6 and a World Series victory are now slightly softened with the farewell of skipper, architect and game-changer Tony La Russa. But we'll leave the sports analysis to the others; over here at RFT Music, we always liked La Russa not for his cipher-like coaching style but for his adherence to classic rock. For his yearly ARF benefit show, he trotted out a host of new and old acts, and just recently he was spotted playing maracas with Carlos Santana at the Fabulous Fox Theatre. So as we wish Tony goodbye, here's a few classics that we think the Coach would enjoy.
5. REO Speedwagon, "Roll with the Changes" Tony is clearly a fan of REO - the band played his 2009 ARF benefit - and this song not only speaks to his tenacity in the face of adversity; it may as well be the hold music on his always-ringing bullpen phone. He changed hurlers with a steely precision that was often imperceptible (and/or maddening) from the stands.
4. Bruce Springsteen, "Glory Days" This is an easy one. With two of his three World Series rings coming from his time in St. Louis, these sixteen years will most certainly be looked back upon as La Russa's glory days. And the Boss' story of running into an old baseball star certainly rings true for a man who spent his adult life in the majors.
3. Journey, "Lights" Journey is right in La Russa's wheelhouse; melodic, hard-driving but with a tender emotional core. And as Tony and his family call the Bay Area home, Steve Perry's homage to San Fransisco sounds like a siren song to this old sailor.
2. Foreigner, "Cold As Ice" Can anyone really ever know what's going on in La Russa's head? Basic human emotions like joy, sadness and frustration are largely absent from his visage during the game, and his post-game interviews could be an exercise in glibness.
1. Rufus Thomas, "Walking the Dog" As much as he loved playing the percentages and tinkering with line-up cards, La Russa's heart belongs to his furry friends. On the field, he's a tactician; get him talking about his love for animals and La Russa becomes a big softie.