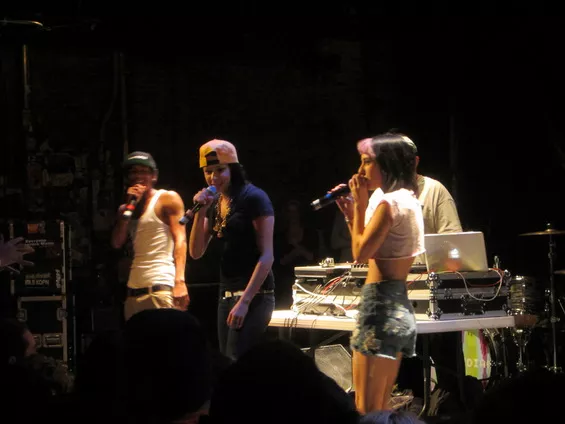 Diana Benanti
Kreayshawn
Kreayshawn | Neon Indian The Blue Note October 26, 2011
Better Than: Actually being a minor again.
By now the myth of the Kreayshawn is as huge as the chasm between her sound and aesthetic and that of her current mini-tour mate Neon Indian. Still though, this was a Noisey joint, which is affliated with Vice, which, in some circles, has been deciding cool for a decade, so there's a possibility they should have known better. The public response to this tour has largely been WTFs far and wide, and split ticketholders into two possible factions: those traditionalists for whom Pitchfork is still a valid source of cultural currency (aka the Neon Indian fans), and those on-to-the-next-one neophiles whose fanship is decided by pageviews. A smaller but still remarkable number showed up for the free place to trip.
Depending on who you ask, Kreayshawn is either this year's biggest mystery or its most blatant opportunist, but last night's performance left more questions than it answered. If she's serious and this isn't genius satire -- and all signs point to that being a music critic's post modern wet dream that has no bearing on reality -- then the hype surrounding Kreayshawn is even more perplexing. Especially considering her familial steez -- her mother Elka was a guitarist in garage punk group The Trashwomen. One has to wonder if she's serious on "Rich Whores" -- "My life is like a work of art, your canvas lookin' blank" she quavers. Her "Gucci Gucci" video has garnered 23 million pageviews since its debut in May, and since she's scored a million dollar deal with Sony, a nod for Best New Artist which she lost to Odd Future scofflaw Tyler the Creator and even got herself a real rap beef with the Teflon Don, Rick Ross, after her crew stepped to his at the VMAs.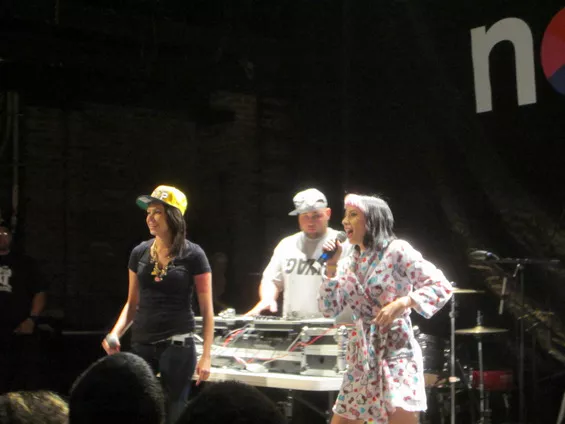 The crowd was thrumming with excitement after Believer's rhythm heavy pop, and a delighted cry echoed through the room when the lights dimmed and a white dude came out to set up his DJ gear. The crowd lit up at the first "Is you rollin?" on Gucci Mane's "Pillz." despite the fact that most of them were barely hitting puberty when Hard to Kill came out in 2006. We have now entered Generation Based, or Generation Bass.
Kreayshawn took the stage wearing a Hello Kitty bathrobe with an abbreviated cast of characters, a mostly inconsequential hypeman, her "sister" V Nasty, and somebody with a paparazzo camera.
Kreayshawn herself seems so ambivalent about performing, the only moment where she displayed any verve was for the tepid brilliance of "I got the swag and it's pumping out my ovaries" from "Gucci Gucci." She has no command of the rhythm and is too self-aware to get down like a real hoodrat would. Unlike V Nasty, who is the real standout "talent" of the White Girl Mob, Kreayshawn is a puppet, "a body and a voice" to borrow a line from All About Eve.
Other than Kreayshawn's truly uninspired segues ("Where my real bitches at?!" before "I'm a Real Bitch," "Are you swaggin? Or mobbin'?" before "Swobbin'" ), the most interesting thing she did was demand "When I drink this water, I want everybody to scream," not once, but twice. She ambled up and down the stage, punctuated lines with fey hand motions, and kept her eyes skyward, like a kid in a school play trying desperately to read her lines off the ceiling. There was some fuckery on the vocal tracks, and the lyrics were all but lost amid the blanket of muddy beats and boom-thud bass. Each song is about 90 seconds too long, and "Bumpin Bumpin" and "Gucci Gucci" are the only two tracks that actually feel like finished songs. The rest utilize the same structure, the same meaningless repetition ("Line it up, line it up, sniff more, sniff more") the same eight bit beats. A number of tour-affiliated folks filled the wings to watch her perform "Gucci Gucci;" a testament to her lookie-loo appeal, but also the finite magic of that particular song. She offered a final "Hey, suck my dick. Hahahahahaha," before walking off. Nonetheless, the minute Kreayshawn and Krew left the stage, the crowd parted like the Red Sea, with a solid one half of the room taking their leave. Sad. Is chillwave, like, totally irrelevant or something? The 40 minute set-up for Neon Indian didn't keep the crowd's interest, with more and more people filtering out before its 11:15 start time. A Noisey rep came on stage to raffle off a free Dell tablet, another gimmick they're using to get people in the door, and had to call four names before landing on one who hadn't already booked it out of the venue. Still, there were shouts of "Fuck yeah!" as Neon Indian's impressive light display started working its magic on the room.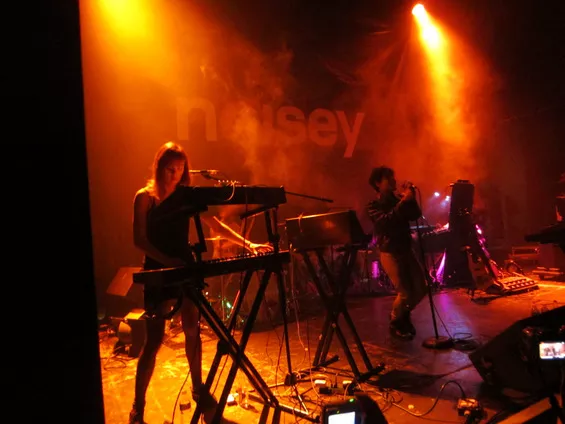 Neon Indian is credited with leading the chillwave revolution, and main man Alan Palomo is far from a one-trick pony. Where Kreayshawn lacked substance and musicality, Palomo and his stone-faced band delivered a solid set in retrograde: '70s synths collided with New Wave beats and psychotropic rhythms borrowed from decades gone by. Palomo presided like Prince, bouncing between the mic, his Roland and a train case of electronic gadgetry, filling the moments between melodies with wrenching interstitial noise that was interesting at first but took on a banal homogenity of a chiptune Kristallnacht as the set wore on.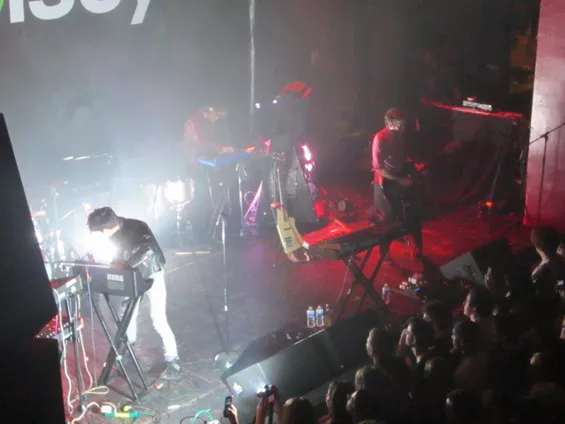 The "Sleep Paralysist" hooks were submerged in a deafening laser battle, and Strokes-y strains of "Hex Girlfriend" were lost in the weedwhacker concerto. Noise is a privilege, not a right, and HEALTH this is not. Still though, the band was polished with a shambolic sheen. The remaining crowd collectively creamed for the kaleidoscopic electronica of "Polish Girl," the single from this year's Era Extraña. "Thanks for sticking around," Palomo said, acknowledging his once and future (?) relevance.
The Crowd: Hypeseekers, people who were in on the joke, people who were not in on the joke. Is this a joke?
Overheard: "You know how people think it's cool to dress up as Indians? I swear in three years it's going to be blackface. Maybe five years."