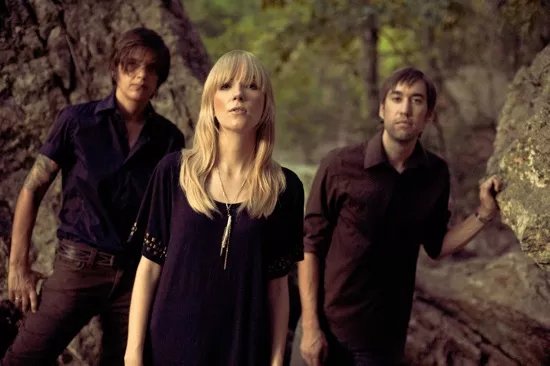 At this year's LouFest, Austin-based trio Ume performed a riotous set punctuated by the band's massive, impressionistic rock and lead singer Lauren Larson's fiery stage presence. Previously barely known to most fans in attendance, the band is now playing one of the fall concert season's most anticipated shows this Thursday at the Firebird.
Last week I caught up with Larson over the phone from her home in Austin. We chatted about '90s rock bands, learning how to let it all out on stage and the epic journey that brought them to St. Louis this past August.
Chris Bay: If I'm not mistaken, you have had a bit of downtime from the road lately. After your summer dates what have you been up to and how have you been preparing for this short run of dates over the next week or so?
Lauren Larson: We've had about maybe two weeks off. We toured all through August and September so we've only had a few weeks off. And we've been writing new music like crazy. We haven't started recording yet, but we have maybe two more new songs and we'll be doing those live. We'll be doing them in St. Louis coming up.
[We've also been] relearning some songs that we've never played live before that are actually on [the most recent record Phantoms]. We recorded the record with our old drummer. So now that we have a new drummer we're relearning some of those songs. A couple of them we've never played live, even with the old drummer. It's been nice just to be able to spend some time writing because we haven't actually gotten to write with our new drummer yet.
Has your new drummer changed the writing dynamic at all, or is it still a similar process to what it was?
She's just, she's an amazing musician. She brings a heaviness to our style and we're able to do a lot more. Right now we're drawing influence from bands like Battles and Radiohead which were never part of our repertoire before, so it's fun.
When you guys played at LouFest earlier this year, back in August, there was a lot of buzz after your set. It resulted in a lot of very positive reactions, even given the early set time. You played early on a hot Sunday afternoon. What are some of the more intense, extreme shows you've played?
Well, that was an intense experience because the afternoon before at 5:30 pm on that Saturday we played the Dia De Los Toadies festival in New Braunfels, TX which is south of Austin, and it was 106 degrees. So we jumped in our van, drove fifteen hours to St. Louis, drove all night and pulled in at noon and we were playing that set at 2:00.
Wow, that makes the performance even more remarkable.
We're definitely a working band, and I think we drove 2,000 miles to play two major festivals in 30 hours that weekend. [Laughs]
When you play these shows in a festival setting where it might be that much of the crowd either barely knows you or has never heard you at all, do you have to approach that differently? Do you feel that as a band you have to go out and win the crowd over or do you just go out and do the same thing that you would in a club?
No matter what the show, whether we're playing a punk show in a basement or on a big festival stage, I try to hold nothing back. I put myself completely into each and every performance. It is very rewarding though to see a crowd grow and feel their energy, which feeds my energy. So like I said, I always try to hold nothing back no matter what. It makes me look nervous too, to a certain degree. [Laughs]
I caught your set at LouFest and the entire band, but especially you, were very animated and physical, thrashing around on the stage. Is the physicality an essential part of music for you?
It wasn't. I've been playing in bands since I was fourteen years old. When I was in my first band I would stand with my back to the audience with my head down. I was still loud. I've always been loud on the guitar. I think it really wasn't until Ume that I felt this new freedom in performance. I think it has grown. For me, playing live is a really visual experience, it's a chance to immerse yourself completely into something. I'm shy in other aspects of my life. I'm actually more nervous talking between songs on the mic than playing my music. It is a physical performance but I'm definitely not athletic, I'm always tired after we play.
So many bands now that I see, they're playing and it looks like they just don't want to be there. I think we're the antithesis of that. In the last year or two there's been a lot of '90s revival and nostalgia -- anniversaries, reissues, reunion tours, things like that. Is there any aspect of the music of that time period that still resonates with you?
Well, we never consider [ourselves] a '90s revivalist band. I had the original "Icky Mettle" and I saw [Archers of Loaf] perform that live. I mean, I was just a kid. I know that that was just reissued and I think its awesome that people are now talking about this band, Archers of Loaf, but I was there and saw [Brian Causey] break his amp on stage, the guitarist who also plays with Man or Astro-man?, that was cool. I'm glad to see people getting into that music.
I think its funny that in the early 2000s there was an '80s revival and now ten years later we're doing the '90s revival. A lot of the bands, I think people are saying, are tapping into that, some of these newer bands. We would never be the type of band that would try to be a revivalist band, to take advantage of that. That would never be part of our vocabulary at all. I'm glad to see some of these bands that I used to like getting more attention. They have more people at their shows now than when they were originally playing.
In Ume's music there's a strong duality. The sonic elements are loud and abrasive at times but the songs can also be very melodic and there are nuanced, emotional lyrics. As a listener, some of the more nuanced parts tend to go over my head when I'm at a show. Do you ever feel like people are latching on to half of the band's music when they're at a show, or do you feel like people are getting it all?
With the live show we try to make it an experience. I think as a three-piece we're kind of limited right now in what we're able to bring into the live show, so the album is very different from the live show -- I think there's an abrasiveness to it. In a recording there's a lot more room to explore. You're able to add more harmonies, more instruments that I'm not able to pull off because I only have two arms.
I think it'd be hard anyway just watching a live band [to hear the lyrics clearly]. It's nice to see people singing along with the songs. I think the first couple of times I saw people in the crowd singing it was a really emotional experience for me, because I remember doing that with bands and I still do that with bands. It was really inspiring for me.
You mention trying to make live shows an experience. What does that mean to you? What kind of experience do you want people to have at your shows?
Ultimately, I just want them to connect with the music. I try to be passionate on stage and I hope that can translate to people. I want people to realize that there's no pretension in what we're doing, but there's an honesty and a genuineness about it and I hope that resonates with them.