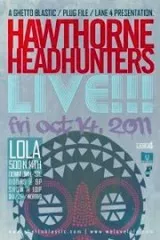 We should all probably be napping right now because there isn't a moment to lose this weekend: The Occupy St. Louis movement gets a six-band bill at Kiener Plaza, and after that show stops Hawthorne Headhunters starts up at Lola. Caleb Travers is releasing his EP at Off Broadway this evening as well. And tomorrow, Hip-Hoppers' Holiday turns the Gramophone into an all-day one-stop-shop for the elements of hip-hop in St. Louis. The Felice Brothers play a free show at the Billiken Club (and opener Phantom Limb is, how you say, not to be missed). Das Racist and Robbie Fulks are here on Sunday if you're still on your feet by then. Let's do this:
Friday
Play For Change Kiener Plaza With Zagk Gibbons, Ciera Goodwin and Darwin, Tef Poe, Union Electric, AutoMagik and Aaron Kamm and the One Drops 5:30 p.m | Free
Dibiase CD Release Show Johnny's Sidebar (Collinsville, Il) With Dibiase, guests and door prizes 8 p.m. | Free
Hawthorne Headhunters Lola With DJ Needles 10 p.m. | $10
Caleb Travers EP Release Off Broadway With Owen Pye 8 p.m. | $10
Tapes n' Tapes The Firebird With Howler and the Feed 8:30 p.m. | $12
Saturday
Felice Brothers Billiken Club With Phantom Limb and Gill Landry 9 p.m. | Free
Phantom Limb - $100 (A Show Me Show) from Jarred Gastreich on Vimeo.
St. Louis Secret Sound Society Presents STL Style House Big Troubles, Young Prisms and Frances With Wolves 9 p.m. | $7
Hip-Hoppers' Holiday The Gramophone With Tef Poe, Scripts N Screwz, Black Spade, Prince Ea, Steddy P and many, many more. 3 p.m. | $15
Sunday
Das Racist The Firebird Danny Brown and Despot 8:30 p.m. | $15
Robbie Fulks Off Broadway With Willy Porter 8 p.m. | $12