Last week, the RFT published its annual "Best Of" issue, a yearly event that highlights all the best of the best that St. Louis has to offer while simultaneously breaking the backs of our poor distribution department with its heftier-than-usual size. Like many of you, I took the time to read through its numerous pages and learn about some of St. Louis's finest. Being new around these parts (the RFT music staff, that is), I did not contribute to this edition, so my interest here was non-masturbatory and strictly educational. Boy, did I learn a lot! For example, when my little sister's birthday comes along in January you can bet that Charm Boutique will be my one-stop Best destination for gift-giving. Decapitated fish heads and dried sea cucumbers will no longer elude my grasp, as I now know that the Olive Farmers' Market is the best place to procure such delicacies. And according to what I read, it seems that Novak's Bar and Grill has the best lesbians in town, but its possible that I may have misunderstood that last one. Reading on, I eventually came to the music section, and was surprised to see the Breaks named St. Louis' Best New Artist.
My confusion had nothing to do with the category or the selection of the indie-rock-power-pop band, who at the time I hadn't yet heard and who I will now readily admit is catchy as hell, but rather with the moniker they chose for themselves. When I saw that their contact info included the phrase "TheRealBreaks" in the Web address, my confusion gave way to amusement, for you see this band is not St. Louis' first "real" Breaks at all. An interview, photos, video and the complete discography in handy download form for this city's original Breaks are below.
The Breaks: Hardcore Halloween 2005:
Granted, the new Breaks is in on the general joke here -- its members took the "real Breaks" addresses because "the Breaks" were already occupied, in one case by a band from California and in another by a bar in Montana. A quick Rhapsody search reveals at least five bands with the name.
But St. Louis' first "real Breaks" operated from 2003 till 2006, a hardcore band active in basements and DIY venues across the Midwest. It released two vinyl EPs on Baltimore, Maryland's Firestarter Records and did one East Coast tour with labelmates the Spark before disbanding. Four-fifths of the band were St. Louis natives: vocalist Joe Sulier, bassist Andrew Diaz, and guitarists Scott Plant and Mike Schmitz. Drummer Nick Donahue lived in Chicago, making practicing and songwriting a long-distance, daunting task that the five of them were eager and proud to overcome, reveling in the knows-no-boundaries aspect of their band's existence.
A common problem with St. Louis punk and hardcore bands, even the successful ones, is that, within a few years after disbanding they are often seemingly erased from the public consciousness. This could have to do with the fact that there is no "retirement plan" for aging punks -- indeed, the genre is perpetually populated by kids in the 18- to 24-year-old demographic -- or perhaps more to do with the intentionally underground middle-finger-to-the-public-at-large attitude with which the genre carries itself. In any case, I've always found this posthumous descent into obscurity to be a shame, and this most recent moniker mix-up has strengthened my resolve to document what I can and try to share some of St. Louis' former best punk and hardcore bands with the new punks of today.
So with a tip of the hat to Josh Levi's similar endeavor, I am going to attempt to use this space to post music, videos, pictures and whatever else I can to keep the memory of these great bands alive, and to help expose the uninitiated to the music that moved us before their time.
Listen to side B of the Breaks' first seven-inch "Get Saved" (3 songs, 3 minutes) below: "Landlocked Blues - Shaved Like An Asshole - Socially Secure Inc." by the Breaks
Three- and four-chord riffs, breakneck speeds, and blink-and-its-already-over song lengths were the Breaks' specialties on record, and in a live setting it could barely be contained. While the band played fast, tight renditions of their songs, lead singer Sulier would bound across the stage with more energy than a Tesla coil (science reference, NAILED IT), smashing the mic into his own face with complete disregard for personal safety -- yours or his -- and shouting lyrical anger aimed at the religious right and the trappings of Midwestern life. The lyrics were disarmingly poetic for a punk band. One song in particular, "Breaking the Bible Belt," has a line that declares "atheist Jihad against the idea of a God" while calling for the delivery of the decapitated head of the 700 Club's Pat Robertson. Many shows Sulier walked away from bleeding; I remember one that ended in a trip to the emergency room. (Question: Do you think punks with no insurance give their real names at hospitals? Think again....)
I sat down with the notoriously acerbic Sulier and asked him a handful of questions about the band.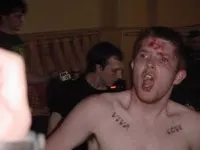 Daniel Hill: What was the Breaks all about? Musically and ideologically....
Joe Sulier: Um, it was basically just a glorified excuse to hang out with Nick Donahue.
Your drummer from Chicago. Was it difficult having a member that lived five hours away?
Sure, sometimes, but it's difficult being in a band anyway.
What was a personal highlight for you, from being in the band?
Getting kidney stones.
From being in the Breaks? Explain.
Oh, I don't know if it was because, per se, it just happened to occur simultaneously. I don't know, I mean just playing shows in general was a highlight.
Why did you guys break up?
I'm not entirely sure really, you'd have to ask someone else. I guess Nick living in Chicago probably had a little to do with it. It just kinda happened.
So there's a new band in town, also called the Breaks. Have you heard of them? What do you think?
I haven't heard them but I've heard that they sound like the Strokes.
Well, I hear that they recently lost their vocalist. Are you going to try out? After all, you do already have experience being the vocalist of the Breaks.
I think I'd rather be unemployed; there are plenty of other suckers out there I'm sure.
Members of the Breaks went on to play in Cardiac Arrest, Canadian Rifle, Civic Progress, Manipulation, Run Down and Cobrangutan.
Watch live footage and download the Breaks' complete discography on the next page.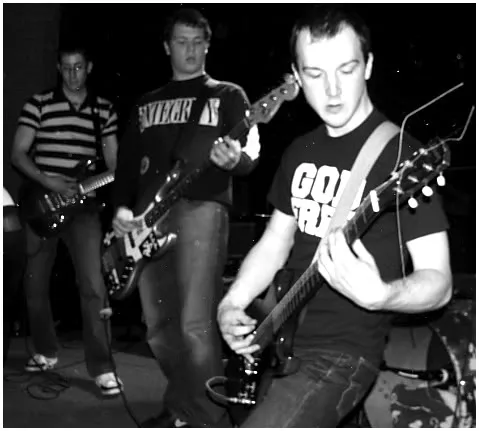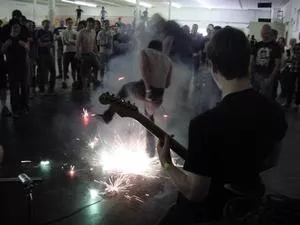 Download the band's complete discography, including twelve unreleased and/or live tracks here.
Last show flyer and complete footage: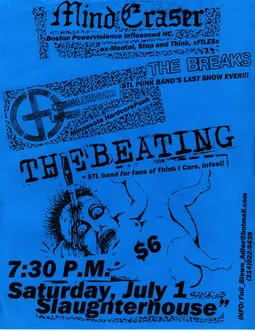 The Breaks - Get Saved tracklist:
1. Breaking the Bible Belt 2. Former Failure...Future Fuckup 3. Cross Country Thieves 4. Landlocked Blues 5. Shaved Like an Asshole 6. Socially Secure, Inc.
Demo tracklist:
1. Johnny Anonymous 2. We Get By 3. Where's The Punchline? 4. Everybody Hates a Tourist
The Breaks - ....Are Broke tracklist:
1. 1907 2. He Hasn't Even Paid His Dues 3. Catch a Bad One 4. What's Up, Fraud? 5. Wolves With No Teeth
Are you looking closely at the cover? Good! Now Joe Sulier owes you a punch in the arm.