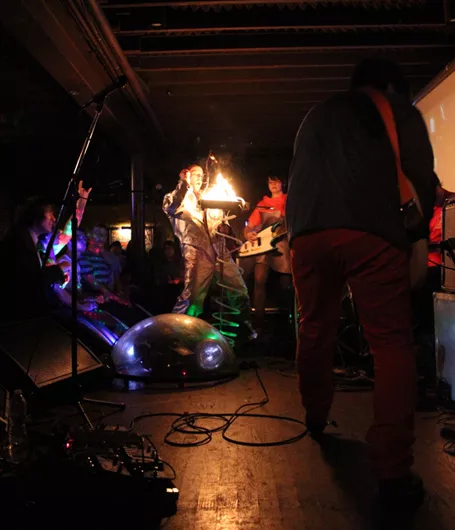 Mabel Suen
Coco ignites the theremin.
Man or Astro-man? | Jaill Blueberry Hill Duck Room October 10, 2011
The stage was crammed with flickering lights and three projector screens sporting an amalgam of space propaganda with vivid imagery. Space rock was split into fractions with science-fiction sound clips filling the cracks. No element was spared; beer and water drenched the floor, electric fingers sprawled across the ceiling and fire atop a theremin set the stage aglow. Man or Astro-man? performed at the Blueberry Hill Duck Room. There was no encore. The entire show was an encore.
Jaill from Milwaukee set the mood by opening with infectious indie rock. Many of the guitar melodies in Jaill hearken back to the '90s surf-rock revival, hence its connection to the headliner. Like the many psychedelic groups on the Sub Pop record label, Jaill sits in the happy middle ground between weird and universally acceptable. Jaill was over before it could wear out its welcome, blasting out a short and high energy set before Man or Astro-man? took the stage.
Mabel Suen
The alien surf rockers took the stage promptly at 10:15.
The kind ambassadors of psychedelic surf rock capped off the evening with rocket-fuel energy, plucking songs from its prolific history as a band. The Duck Room housed an amoeba of sci-fi geeks, music nerds and twenty-somethings, the perfect audience for the schtick and showmanship of Man or Astro-man? The lead guitar player entered the crowd early on, throwing himself into the amorphous blob of overexcited showgoers. Coco (bass guitar) brought out an old computer printer, shushing the audience so the outdated sounds of earthly invention could transition the band from one song to the next.
Mabel Suen
Coco powering the Tesla Coil.
Avona Nova, the newest addition to the ranks of Man or Astro-man?, tore through every song seamlessly, owning her role as the newly appointed rhythm-guitarist. She filled in on bass when Coco launched himself, space suit and all, into the welcome arms of a St. Louis mosh pit. Birdstuff (drums) was no stranger to the alien antics, as he wore his floor tom as a helmet after splitting his drum head partway through the set. The final song was augmented by a flaming theremin and a giant Tesla coil. The space-age statue of power shot electricity into the air, and the small bolts crept across the ceiling of the Blueberry Hill Duck Room for a final display of Man or Astro-man?'s otherworldly magic.
Setlist Note: Songs were segmented and performed mostly as abbreviated versions of what is listed below.
Atom Spectra Escape Planet 9-Volt Transmissions Classified Socket Invasion Co 2 Text TV XL-3 U-URANUS Sferic Radiation Destination Uno Principles