Wilco | Nick Lowe Peabody Opera House October 4, 2011
Wilco kicked off an eight-song encore with "Via Chicago," a song against which I refuse to hear arguments. Not that there are many coming, at least from the thousands assembled in the instantly-sold-out Peabody last night -- it, like pretty much everything else during the band's two-hour set, was greeted with exultant cheers. It is so encouraging that there is a band capable of getting 4,000 people who probably don't agree on anything except Wilco to sing along en masse to such beautiful nonsense as "I am an American aquarium drinker."
Jeff Tweedy and bassist John Stirratt stood in spotlights before microphones, delivering the twisted love note of "Via Chicago" in delicate unison. And then, from nowhere, the rest of the band exploded, apocalyptic, mid-line, mid-beat even, a wall of noise and molten aggression. It's there on record to a much lesser extent, the discord creeping in, a quiet panic peering through tight seams. This, this was different, the demons tromping through the verse and gashing at souls before disappearing briefly back into the void of soft folk. Wilco, you will be glad to know, has not gotten all crumbly and simpering.
The tumult summoning Wilco back to the stage for an encore was a foregone conclusion. It seems like there's little the band can do lately that isn't a foregone conclusion: Wilco is in a very small group of rock groups aging relatively gracefully, riding on a blimp of a fanbase that will buy all its new albums regardless, that will snatch up tickets to the shows and buy out the limited edition concert poster before Wilco even takes the stage.
Meanwhile, the critical discourse on Wilco has lost its teeth, with thousands of voices divided more-or-less evenly between those longing for the old days and those blindly proselytizing for each effort with barely more persuasive ammunition than "Jeff Tweedy is smarter/cooler/better than the rest of us." Wilco's famous versatility makes all this very perplexing -- how can you have the same reaction to the clean lines and pleasing construction of "Impossible Germany" and the gnarled, ambitious, noisy mess that is "The Art Of Almost"?
Wilco, at the center of all this hulking chatter, seems remarkably content simply not to care much. Tweedy does exactly zero pandering, generally and also specifically last night. He was sure to clarify the cheers of "Welcome home!" by saying, a few songs later, "You know I'm not actually from St. Louis." But he's not shying away from commercial success, either -- The Whole Love can be purchased in about 40 different packages and bonus permutations, and the band did its share of (not at all unwelcome or undeserved) rock-and-roll posturing: windmill guitar chords, extended solos...Glenn Kotche even stood on his drum kit during the encore. And Tweedy certainly wasn't avoiding his St. Louis roots, name checking the old Keil Opera House, his three former record store bosses in the crowd, his family, the Cardinals ("I love sports ball"). How all this appears to its audience seems to be the last thing anyone in this band cares about.
With every imaginable plot line exhausted, we've decided to latch onto Wilco's choice to release The Whole Love on its own label, dBpm Records. The freedom from the shackles of Nonesuch has instilled a renewed vigor this time around, we learn from the Cliffs Notes, and we are now looking at a Wilco that's finally doing exactly what it wants to do. But that isn't exactly right -- Wilco wound up with on Nonesuch precisely because the label gave the band the freedom it had lacked with Reprise. Wilco has had creative free reign for years, something Tweedy hasn't hesitated to make clear in interviews. This was a business decision, and because the band is still working through big-market distribution channels, this doesn't really change much about the way Wilco goes about doing things.
If this band has found new vigor for exercising its considerable sway, the clearest indication is the choice to bring the Jesus of Cool, Nick Lowe, on tour. And make no mistake: This was not a marriage of convenience or marketing or anything else. That much was clear when Wilco recorded a cover of Lowe's "I Love My Label" and released it as a b-side on the "I Might" single. It was even clearer last night when Tweedy summoned Mr. Cool onstage during the encore for a two-song victory lap, with Lowe singing on Jim Ford's "36 Inches High" and Tweedy trading verses on "I Love My Label."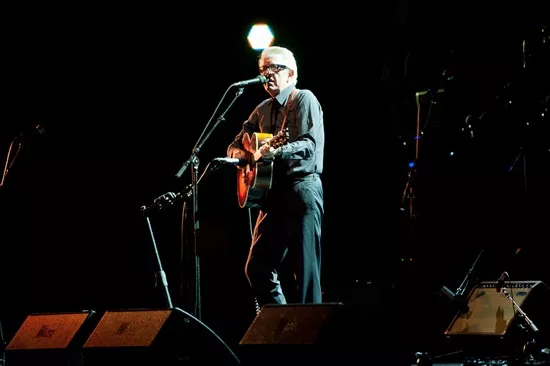 Lowe, for his part, could not contain his gratitude for this treatment. During his opening set, he characterized Wilco's bringing him along as a "bold and imaginative move on their part." Not that he's dead weight. Far, far from it. Lowe is in rarefied territory himself, an undisputed master of songcraft with a delivery that can still melt you. And as someone who never entered the level of social ubiquity that ensures a complicated legacy (see: frequent Lowe collaborator Elvis Costello or even Wilco), he can simply grin and enjoy his pure, slim sliver of respect.
Critic's Notebook
Personal Bias: No hometown warm fuzzies for me, as someone who is considerably less "from St. Louis" than Jeff Tweedy. Still, I still love this band. I haven't been a front-to-back fan since A Ghost Is Born, but there have been killer tracks on every release.
Overheard: Way too much from the people both in front of me and behind me. Let the band build a moment, for fuck's sake! Was chatter an issue for anyone else?
Setlist
One Sunday Morning Poor Places Art Of Almost I Might I Am Trying To Break Your Heart One Wing Bull Black Nova Rising Red Lung Impossible Germany Shouldn't Be Ashamed New Madrid (Uncle Tupelo) Handshake Drugs Standing O. Jesus, Etc Born Alone War On War Dawned On Me A Shot In The Arm Encore Via Chicago Whole Love 36 Inches High (Jim Ford) I Love My Label (Nick Lowe) Heavy Metal Drummer I'm The Man Who Loves You Casino Queen Outtasite (Outta Mind)