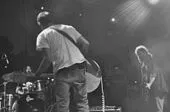 Memphis cow punk band Lucero is coming to Off Broadway on December 9th. Tickets are $16 in advance or $18 day of show, with a $2 minor surcharge. You can buy them starting this saturday through Up To Eleven.
This will be almost exactly one year since the band's last stop at the same venue. Previewing that show, we talked to Lucero front man Ben Nichols about, among other things, the bands run of tumultuous shows in St. Louis. But this most recent show went off without a hitch; read Michael Dauphin's review here. Below, Nichols talks about what happened the couple times before that in an excerpt from last year's interview.
Michael Dauphin: Your last couple of shows here have been eventful, to say the least.
Ben Nichols: [Laughs] Yeah. At LouFest, I was sick as a dog. They ended up hooking me up to an IV. There was puking...it was gross. We only made it about halfway through our set, but we tried, man.
Considering we had Kings of Leon and Pigeongate a few weeks prior, I think St. Louis at least appreciated your effort.
I appreciated everyone being so understanding and cool about it. We had left that morning, and I was fine, but by the time we got to St. Louis, it got really bad. We were bummed, though. It was a very cool festival. We went out there and played as much as I could take. But that was that. Hopefully, we won't have any incidents this time around.
I remember your previous St. Louis show, at Off Broadway, was kind of wild, too. Oh, yeah! There were fights. That was insane. I think we hadn't even started playing yet, and a girl got her hair yanked out. [long pause] Hopefully, when we play this next show in St. Louis, we'll play a full set, there won't be any fights, and everything will work out. It'll be just a good rock & roll show.