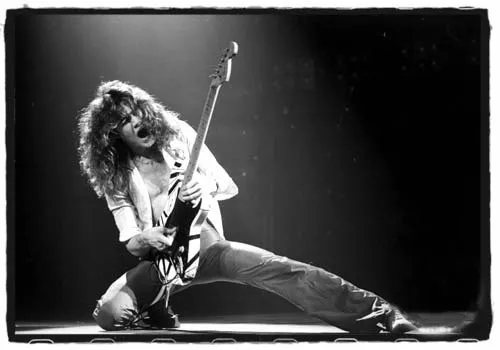 Eddie Van Halen demonstrates the exact opposite of this idea.
The guitar solo has become an integral part of the rock and roll formula, either as a melodic counterpoint to a vocal line or an excuse for showing off. But there's a different kind of solo out there. The kind that, by all technical guidelines, sucks. The kind that sucks on purpose, often as an act of rebellion against the expectations imposed on the instrument. This week, we count down the six best "bad" guitar solos. Let us know what we missed in the comments.
6. Yo La Tengo - "Little Honda" Many of Yo La Tengo's best tracks - "Sugarcube", "Cherry Chapstick", "Deeper Into Movies" - rely on guitarist Ira Kaplan freaking-the-frick out on his Stratocaster. Live, he summons demonic feedback from his amplifier as if holding a Hendrix seance, and the results fall more into the category of "noise" than that of "bad". An exception comes, oddly enough, on Yo La Tengo's Beach Boys cover "Little Honda", where Kaplan harps on a single note, bending in and out of tune for two choruses of the standardized American twelve bar blues chord progression. By ducking below and drifting above the expected pitch, tension and release are created within a single note. The effect is effective as both an abandonment of rock convention and a celebration of the physical phenomenon of sound.
5. Television - "Marquee Moon" Okay, "Marquee Moon" isn't bad. It's long. Too long, some would say, with solo upon solo that stretch the track length into double digits with nary a melody to latch onto or an attempt to display technical agility. Leads are sandwiched between verses, interludes sound more like guitar solos than the solos do. The "real" solo begins with a single bumbling string that eventually morphs into a transcendent climax four minutes later. The whole thing might contain fewer notes than Eddie Van Halen's cameo on "Beat It". Patience is a virtue usually abandoned in rock music - particularly in the fast/loud punk coming out of New York in the '70s. If you can stomach the idea of a punk rock jam band (The Mars Volta?), "Marquee Moon" is worth the wait.
4. Weezer - "El Scorcho" In an interview with Blender well after Weezer had lost its cool, Rivers Cuomo said "I can't imagine not having a guitar solo; it's just what happens after the second chorus." Looking at the band's timeline, Cuomo's solos have shifted from additional hooks (Blue) to melody restatements (Green) to half-assed shredding (Maladroit), but they were at least competent. Not on Pinkerton's Pavement-endebted single "El Scorcho", where Rivers plays stoned hopscotch on the guitar's upper frets. He (or maybe then-bassist Matt Sharp) follows with a lazy falsetto that seems to leave halfway to get snacks. It's slack rock at its most commercial. Let's hope Stephen Malkmus is at least on Cuomo's Christmas card list. 3. Nirvana - "Smells Like Teen Spirit" If you've turned on the Internet this month, you may have heard that Nevermind turned twenty. The album and "Smells Like Teen Spirit" have become such a part of our DNA we often forget that the solo midway through the iconic opener is a grating mess. It sounds like Kurt Cobain threw his beat-up Fender and still-plugged-in amp into the pool after the baby jumped in during the cover photo shoot. The solo follows the vocal line verbatim and is so defiantly simple, Cobain may have played the whole thing using only his middle finger. Nirvana treated its melodies like viruses, like an illness it was stuck with no matter how hard the trio tried to eradicate. The "Smells Like Teen Spirit" solo is a textbook example; Cobain tried to contain the pop by drowning it in fuzz, but it still infected millions.
2. The Velvet Underground - "All Tomorrow's Parties" The Velvet Underground emerged amidst a New York scene of Fluxus performers, sound sculptors, and musical conceptualists. "All Tomorrow's Parties" is one of the "smarter" songs by the world's artsiest rock band, a minimalist drone with John Cale borrowing composer John Cage's prepared piano technique (ie. he jammed paper clips into the piano). Lou Reed's flighty, sitar-like solos are anything but deliberate. He wanders around the tempo like a lost tourist mumbling to himself. At points, it seems he's playing a different song altogether, like he's practicing his Ravi Shankar transcription while the other Velvets jam in the next room. His abstract style has generated detractors and bred followers. Jeff Tweedy borrowed heavy-handedly from Reed on Wilco's "Spiders (Kidsmoke)", and Reed's habit of tuning all his strings to the same pitch was picked up by Glenn Branca, who begat Sonic Youth, who begat a ton of other bands who did not make this list because Lou Reed took their spot.
1. Neil Young - "Southern Man" "Southern Man" is one of Neil Young's hardest rockers and his most empowered solo. He makes the basic rock guitar repertoire his own by cherry picking notes from his scales and hitting them way too hard with his pick. You can hear his thought process unfolding as he works through his phrases: "I like those two notes, I will play them again right now". He slams the whammy bar halfway through the solo like he just discovered it, like an ape man smashing a bone at the onset of 2001: A Space Odyssey. He takes an entire phrase of space to catch his breath and then shreds by moving his left hand as fast as he can while picking as fast as he can with no concern about whether or not the two actions line up. Cobain played poorly because he was self-destructive. Reed played poorly because he is "advanced". Neil Young is the best "bad" guitar player because he believes in every note that comes out of his guitar, even if it barely makes sense.