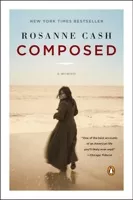 Rosanne Cash has endured some seriously heavy blows over the last decade. She lost her father and step-mother (Johnny Cash and June Carter Cash, respectively) over the course of a few months in 2003. Six weeks after her father's passing, her step-sister was found dead on bus in Tennessee. A couple years later, her mother passed away. A few years after that, she had to undergo brain surgery. All this heartache doesn't take away from the blessed life she's lived, and she knows it. In her new book, Composed: A Memoir, Cash artfully delivers her version of her family's story. A version that's painfully honest and wildly intriguing. We recently spoke with Cash while she was making burgers for her family at her New York residence. She will be at Blueberry Hill's Duck Room tonight, September 27 to promote and sign copies of Composed.
Michael Dauphin: How did you prepare for this book? Was it a matter of chaining yourself down to the desk and cranking it out, or did you write it in pieces?
Rosanne Cash: All of the above, really. I had been working on this for a long time, sporadically. Well, first I started writing essays for different publications. Then my editor said, "This is the beginning of your memoir." So I just started collecting these short pieces. Then, I had brain surgery. And when I was recovering, I told myself that this was something I wanted to finish. Partly because I wanted to do this for my kids. And, also, when your mortality is hanging in front of your face, you start thinking about not hedging your bets anymore. And partly because my own story of my family has been written so many times, I thought my version at least deserved an airing.
Psychologically, how was preparing for this project different from preparing for an album?
It was great to finally to get detachment from your own life and write about it... it's liberating. There was a lot of organizing. When it was about to come out, it was much more nervous than when a record is about to come out. It's like, "Wow, there is absolutely no poetic license in this. This is how I remember it." It felt good--I felt naked.
You mention your own mortality. A lot of this book is devoted to death. You suffered through three serious losses in a matter of months (June Carter Cash, Johnny Cash, Rosanne's step-sister, Rosey). And you were tapped to deliver the eulogy at each. Are you looked at by your family as a cornerstone--a rock, if you will--within the family?
Well, without sound self-aggrandizing, yes. I think they do see me as this matriarchal figure. It's mostly, in part, because I am the oldest child, and I'm bossy, and I take charge. It's my nature. I have a stoic personality--too stoic sometimes. I always try to just push through.
You went on to write the album Black Cadillac (2006), which reflected on the numerous deaths you had to cope with. Is it difficult to go back and listen to that album?
You know, I don't go back and listen much. It's just not something I do. I'm always figuring out what's next; the next project or song I'm working on. Occasionally I'll hear something from the past. We just compiled my Essential collection, and I had to go through a lot of old stuff. And, yeah, I could feel it. I could still feel the ache that accompanied that record. But I would never listen to that for pleasure. [laughing]
In light of the recent 9/11 anniversary, how does that date effect you? You were in the middle of Greenwich Village during the attacks, so I know it has serious significance to you. But your father also passed exactly two years later on September 12, 2003.
This year, particularly, was really difficult to navigate. I have very powerful memories of that day of 9/11. And, of course, my father's death... The fact that there's some connection there, it feels like a cataclysmic loss. I always find myself saying "I just have to get through the days of September 11th and 12th." I just make myself get though it.
Technically, you started your music career working in the office of Columbia Records in London. How did that behind the scenes view shape your perspective of the music industry once you started your own career?
That's a good question, one that I've never been asked. It was significant! Because I saw how people thought they were the most important artist of the company. They thought their show was most important, and their record was most important, and everyone was completely devoted to their career. But that's not how it was. It was sometimes just like meat being packed on the conveyor belt. The people behind the scenes would be like "Can you believe we have to work this shit?" It was a humbling, and really clarifying, experience. Because later on, I didn't have as many self-centered fantasies. I knew what was going on behind the scenes.
Having a life that's been consumed with music, what's the most powerful music moment you have experienced.
I write about that in the book. Singing with my dad at Carnegie Hall. That was one. Singing there at Carnegie Hall while, just before, I was really mad at him. Also, singing at the Nobel Peace Prize Concert. And the other would be singing at Lincoln Center, it was amazing.
I found it interesting that you wrote much of your musical output while you were pregnant? What kind of impact did that have considering heightened emotional state that comes with pregnancy?
All metaphors apply -- it's a very ripe time. You're turned inward and you're always thinking about what's happening in your body. That naturally leads you to what's in your conscience; what's in your psyche; what's in your heart. And then it's a really shallow time after the baby's born, writing-wise, because all of that energy goes to the baby. But then it comes back later on.