On September 26th, Deerhoof made tracks through St. Louis for the first time in its nearly twenty years of existence. The Luminary Center for the Arts held the loud but intimate sounds of the seminal experimental pop group, catering to a nearly sold out crowd on a chilly Monday night. Sleepy Kitty represented St. Louis, and set the tone by performing its fan favorite set of pop sensible songs.
Deerhoof tore through a set rife with loud, melodic walls of sound. The group cherry picked from its varied catalogue, pleasing fans of their subdued but intricate pop songs while staying true to its earlier noisy and unhinged works. Deerhoof brings a vibrant energy to the stage with equal parts antics and artistic showmanship. Vocalist and bass player Satomi Matsuzaki gleefully hops around stage sporting a bass guitar half her size. Guitarist Ed Rodriguez sports a shining suit (one his mother made for him, no less) while swaying and bending his body along to each rhythm. Drummer Greg Saunier explodes on the drum kit with his schizophrenic style of bebop meets punk rock.
Deerhoof played through quirky songs like "The Merry Barracks" and "Fresh Born" but surprised the audience with a cover of Beck's "Cyanide Breath Mint", which had band members changing roles, a testament to the split personality of this pop/noise band. The on-stage antics hit a peak when all three guitar players ventured into the crowd during the breakdown of "Rainbow Silhouette of the Milky Rain". The greatest surprise was Flaming Lips drummer Kliph Scurlock sitting in on drums for the encore, performing "Basket Ball Get Your Groove Back."
I had the great privlege of sitting down with the drummer of Deerhoof, Greg Sauiner, after the show.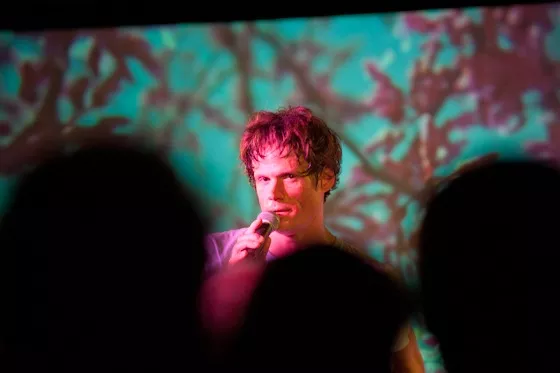 Greg Sauiner addresses the crowd. Photo by Corey Woodruff
Joseph Hess:When did you arrive in St. Louis today?
Greg Sauiner: Well, right on time for soundcheck!
Were you able to explore any of the city at all, or eat anywhere?
No, we're never able to explore any city. We see the inside of rock clubs everywhere we go, it doesn't matter if it's Istanbul, Moscow or Tokyo or Tel Aviv or anywhere in Europe or North America. There's not usually time. I mean, some bands have a tour bus and so they hire a driver so they can drive over-night and by the time the band wakes up, they're in the town so they can actually see it. We're driving ourselves, so we're going to go to bed in a few minutes and wake up in the morning and have so many hours to get to the next club.
Who is stuck with driving duties?
Haha, that would be Mr. John Dieterich! And when he doesn't want to do it I take over.
The Deerhoof van has to be fun.
It's not fun. It's neutral. It's kind of like, saving up your energy. You know, playing is a big thrill. You put all of your energy into mainly playing and lifting your equipment. In the car we never play any music, we only sometimes have conversations. A lot of times it's just totally quiet. Just sitting there, watching the road go by. My only regret is having to take the interstate and rarely getting to take the smaller road. You know, the blue highway is just...suddenly you realize America is just beautiful. On the interstate it's always the same two or three fast food chains, you know, your only options for food. I just wish we could do a whole tour, just back roads, that would be amazing. It would have to be really long, or just one state or something for two weeks.
This is your first time performing in St. Louis with Deerhoof. Have you performed in St. Louis with any other group in the past?
No, but Deerhoof played in Columbia, Missouri two times. Once was at the Ranch which was a basement show. I don't remember the name of the other venue, but I do remember that it was the same night Wilco was playing outdoors. They came to see the show, I think they hadn't played yet so they came to watch us. The only other Missouri show we've ever done was in a town called Dancing Rabbit. It was a completely self-sufficient community where they were growing all their own food and building all their own homes -- it was really cool.
Dancing Rabbit? When was that performance?
I think maybe 2000. Yeah, 2000. Really incredible place, I'd like to go back actually. I think it's grown quite a bit since that time. It was really in its infancy at the time.
You run the gamut (of your discography) and that is what I enjoy about seeing you live. What goes into preparing for a Deerhoof concert?
I could try to brag and say we always try to have variety and try to keep it fresh but every night is different. It could be because of the different audience every night or the different acoustics from venue to venue. Tonight was very small with a low ceiling and very loud. It makes you feel the kind of pressure to play quieter because it's so easy for me to totally overwhelm the whole band. At the same time there's the angel and the devil. The devil's there saying "play loud, it sounds that much more powerful".
In the past, I have read interviews where you talk about being as creative as possible over playing technically. Does that still apply to your playing?
I still feel that way. I don't feel like any kind of technical expert on the drums or anything. I just listen to the rest of the band and react to it, with instinct I guess.
From the outside looking in, Deerhoof is a band that plays their instruments like a kid plays in a sandbox. Is this perception accurate?
I hope we look like that! It's art and music. If you feel, and it happens to everybody sometimes, locked in or caged in while you're doing that, that's really sad. Unlike any other aspect of your life where you're being controlled or you're having to follow rules, this is your chance to be free. That isn't to say that no discipline is involved. It's because of the discipline that you get the thrill of breaking it.
After performing tonight, what impression has St. Louis left on you?
Although I never get to see the sights, what I do have an excuse to do everywhere we go is talk to people. For instance, if I came here as a tourist, I wouldn't really have an excuse to talk to people. I get an impression from every city by talking to people. At a show, people have just seen you do your most personal presentation. They've been singing along with songs that came from somewhere deep in your imagination. In some way it's a kind of intimate experience with people who would otherwise be total strangers. I feel very lucky to be going on tour and to meet people in this way. Even after only talking to someone for two seconds we know that we have something in common. I was able to talk to many people tonight and I got the same impression from many people. The impression I got was that St. Louis is very supportive of the arts and supportive of people who are trying to do artistic things. There's that rare feeling that people that live here feel that this place is good for them. This makes it easy for them to do their music or do their art. That to me is very exciting, and you don't hear that everywhere you go.
Deerhoof's Fall 2011 tour takes the band from the East Coast to the Midwest and back, starting on September 20th and ending on October 2nd with a gig in Asbury Park, NJ.