All photos by Corey Woodruff
Prior to Sleepy Kitty's opening set, Evan Sult lamented the passing of St. Louis luminary Bob Cassilly and dedicated the first song to him.
In further tribute to late City Museum founder Bob Cassilly, Evan Sult fashioned a t-shirt that read "Thank You BC".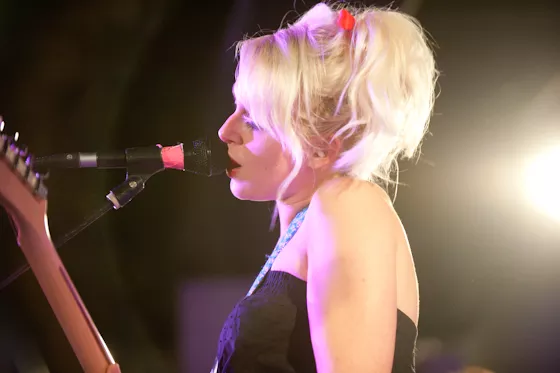 Sleepy Kitty's Paige Brubeck effortlessly alternated between slinky chanteuse and angsty rock girl, often within the confines of a single song.
The bulk of the sold-out crowd showed up early and was rewarded with a stellar set by the local duo. Based on the comments overheard at the merch table, this was the first exposure to Sleepy Kitty for many attendees.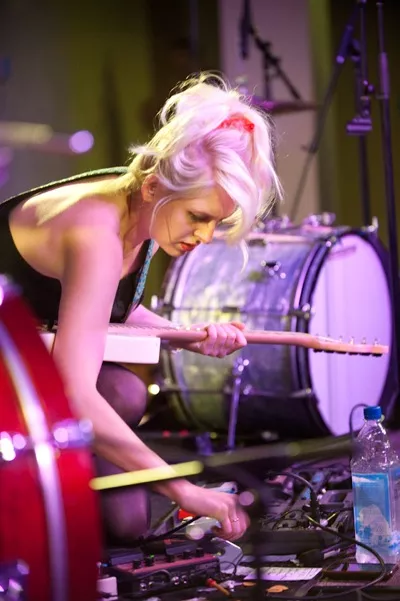 Brubeck uses a series of live loops and effects to augment the duo's sound.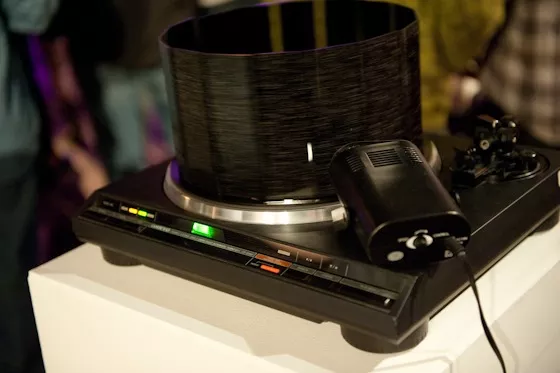 In addition to rock shows, The Luminary Arts also hosts art exhibits -- sometimes in the same room. Between sets, attendees gazed at photos, video displays and art in motion throughout the venue.
Greg Saunier kicked off Deerhoof's set with a syncopated assault on his minimalist drum kit.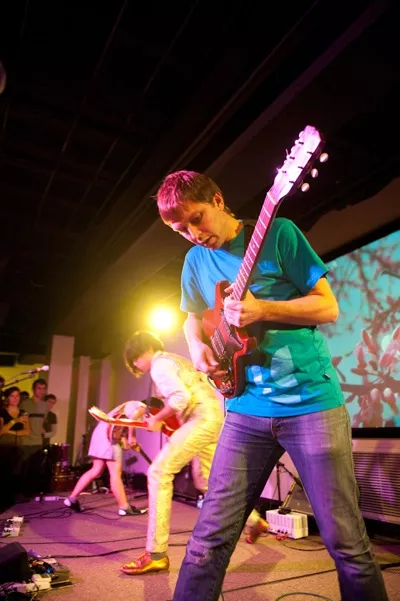 (From left) Satomi Matsukazi, Ed Rodriguez and John Dieterich were in constant motion throughout Deerhoof's frenetic set. The crowd did its best to join in whenever they detected a rare steady beat to bob their heads to.
While the band said hardly a word to the crowd all night, it was clear that the members were enjoying themselves. Fans didn't seem to mind as they stood enraptured by the sonic maelstrom taking place before them.
Bassist Satomi Matsuzaki spent nearly as much time in the air as she did cooing ethereal vocals into her mic.
The sold out crowd surrounded the Luminary stage for an intimate performance, Deerhoof's first ever in Saint Louis.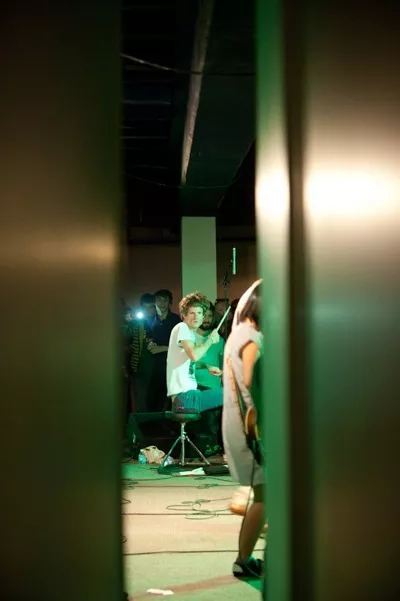 The Luminary offers a unique perspective from which you can watch a show.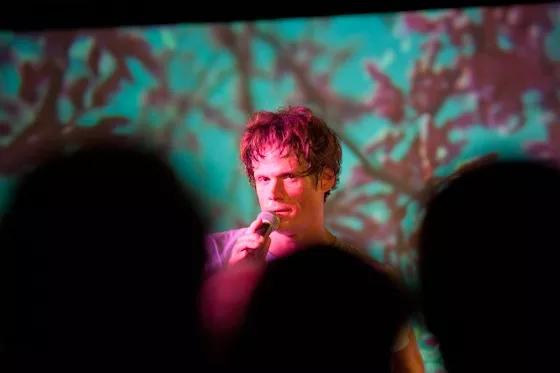 Deerhoof drummer and mastermind Greg Saunier acknowledged the crowd only when he switched from drums to guitar near the end of the band's set. After joking with a hapless photographer near the stage he led the band through a cover of Beck's "Cyanide Breath Mint" with Satomi on drums.
Deerhoof bid the audience goodnight and was summoned back to the stage by rapturous applause for an encore. Unfortunately, guitarist John Dieterich had broken two strings during the band's set so he hastily changed the strings backstage while Saunier thanked the crowd. After Dieterich returned to the stage (with new strings flailing from the headstock of his guitar), Deerhoof blasted through three more feedback-laden prog-punk jams before closing down its first Saint Louis show ever. With luck the band won't wait another seventeen years to return.