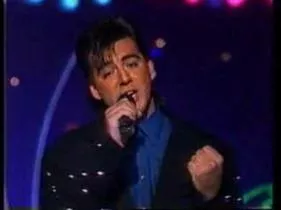 www.whosdatedwho.com
Rolling Stone omitted Timmy T from their list of horrible songs from the '90s. We won't make that mistake.
Rolling Stone recently polled its readers and compiled a list of the worst songs of the 1990s. It's about as predictable as a Saved by the Bell episode:
10. "What's Up?" 4 Non-Blondes 9. "I'm too Sexy" Right Said Fred 8. "Who Let the Dogs Out" Baha Men (released in 2000) 7. "My Heart Will Go On" Celine Dion 6. "MMMBop" Hanson 5. "Tubthumping" Chumbawumba 4. "Ice Ice Baby" Vanilla Ice 3. "Achy Breaky Heart" Billy Ray Cyrus 2. "Macarena" Los Del Rio 1. "Barbie Girl" Aqua
While most of these aren't songs on our daily playlist, and we might very well agree that they're unpleasant, the fact is that most of these songs were successful and beloved by many when they were new. Their primary crime is being overplayed.
It's easy to make a list of overplayed songs and call them bad as time passes. Perhaps out of guilt wrought from being one of the 4,832,000 line dancers who purchased Billy Ray's album. Or because the first dance of your ill-fated marriage was to that Titanic song. Images of blue-lipped bodies floating in the northern Atlantic aren't the way to start a life together.
The RS list neglects the annals of really, really bad songs from the 1990s that need to be on a list of the decade's worst. The songs you've forgotten, and for good reason. We've resurrected them one last time so everyone can bask in their awfulness.
10. Heart All I Wanna Do is Make Love to You What happened to the women who brought us Barracuda? Judging from this 1990 atrocity, they developed a taste for bland adult contemporary arrangements and getting impregnated by a guy who's just hanging out in the rain without an umbrella. Ann and Nancy, we know you can do better than a tree-planting metaphor for conception.
9. Quad City DJs C'mon 'N Ride It (The Train) Is it a dance club anthem or a song about choo-choos? We may never know, because the brain cells necessary to analyze the lyrics were killed in 1997 after having this stuck in our heads for a year.
8. Marcy Playground Sex and Candy Look how hip Marcy Playground is! What with its obscure name and made-up similes. Like disco lemonade? That doesn't make any sense to anyone outside the band's circle of friends, which consists of ten graduates of the Marcy School in Minneapolis. Never mind the visceral reaction we've had just thinking about the smell of sex and candy since 1998. Ruined SweeTarts for us for a decade.
7. Timmy T One More Try There won't be any boy bands on this list. Insufferable as they could be, they served a purpose as they have for every single generation since the 1950s. But we will make fun of the boy without a band. Timmy T and his inexplicable 1991 hit, "One More Try". Why no band, Timmy? Not even Chris Kirkpatrick and Howie Dorough would want to back this insipid synth-backed whinefest. All they could find were a pair of lone dancers willing to stay out of the spotlight so Timmy T could shine. 6. Limp Bizkit Break Stuff Remember the times before 2001, when the worst thing you had to worry about when you woke up in the morning was being a little cranky? Fred Durst captured the angst of the end of Generation X. And it was pretty pathetic.
5. Meat Loaf I Would Do Anything for Love (But I Won't Do That) Mr. Loaf, like Heart, was a powerhouse in the 1970s. He took a long break from music, returning in 1993 with ... this. It mooches from the success of 1991's Beauty and the Beast, and features a female vocalist, Lorraine Crosby, who didn't see any royalties for her work. Plus, it sounds a lot like Celine Dion's 1996 hit, "It's All Coming Back to Me Now." Probably because they were both written by one-trick pony Jim Steinman. It was exciting twenty years prior, and yet we fell for it anyway.
4. Alanis Morissette All I Really Want Are we all ready to admit that Alanis is neither vocally nor lyrically talented? It's time. We need to move on from the mistakes we made in 1995 when we thought a young woman dumping her guts about blowing Uncle Joey was edgy and artistic.
3. Spin Doctors Two Princes Back in 1992, in the times when a handful of young women were discovering the Riot Grrrl movement, others were often tricked into marrying dirty hippies they barely knew, based solely on preposterous promises. Thank you, Kathleen Hanna, for bringing us to our senses.
2. Amy Grant Baby Baby Genres were more fluid back in the day. Specifically in 1991, when Christian pop singer Amy Grant dipped her toe into the chaste, bland, over-chlorinated pool of pop music.
1. Micahel Bolton Can I Touch You ... There? No, Michael. You can't. And you're not allowed to ever try to sell another record ever again. This 1995 release finally made America realize just how bad Bolton was. Thankfully, it happened at the dawn of the golden age of internet pornography, rendering graphic lyrics by skeevy singers obsolete.