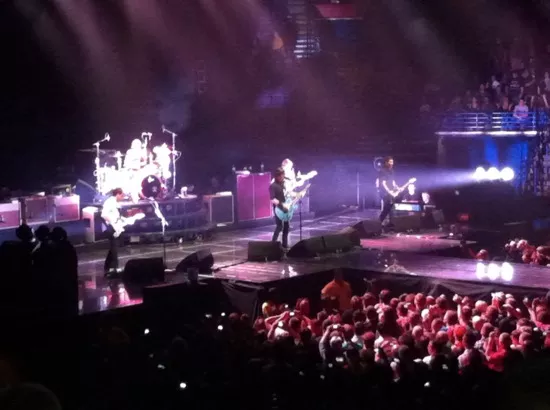 Mariachi El Bronx | Rise Against! | Foo Fighters Scottrade Center September 17, 2011
It's been a huge year for Dave Grohl. His band, Foo Fighters, began 2011 with its most reliable line-up of the group's existence. That was the group responsible for the band's seventh album, Wasting Light, which has been universally acclaimed as the group's best album since at least 1997's The Colour and the Shape. If that's not enough, the band also saw the release of Back and Fourth, a career-spanning documentary cementing the Foo Fighters' place in music history as one of the great American rock n' roll bands.
Yet, despite all the accolades, Dave Grohl is still cursed by the shadow of his former band, Nirvana. While Grohl and Co. are out on the road touring their asses off, Nirvana's landmark album Nevermind is getting the 20th anniversary royal treatment with deluxe reissues, magazine covers, a tribute album and a general overabundance of media hoopla about how that album brought alternative music into the mainstream consciousness back on September 24, 1991. When the Foo Fighters rolled into Scottrade Center last night, Dave Grohl was on a mission to prove that his band of the last decade is now finally just as important as Nirvana.
As the night began, the two opening acts, Mariachi El Bronx and Rise Against, demonstrated two differing sides of Grohl's musical taste. The first act was a punk rock mariachi band, reminding fans that Foo Fighters were actually considered an alternative act years ago. But Rise Against was clearly a more appropriate opener for the 2011 Foo Fighters. The band played a lightning-quick set of its own modern rock staples, and when lead singer Tim Mcllrath launched into the agro "Prayer of the Refugee" it was easy to hear how a Foo song like "Monkey Wrench" paved the way for Rise Against's brand of radio-ready pop punk.
When the Foos took the stage at 9 p.m. sharp, it was clear that the group had graduated from alternative jokesters to bona fide arena rock stars. The band launched into two new songs, "Bridge Burning" and "Rope," and the group seemed oddly more similar to Rush than Husker Du (it was no coincidence then that Rush's "Tom Sawyer" played over the house speakers a little before its set). Grohl greeted the crowd with his trademark scream and said, "We're going to play a song for each one of you! We are going to play 12,000 songs tonight!" And he and his bandmates nearly did. The Foo Fighters played a mammoth set full of new songs and old standbys that clocked in at nearly three hours. Grohl seemed to bask in the acceptance of the enormous crowd, and he promised to deliver the rockin' goods. It came across as less self-indulgent '90s punk sentiment than '70s workingman rocker.
The primary difference between Nirvana and the Foo Fighters is that the former group never wanted or could handle this level of fame. After Nevermind, the fans came by the thousands to Kurt Cobain and forced him into arenas. The troubled frontman just didn't want to be there. Of course, when Cobain joined the twenty-seven club, creating his immortal legacy as a tortured musician, the fans always wanted more. Consequently, it's been much more difficult for Dave Grohl to fill the "spokesman of a generation" roll. If Nirvana were "The Beatles of the '90s" than Grohl's second act will forever be "the Wings of the '90s," and despite his best efforts early on with his new band, it has taken Grohl decades to get back to the arenas. But unlike Cobain, Dave Grohl wants to be here. As he said to the crowd: "I've got the greatest job in the fucking world."
After ripping through their 2000 hit "Breakout," Grohl addressed the audience about his own legacy. When he asked how many people in the crowd were attending their first Foo Fighters show, the audience erupted into a bellowing roar. Grohl responded, "I have to ask, where have you been for the last sixteen years?" From that point on, The Foo frontman's intent was to make sure everyone in the arena begged for more, and the band launched into their best arena rock shtick.
Grohl pulled out all the stops here. Bassist Nate Mendel ripped into his signature opening bass-line on "My Hero," as Grohl quickly noted it was, "time to play some Foo Fighters hits." Taylor Hawkins' monstrous drumming channeled Rush's Neil Peart, and his surfer dude presence echoed back to '70s California arena rock when he sang lead on "Cold Day in the Sun." Yet the return of former Germs/Nirvana guitarist Pat Smear as a full-fledged Foo Fighter kept the show grounded in punk rock, as he dragged his Gibson SG across the floor and over his monitor. Grohl's secret weapon, however, is lead guitarist Chris Shiflett , who has come out of his shell since previous tours and is proving to be a genuine guitar shredder. On the Courtney Love-bashing "Stacked Actors," Shiflett showed off his virtuosity with an extended solo. What's more, Grohl responded with an uncharacteristic dueling lead, resembling the antics of Lynard Skynard. No wonder shouts of "Free Bird" were overheard before the show.
By the encore, the concert veered into what could have become arena rock cliché. Grohl ascended from the dark venue on a rising stage in the center of the arena with nothing but an acoustic guitar. Yet his down-to-earth sincerity kept the show from derailing entirely. He launched into his best homage to Tom Petty with the AOR song "Wheels" (hey, he was briefly a Heartbreaker) then encouraged the crowd to sing along with the anthem "Best of You." The full band return midway through "Time Like These" but not before Grohl found the one ten-year-old kid in the audience and encouraged him to go home and start a band. How punk rock. Grohl finished the night with a bluesy cover of "Breakdown" completing his favor to Tom Petty, and then launched into the Foo Fighters' biggest hit, "Everlong," which found a perfect balance between Grohl's arena tendencies and punk rock upbringing.
It's taken Grohl nearly sixteen years of the Foo Fighters to create the band he truly always wanted to be in. Though Grohl has found his audience through the bombast of dinosaur rock posturing, the most powerful moment of the night was also the most similar to Nirvana's cathartic release, when Grohl played the haunting "I Should Have Known" from Wasting Light. As the newly confident frontman sings, "I should have known that it would end this way. I should have known there was no other way. One thing is for certain. I'm still standing here." The audience could see the growing pains the singer has undergone in the last decade to claim his place in rock history. Some might argue that, without Nirvana, Grohl would not be where he is today. But if the Foo Fighters' stop in St. Louis last night proves anything, it is that Dave Grohl can finally say never mind to Nevermind. After twenty years, he can finally rock on his own terms.
Notes and setlist on the next page. Set List: 1. Bridge Burning 2. Rope 3. The Pretender 4. My Hero 5. Learn to Fly 6. White Limo 7. Arlandria 8. Breakout 9. Cold Day in the Sun 10. Long Road to Ruin 11. Stacked Actors 12. Walk 13. Generator 14. Monkey Wrench 15. These Days 16. I Should Have Known 17. Skin and Bones 18. This is a Call 19. All My Life
Encore 20. Wheels (Dave Solo Acoustic) 21. Best of You (Dave Solo Acoustic) 22. Times Like These (Dave Solo Acoustic and with band) 23. Young Man Blues (Mose Allison cover) 24. Dear Rosemary 25. Breakdown (Tom Petty cover) 26. Everlong
Critic's Notebook
Personal bias:
My first concert ever was the Foo Fighters and That Dog at the American Theatre on Tuesday, March 26, 1996. I was thirteen years old, and I went with my dad and friend Robby. I still remember how cool I thought Dave Grohl's Gibson Explorer was, and I went home that night and had a dream that Dave played in a band with me at my elementary school.
I've seen every subsequent St. Louis Foo Fighters performance since, and it's been incredibly interesting to watch the band grow from Dave's demo tape to the megastars they are today. In fact, I was genuinely surprised the first time I saw them perform in an arena. Now, I can't see it any other way.
Overheard:
Before the show last night I overheard a father talking to his eleven year-old son, Jack, who were sitting in front of me about how excited he was that this was his first concert. I cut in to their conversation and explained that fifteen years ago my first concert was also the Foo Fighters. After the show I asked Jack what he thought of his first concert and he replied, "It rocked!" Dave Grohl would've been proud.
By the way:
At the band's performance the previous night of the tour in Kansas City, the Foo Fighters were protested by the Westboro Baptist church for its teaching of "fornication, adultery, idolatry, and fags." The group responded by playing "Keep it Clean." Check out the video below: