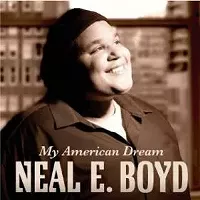 Neal Boyd's American dream includes serving in Missouri House of Representatives.
Neal E. Boyd of Sikeston has already won lots of American votes. Enough to win the 2008 season of America's Got Talent, when he wowed audiences with his pop opera skills.
Before finding reality-show fame, Boyd was nicknamed "The Voice of Missouri" for his performances at political events, from the 2000 funeral of Missouri governor Mel Carnahan to the 2004 inauguration of Governor Matt Blunt. He's also performed for every president since George H.W. Bush.
Considering he studied political science, speech communication and vocal music, earning degrees from both Southeast Missouri State University and the University of Missouri-Columbia, it makes sense that Boyd would parlay his vocal fame into politics. This week Boyd announced his plans to run as a Republican for the Missouri House of Representatives.
Proud to be an American, indeed. Must admit, he's better than Missouri's other singing politician, John Ashcroft. But how does he compare to other musicians-turned-politicos?
8. As the twentieth anniversary of Nirvana's Nevermind looms, and Dave Grohl keeps touring and touring with Foo Fighters, ever wonder what happened to that tall, gangly Nirvana guy who hit himself in the head with his bass at the 1992 MTV Video Music Awards? That's Krist Novoselic, and he was involved in politics before his band's grisly demise. As early as 1992, he worked with the Washington Music Industry Coalition to fight bills in Washington State that threatened songwriters' First Amendment rights and the rights of minors to attend shows. Currently he serves as state committeeman, serves on the board of directors for FairVote, attends law school and has considered runs for lieutenant governor of Washington and county clerk of Wahkiakum County. In October 2004 he published Of Grunge and Government: Let's Fix This Broken Democracy!
7. Author. Musician. Satirist. Politician. Why not? It works for Kinky Friedman. The Texan's recording career spans some 35 years. Politically, he's floundered for more than 25 years, starting with a failed 1985 bid to serve as justice of the peace in Kerrville, Texas. In 2006 he was one of six candidates vying for the Texas gubernatorial office. He came in fourth place. He briefly ran for the office again n 2009, but dropped out. A year later he ran for Texas agriculture commissioner but lost to a rancher. He's already thrown his support behind 2012 Republican presidential candidate Rick Perry.
6.Wyclef Jean's political leanings started before his thwarted attempt to run for the Haitian presidency after his home country was devastated by a 2010 earthquake. Prior to that he put his politics into his lyrics.
5.Sonny Bono might not have been the most musically or visually gifted half of Sonny and Cher, but he made up for it in political savvy. He didn't get interested in politics until he encountered red tape in opening a restaurant in Palm Springs, California, after his music career ended. His frustration led to serving as the city's mayor from 1988 to 1992. That year he lost a bid for a spot on the Republican ballot for a United States House of Representatives seat but was successful in winning the office two years later. He worked in Congress to reform copyright laws for songwriters, which was passed after his 1998 death as the Sonny Bono Copyright Term Extension Act. Bono remains the only member of Congress to have scored a Billboard No. 1 pop single. 4.With the Dead Kennedys, frontman Jello Biafra brought politics to the West Coast punk movement of the late 1970s, right down to the band's political charged, visceral name. He ran for mayor of San Francisco in 1979, where his platform included erecting statues of the man who assassinated Mayor George Moscone and City Supervisor Harvey Milk so that residents could pelt his image with eggs and tomatoes purchased from the city's parks department. In 2000 he placed second to Ralph Nader on the Green Party's presidential ticket. He's been active in Nader's subsequent presidential campaigns.
3.Motown superstar Martha Reeves has never retired from music. In July she performed at the Smithsonian Folklife Festival in Washington D.C. just days before her 70th birthday. Last year she recorded a new album. She took a break from 2005 to 2009 to serve on Detroit's city council, but lost her bid for reelection. In her time in office, she did get the city to change the name of the street in front of Hitsville USA to Barry Gordy Jr. Boulevard. She's also testified to Congress on behalf of musicians and songwriters' copyright and royalties laws.
2.Through Blur's hiatuses in the 2000s, drummer Dave Rowntree used the time to pursue his political interests. He's studied law and been an anti-death-penalty activist in the UK and the U.S. He's been involved with the Labour Party since 2002 and chairs the party's West End branch in London. He's contested seats in the city of Westminster's city council and Parliament, but has yet to win an election.
1.Midnight Oil's entire musical career, in retrospect, could have been a catchy campaign for lead singer Peter Garrett's political career. Most of its songs focused on Australian political issues, especially involving the native populations and environmental issues. The band dissolved in 2002, and Garrett was elected to the Australian House of Representatives for the Labour Party two years later. He's since served in the president's Cabinet as Minister for the Environment, Heritage and the Arts and Minister for School Education, Early Childhood and Youth.