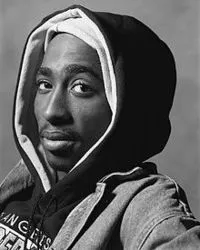 Fifteen years ago today Tupac Shakur died. In the time since, his legacy has been shaped by a ubiquitous moral contradiction: the man who wrote "
Keep Ya Head Up
" and "
Changes
" also wrote "
How Do You Want It
" and "
Hit 'Em Up.
" As such, Tupac seems to embody the escalating internal conflict of hip-hop: a genre born to empower the disenfranchised and bring the struggles of the streets to the masses evolving into one popularly defined by misogyny and materialism.
This juxtaposition is both celebrated and reviled. Celebrated by those who note Tupac's willingness and talent to convey raw emotion and genuine thought, fearlessly displaying the good and ugly and shameful aspects of society and human nature. Reviled by those who suggest that Tupac is a narcissistic hypocrite who was never able to live up to the ideals he promoted.
Both of these perspectives, though, strictly distinguish between "the two sides of Pac," as if considering two screenplays by the same writer, rather than two acts of the same play. Consequently, the narrative of his intellectual evolution and the depth of his artistry gets lost.
One of the first songs Tupac ever recorded was an uptempo hyper-political jam called "Panther Power."
He opens his first verse:
"As real as it seems, the American Dream/ Ain't nothing but another calculated scheme/ To get us locked up, shot up and back in chains/ To deny us of our future, rob our name/ Kept my history a mystery but now I see/ The American Dream wasn't meant for me/ 'Cause Lady Liberty's a hypocrite she lied to me/ Promised me freedom, education, equality/ Never gave me, nothing but slavery, and now look at how dangerous you made me..."
The son of two Black Panthers, Tupac, at seventeen, came out the gates challenging the mythology of America, advancing the conversation about institutional racism and black empowerment. As such, his early albums reflected life from the perspective of the young black male striving to overcome the structural obstacles embedded in his socioeconomic existence: violence, teenage pregnancy, police brutality, absent fathers. The tone was controlled militance, an underlying frustration fueling ambition and empathy and optimism. A sentiment perhaps best captured on "Keep Ya Head Up," where Tupac raps:
"To all the ladies having babies on their own/ I know it's kinda rough and you're feeling all alone/ Daddy's long gone and he left you by your lonesome/ 'Thank the Lord for my kids, even if nobody else want 'em'/ 'Cause I think we can make it, in fact I'm sure/ And if you fall, stand tall and come back for more/ 'Cause ain't nothin' worse than when your son wants to know why his daddy don't love him no more."
He held babies in music videos, giggled and grinned and presented deep sociological ideas in interviews. Even his party jams like "I Get Around" and "If My Homie Calls" feel light and cheeky.
Then a Texas state trooper was shot by a kid listening to 2Pacalypse Now, and Vice President Dan Quayle, decontextualizing lyrics about violence, demanded that the album be banned from stores (a baton soon passed to the infamous C. Delores Tucker). And Tupac was subsequently black-marked as a "gangsta rapper."
On top of that, events in his life were tearing at his temperament and feeding into the gangsta public image. In 1991 he was beaten by Oakland police after jaywalking (he sued the department and they settled out of court). In 1992 he shot two off-duty cops in Atlanta when he saw them harassing a black motorist (charges against him were dropped). In 1993 he was charged and eventually convicted of sexual abuse, for which he would always plead innocence and claim he was targeted because of his fame. In 1994 he was robbed and shot in New York on his way to meeting Puff Daddy and Notorious B.I.G. In 1995 he served eight months in prison for the abuse charge.
And his music darkened, turning melancholy in Me Against the World and then brash and I-don't-give-a-fuck in All Eyes on Me and then angry and existential in The Don Killuminati: The 7 Day Theory. His public behavior reflected the transition. After signing with Suge Knight and Death Row Records, he stopped holding babies in videos and giggling in interviews, instead playing into the emerging Thug Life persona that would define him for the rest of his life.
However, tracking the shifts in tone of his work fails to do justice to their nuance. For instance, Rolling Stone's review of All Eyes on Me called Tupac "a garden variety thug." Musician magazine's said "gangsta rappers pretty much share the values of their Republican detractors: the emphasis on making money, the righteousness of bearing arms, the wonderfulness of consumption, respect for hierarchy and loyalty to one's own as overriding principles." NME magazine called the album, "an immense spewing of indignation and provocation." The three first singles off the album (which remain, arguably, Tupac's three most club/radio-played songs to this day), "California Love," "2 of Amerikaz Most Wanted," and "How Do You Want It," echo this critical perspective. Seemingly forgotten, though, is that the album features some of Tupac's most sentimental work, like "I Ain't Mad at Cha," "Wonder Why They Call U Bitch" and "Only God Can Judge Me."
In the latter, he raps:
"I've been trapped since birth, cautious 'cause I'm cursed/ And fantasies of my family in the hearse/ And they say it's the white man I should fear/ But it's my own kind doing all the killing here..."
Indeed, All Eyes on Me was framed through his Thug Life persona. The violent and chauvinistic aspects of the album reenforced the popular perception of Tupac and, as a result, drove the interpretation of the album (as well as subsequent ones). He lived Thug Life, so it goes, his music must be Thug Life.
Simply, Thug Life seemed a product of overflowing anger, anger about the perceived injustices he experienced built on top of the political anger that had already been festering-- the idealistic and political Tupac getting swallowed by the Fuck the World Tupac. But Pac himself has admitted that much of Thug Life was an act, a constructed caricature of himself, ironically intended to protect him (the inner, personal, actual Tupac) from the barbs of public scrutiny. It was, in fact, part performance art, part media criticism.
Thug Life served as a reflection of how the Establishment viewed him, a searing social commentary of how society breaks a young black male, turns him angry and vengeful and Crazy. Except this time the angry and vengeful and Crazy young black male is a multi-millionaire, waving his Benjamins before the camera, boasting of how he got the best of the system designed to hold him down. Thug Life brought into America's living rooms the vile and dangerous product it created, stuffed into inner-cities, and ignored. Except now you can't ignore it because millions of people are buying the albums and watching the music videos and listening to the interviews, soaking up this bastard child of the American Dream.
Thug Life was a bitch slap to Lady Liberty.
For the last album he finished while alive, The 7 Day Theory, he took on the alias Makaveli and created a rap group called Outlawz, in which the members were named after dictators or military leaders (Yaki Kadafi, Hussein Fatal, E.D.I. Mean, Napoleon, Kastro, Komani, etc.). The album, darker than all his previous, is his most conceptually creative work, the anger and aggression often channelling into existential verse. In "Krazy," he raps:
"I see Bloods and Crips runnin' up the hill looking for a better way/ My brothers and sisters it's time to bail, 'cause even thug niggas pray/ Hoping God hear me, I entered the game, look how much I changed/ I'm no longer innocent, casualties of fame..."
In his final months, Tupac famously wrote verses at a furious pace, often constructing and recording several songs in a day. This burst of creativity produced some of his most poignant and contemplative work, which would be released posthumously. At the peak of the Thug Life persona, he was writing songs like "I Wonder if Heaven Got a Ghetto," "Changes," "Letter 2 My Unborn," and "Until the End of Time." Songs that seemed to pull the camera back and reflect upon his intellectual growth.
The unfiltered aggression of Thug Life seemed to be giving way to a more richly political and philosophical Tupac, a wise and world-weary evolution from his youthful idealism and adult anger. To that point, Cornel West recently wrote, "Tupac was months from turning his image around much like KRS-One did from his 1st to 2nd albums." Easy to forget Pac was just 25.
There is not a single point when a face turns into a symbol. It is more of a gradual, fading transition where all that a person embodies gets boiled down and sears into their image. It's been fifteen years since Tupac died and he exists somewhere along that spectrum, more than a face but not yet a symbol. Life goes on.