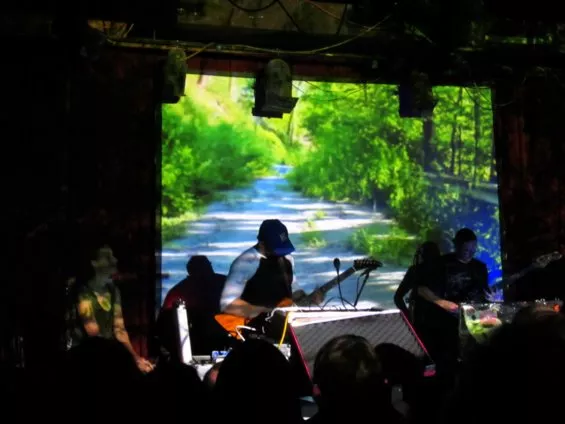 Black Moth Super Rainbow | Marshmallow Ghosts | Dosh Off Broadway September 12, 2011
Sometimes it's hard to remember that these people making these sounds are just people. Get them in front of you, mostly maskless, wearing their every day human faces and clothes made out of fabric and thread, it's kind of like, "huh." And then you see the crowd member in a full chicken costume and the other half dozen in animal headdresses and consider whether maybe the rest of these people are the ones you should be wondering about.
Looking like a band of misfits escaped from a Tim Burton movie, BMSR offshoot Marshmallow Ghosts' swift set of fuzz laden, mellow Halloween tunes ended too soon. There was a weird song about a mother, delivered by the angelic spook bass player, a Shangri-Las cover, and then the set fizzled out, leaving the audience wanting more. Cop their album on October 11; you won't be disappointed.
Andrew Bird co-conspirator Dosh won himself quite a few fans with his immaculate meanderings. Surrounded by an astonishing number of pedals, boards, a Rhodes, Nord, simple drum and cymbals set up, xylophone and a stack of effects that looked like some NASA control center shit, Martin Dosh delivered his electronic symphony without ever cluing the crowd into his next move. Will it be a little jazz lick? Some groovy piano on that sick Rhodes? A smart splash of cymbal here and there? You want some of this funky cactus synth fuzz? How about some Radiohead?
The snippet of "Everything in it's Right Place" certainly didn't fail to get the room's attention, eliciting real cheers from the crowd. Dosh further curried favor with by standing up towards the end of his set to answer a question about his equipment, and took that opportunity to say he was impressed with Off Broadway and St. Louis, and if anyone would like to join him at the City Museum tomorrow (today) at 11 a.m., well, he and his beard would enjoy that.
And yet, the guy next to me was searching for the map of the hidden temple (I assume) on his Pabst tall boy, and some people in the back of the room were screeching with laughter and talking like they were one upping each other at a high school pep rally. Truth: if you weren't up front watching the mesmerizing sound alchemist do his thing, it may have been underwhelming. The volume was a little lacking, but that added to the appeal; the fact you could hear his drum sticks slapping the screws on his xylophone made it all the more real.
But no one was lollygagging in the back and talking through Black Moth Super Rainbow. The band took the stage at 10:50, cutting off Fleetwood Mac's "Dreams" right when Stevie is really digging in. In front of a projection of a pretty dull vinyl-sided house, Ryan Graveface, equipped with a banjo for the title track off their (maybe?) forthcoming album, Psychic Love Damage. The electronic detritus ground like a garbage disposal eating a Moog while the bass backbone spanked along, and the plants growing around the projected house danced. Tobacco didn't address the crowd, and throughout the nearly hour long set, Ryan acted as the "quarterback," running interference between the drummer and Tobacco, making up the set list on the fly, and continually thanking the crowd for its warm reception. Tobacco, for all his wizardry, let Ryan handle the pesky "audience connection" and set himself on psyching the hell out, looking like a total bro in a baseball cap and ringer tee.
The projections were seemingly innocuous -- color saturated cemetery, a single smokestack, the aforementioned house -- at least until masked figures were spliced into the grainy video or else walked, climbed or meandered into the otherwise still shot.
Graveface's banjo led in crowd favorite "Sun Lips," and it was high in the mix, lightening the heavy golden swells with an organic dose of earthy relatability. "Forever Heavy" was just that, the unmistakable synth bellows oozing in slow motion like warm, melty marizpan goo and giving everyone a reason to bob, nod or groove along. The band mostly ignored levels, opting for maximum overdrive from start to finish, which can rarely be argued with. There were a few pauses as they parsed which song was up next, but what must have felt like a lifetime on stage barely registered with the crowd. The pace kept careening around mind-bending, Skittle-bright corners. "Iron Lemonade" off 2009's Eating Us got the dudes dancing (how often do you see men dancing and girls standing still?), and the people in the back of the room had plenty of space to space out, or dance about depending on the song. Some of the jams were too short, like on "Drippy Eye" and "Neon Syrup for the Cemetery Sisters," which is forgivable in a room full of people tenuously poised between peak and comedown, be it chemical or endorphin-fueled.
No one could call BMSR's set predictable -- of the twelve songs, at least four of them were new -- "Psychic Love Damage," "Sunburned Fudge," -- and all but the most familiar Dandelion Gum tracks were almost indistinguishable, especially since Tobacco's vocals were lost in the omnipresent vocoder quagmire. Two out of the three encore songs were Tobacco's swamp bass solo stuff, marked by boxy stabs of synth and menacing laser blasts which ended the night on a particularly dank note.
Critic's Notebook:
The Crowd: The tallest men in the world. Surprisingly, no ravers.
Head Scratcher: It just doesn't make any god damn sense. Tobacco doesn't do psychedelic drugs. He's never taken acid. How, how does he know what a trip sounds and feels like?
Overheard: "You know Thomas Edison? He's a fucking bitch. That's all you need to know." then, by way of justification as to why Thomas Edison is a fucking bitch: "I'm a computer science major. I build robots."
Girl in the bathroom, to the stalls: "These things are hard to read." The...doors? The doors are hard to read? Let's be friends.
"Let's do a Crave Case." "Ah! Don't even say that shit."
If I had a shot for every time I overheard a "So fucking sick!" exclamation, I would be in the hospital.
Setlist: Impossible.