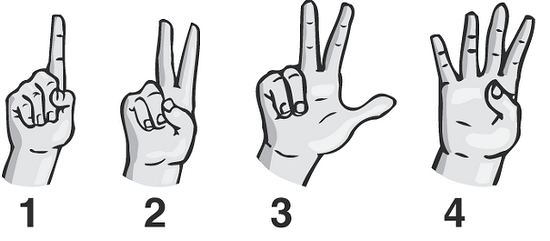 In popular song, the count off is a tool of function. Somebody counts from one to four (or three, or if people have even once compared the band to Don Cabellero, seven), and the musicians know when to begin playing and how quickly to play. Some have used the countoff as a jumping off point for creativity, whether pushing a boundary (like our number two pick) or crafting a distinctive hook (like our number one). To inaugurate our series focusing on the minute details of songcraft, here are the top six count offs. Feel free to let us know which ones we forgot in our comments.
6. Outkast - "Hey Ya" It helps that anything Andre 3000 says is going to sound awesome. The wild child of Outkast has a voice so smooth, you'd swear his tonsils are wearing shades. "Hey Ya!" was last decade's most transcendent pop song, and now that it has been freed from its punishing over-saturation, we can focus on how satisfying and unusual it truly is. It's a hip-hop track masquerading as a '60s throwback, or maybe the opposite, with references to instant cameras and Andre's parents conceiving him. The line "Lend me some sugar, I am your neighbor" is still widely under-appreciated. But the whole thing kicks off with "One two three UGH!", all offset by a beat; the one comes in on beat two, the ugh in place of four really comes in on beat one of the next measure. The explanation sounds academic. The count off itself sounds like an odd introduction that shouldn't work for a song that has the same chance of survival on paper. But great pop music was never intended for paper.
5. Radiohead - "Paranoid Android" The best count offs give you that feeling of "oh shit, something's about to go down." Whatever happened before and whatever are about to occur are irrelevant; during those brief seconds, reality is suspended. On Radiohead's classic OK Computer, the disarming opener "Airbag" fades out with a doppler-effected guitar chord. In that calm, four pulses introduce the storm of a rock suite that is "Paranoid Android." The pulses themselves recall the heartbeats of hospital machinery, another of OK Computer's dissonances between man and machine. The placement -- technically placed at the final seconds of "Airbag" -- reward the album listener rather than the cherry picker and remind us to turn off our iTunes crossfader and/or disable the two seconds of silence between tracks on the CD burner. A few minutes after the pulses, Thom Yorke sings "Ambition makes you look pretty ugly." We'll have to agree to disagree with you on that one, Thommy boy.
4. Q And Not U - "Everybody Ruins" In their too-brief existence, DC post-punk outfit Q And Not U mastered the art of the tease. The group was known to drop anchor mid-tune for a good chant or off-key "la-la-la" chorus, destroying the structures of its tracks while peers merely poked theirs in unsuspecting places. And we're talking about the band's relatively stable records and disregarding its volatile performances. "Everybody Ruins" is the least songy-song on the band's most creative endeavor Different Damage. More than half of its running time is built around drummer John Davis counting off a song that refuses to start. Instead, the trio answers the stick clicks with "ooohs" and lonely guitar chords. Eventually, the interplay mutates into an oddball click/drum/guitar riff...and then is interrupted by a mildly conventional song in an unrelated tempo. People often use the phrase "art-damaged" when referring to Q And Not U. On "Everybody Ruins", the count off is an integral part of the wreckage. 3. The Flaming Lips - "Do You Realize?" What better way to begin your most earnest reflection on death/most successful single since "She Don't Use Jelly"/future Oklahoma state song than with a chorus of fairy-dust snorting children counting to four?
2. The Beatles - "Taxman" Revolver's significance need not be discussed in these humble web-pages, but it is worth mentioning how the Beatles' transition to psychedelia is apparent before a single note of its first song. "Taxman" itself isn't such an unusual work. It's funky, safely political (the Tea Party would certainly approve), and has a totally sweet, too-loud guitar solo. The first few seconds though, with incidental studio noises and a count off in a lethargic British deadpan, is a sly preview of the trips the Beatles would soon embark upon. Function is abandoned, as the count off is remarkably slower than "Taxman." One could argue that this intro is the first successful example of musique concrète in pop music, or that the intro was a lucky coincidence put to tape, or that the coughing in the background is there because those boys were smoking dope and we need to add Revolver to the heap of burning records alongside 2 Live Crew's discography and that one metal album by Pat Boone. At least, like the best Beatles moments, it gives us something to argue about.
1. Neutral Milk Hotel - "Holland, 1945" Jeff Mangum was not the first man to say "two, one two three four," but he owned it the hardest. On "Holland, 1945", one of the many standouts on 1998's In The Aeroplane Over The Sea, his count off is the precursor to a folk rocker absolutely demolished by distortion. The first chord post-count is bizarre and heavy, like a distortion pedal drenched in blood riding a Coney Island ferris wheel. The count off is as recognizable as anything in Neutral Milk Hotel's catalog; when Greg Gillis sampled the count on "Minute By Minute," nobody needed the rest of the song for identification. Perhaps the count off is so remarkable because Mangum sounds so detached. Anyone else with the power to reign in such fuzz would be hard pressed to contain the excitement. Jeff Mangum, honestly, sounds bored. But it's not the kind of bored that Julian Casablancas or Lou Reed use to seem cool. It's the kind of unimpressed bored that Michael Jackson's monkey maintenance technician likely felt; the underwhelmed sound of someone so entrenched in the unusual that it becomes second nature.