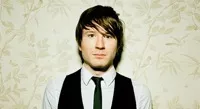 Adam Young returns to the Pageant on Monday, November 7th with his Owl City project. Tickets go on sale this Saturday, September 10th, at noon. General admission to the all-ages show will be $20 in advance, and for the first week, if you buy three tickets you get a fourth for free. Hint hint, mom/dad.
Amazing what a year will do: On his last trip, Young was riding the tidal wave of his twinkly single "Fireflies." Owl City released an album in June, called All Things Bright And Beautiful to somewhat less fanfare -- thus far it hasn't produced a big hit or climbed above #6 on the Billboard chart.
Maybe the shine has faded. Or maybe not -- a quick Google search will lead you to a never-released version of ATBaB's lead single, "Alligator Sky," featuring a verse from Big Boi. There's a B.o.B. version floating around out there as well.