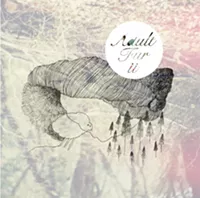 Ryan McNeely, as Adult Fur, has released his new EP ii this week. You can buy it now from Goyoko.com, an Icelandic online music store that is currently featuring the album in its featured rotator with the description, "St. Louis' natives Adult Fur's take on experimental yet accessible music really bears fruit on his 2nd EP. Think Radiohead's Thom Yorke or Sin Fang."
Christian Schaeffer reviewed the EP in this week's Homespun column; read his take below and listen to elastic synth daydream "CRACKLE" below. The album artwork at right was done by Sakura Sato, of Yamanashi, Japan.
Adult Fur will have a proper release show this Friday at the Heavy Anchor with Cartwheel and Palace.
"CRACKLE" by Adult Fur
Ryan McNeely has produced tracks for the likes of Rockwell Knuckles, Scripts N Screwz and Tech Supreme, and his dense, layered backing tracks carry faint whiffs of psychedelia and indie rock. But his solo work as Adult Fur shows that it's less correct to think of him as a hip-hop beat maker dabbling in rock & roll, and closer to the truth to say he's a musical pantheist. At eight songs and 24 minutes, ii is a brief but fetching sampler platter of McNeely's hazy shade of pop music. Most of these songs ride on a backbone of thin, clicky drum-machine patter and thick synth bass, and the BPMs are mostly set for a languid slow grind. In this sense McNeely shares a smartly retro-minded palette with St. Louis native (and now New York-based) Phaseone, another producer who unites touches of old-school hip-hop, outmoded synth pads and lush production techniques. But throughout the EP, McNeely showcases his high, dreamy vocals alongside tracks that, in another context, could have backed up a hard-rhyming STL emcee.

McNeely proves an able, if occasionally unremarkable, singer on these tracks -- in fact, he treats his voice more like another instrumental layer rather than a megaphone for any kind of lyrical message. He'd rather relish in the skitter of a treated high-hat or let moody guitar patterns set for a while against a wall of blippy arpeggios. Songs like "Blazertone" find Adult Fur at its most conventionally rock-driven, though the following track "Octangler" is lovably campy and new-wavey. McNeely's vocals take a back seat to French vocalist Sacha Bernadson, whose similarly high-reaching pipes help make "I Am Dream" the EP's Euro-trash standout. But sharing the stage is an easy move for McNeely, a natural collaborator with a thumbprint that will hopefully be found on an increasing number of local releases.