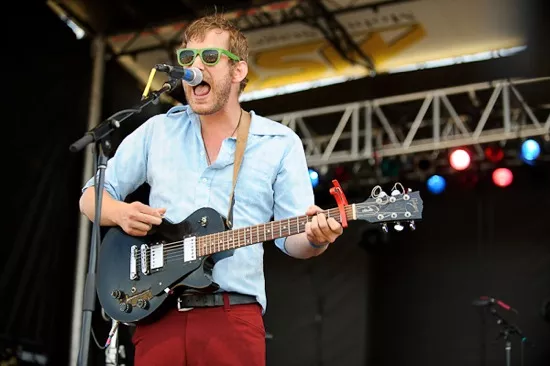 Old Lights Noon| Blue Stage By Kelsey Whipple
You can't just casually listen to Old Lights. You have to really listen. Buried beneath the charming stage banter and the neat, occasionally adorable melodies and the surf guitar and the joint poptastic choruses and frontman Dave Beeman's maroon stage pants are desperately sad lyrics born from past relationship disasters and gorging on an awareness of their own inner workings. This is a band rooted, at least lyrically, in heavy drama, and that alone finds it wading drastically different waters each show.
This one, the opening set of LouFest's second day, was not the group's finest. Despite some early technical difficulties, the band's lyrical content achieved an immediate eerie allure in the empty sun. Still, the set lacked the charm and finesse typical of Old Lights. Awkward stage banter transitioned into commentary on the band's recurring issues with broken guitar strings and empty spaces between songs. Lyrics such as, "I ain't singing 'Hallelujah' anymore," typical of Old Lights' beautiful sentiments, felt almost bitter when sung by a noticeably upset Beeman.
This isn't to say that the members of Old Lights didn't recover their fine-tuned rock chops in time to rally the troops. About 40 minutes into the band's hour-long exploration of new and old material, songs such as "Death Came," a gentle crooner focused heavily on Beeman's emotional content, found the band focusing on its performance instead of commenting on early technical flaws. "Apparently it's my first day ever tuning a guitar," Beeman commented at one point. "The Hold Steady didn't have this problem."
Drummer John Joern and keyboard darling Beth Bombara operated as the musical and emotional glue of a set that crossed both high and low points. When, after taking a turn on guitar, Bombara also managed to break a string, the group's previous problems became a joke rather than a frustration. And at no point during the group's set was any sound more consistently solid than that of the drums. When the day's first band ended, it was met with rowdy whistling from the 40 or so people gathered to see it. The six people onstage appeared less enthused.
Jumbling Towers 1 p.m. | Orange Stage By Zach Noland
The early Sunday crowd, sprinkled shadowless on the battered fescue, stood calm and attentive for the quasi-homecoming of LouFest's final quasi-local act. The crowd greeted the proceeding 38 minutes of what had to be the most purely danceable music heard to this point (granted we're talking here about Talking Heads danceability, whiter-than Good-Humor-white danceability, prepare-yourself-for-a-sidelong-scowl-should-you crump-into-my-tote-bag danceability) with polite applause. Then they poked at phones, fingered shirt hems, adjusted shoulder straps, fondled desquamating shoulders, swallowed accreted saliva, and otherwise observed basic concert-going decorum, suggesting receptiveness but an ultimate unwillingness to do little more than that twitchy heel-stomp thing where the foot bends at the tarsometatarsals and the toes stay planted.
Clearly sensing the crowd's passivity, the band simply ripped through a short set of old ones and new ones, self-consciously amusing themselves and altogether eschewing the earnest, audience-embracing attitude projected by all of the preceding local acts. In return they got the golf claps, a few obligatory "woos," and, at the very most, the sort of bemusedly amused looks that passed through the crowd at odd intervals.
Whether a matter of some perceived betrayal at the band's quasi-departure to Chattanooga, Tennessee, or a general and totally understandable reluctance to indulge the band with the bizarro Brit-speak vocals and the freaky synths and Adrian Belew guitar solos at 1 p.m. on a Sunday, it simply wasn't a love connection at the Orange Stage.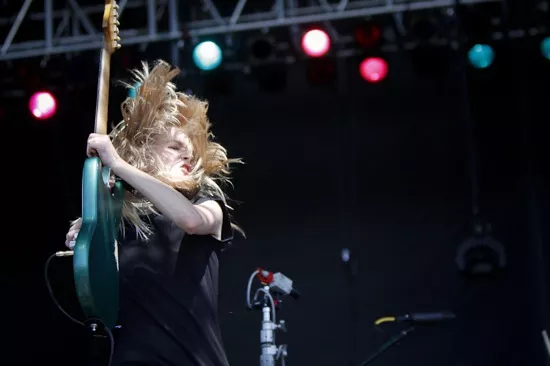 Ume 2 p.m. | Blue Stage By Kelsey Whipple
Ume frontwoman Lauren Larson is the perfect new lead singer, chief guitarist and rock & roll model for the many thousands of us still stuck on Kim Gordon. The three members of the Austin, Texas, band might actually still be stuck on Gordon themselves, but when that later-years noise lust comes packaged in an overwhelming rush of no-frills, all-thrills sound, no one's complaining. There's no reason to: Aside from a timid introduction that seemed almost ironic about 30 seconds into the set's sonic bedlam, the band's show became a quick lesson in underrated uproar.
Ume (pronounced "ooh-may," which was a constant LouFest debate until Larson spoke the name onstage), is a small band considering the heights its stage buzz can reach. For this reason, it's important to note the strengths each of its three petite members bring to their intentionally disparate roles. Early on, it's easy to suspect that Larson pulls all the weight: Hidden under Courtney Love hair with bangs almost down to her nose, Larson spent the entirety of the set in constant, frenetic motion, flipping that 'do, shredding the guitar like a Tasmanian devil and causing a general ruckus as she served as the propeller for waves of acerbic but cathartic sound. How can someone so small produce so much noise?
If you can take your eyes off of her, however, you notice that neither the band's bassist nor drummer spends a single moment of the set without both hands moving at super speed. The two tend to fade into the background while Larson wails at the mic and on guitar, but the effect is that of a perfect storm of attitude onstage while the tunnels of biting noise travel in and out of focus. This is a band that breaks both hearts and hearing aids. And somewhere in between a raucous (and female-dominated) front row and the toddler blowing bubbles in an NPR shirt closer to the back, the level of crowd surprise alone proved this as one of the strongest shows this weekend.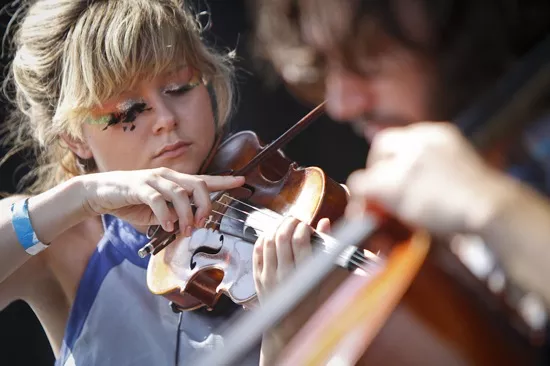 Lost in the Trees 3 p.m. | Orange Stage By Zach Noland
I guess as a festival organizer you're now and then forced to make certain concessions to certain tastes -- you have your Kings Go Forth and then you have your Low Anthem, amiright? But sometimes you have to make the safe bet -- sometimes you're forced to pave the road in its square center and book that certain type of band to which no one can particularly object, the type that eschews the innovative and original for the time-tested and inoffensive, the type that'll plant butts in lawn chairs and set upright bodies to swaying.
For LouFest 2011 that band is Lost in the Trees, and, for Lost in the Trees, the chosen road is what the lead singer self-consciously described from the stage as "soft acoustic lunch hour," a 100 percent surprise-free rehash in the timeworn Appalachian folk mold, one that balances the soporific with the mildly clamorous while startling or upsetting no one. So basically -- you're getting the picture here -- we have yet another assemblage of professional musicians clinging with a death grip to those rusty pitons left by folkies past, tropes like cellos, finger-picked guitars, beards, plaid shirts, pastoral/boreal/xyloid/telluric imagery, and cornball refrains like (actual quote here, seriously) "sometimes all it takes/is a walk around the lake."
And -- success! -- the crowd ate it up. The folks in lawn chairs patted their thighs, the girlies swayed in their sundresses, and the couples kissed and guffawed when a freaking monarch butterfly -- aww! -- flitted over the press pit during a delightful little chamber passage by the string section. Boundaries were left utterly intact, expectations went entirely unexceeded, and uncharted territories remained that way, at least until Das Racist. But such is the music festival.
The Low Anthem 4 p.m. | Blue Stage By Kiernan Maletsky
The Low Anthem played the back half of a languid Sunday afternoon double-header, when the crowd stretched across the lawn in chairs and on blankets, drifting, tranquil. "This is a song about laying in the grass, looking for love," says front man Ben Knox Miller. "If that's what you're doing right now...this is for you."
The Low Anthem is the sound of the quiet moments you don't think to tell anyone about or remember, the long waits and repetitive motions and wanderings, the things you don't bother to store.
The music is quiet, mostly, and beautiful, delivered by instruments made of aging wood, peeling paint and battered brass and people wearing mostly muted clothing and humble expressions. Twice, they gathered around a single microphone shielded from the breeze with a bandana, with instruments unplugged. It was the only time all weekend the Area K stage managed to cut into either main stage mix.
On the back of one of many vintage instruments (a keyboard, in this case) was a piece of tape with "This Machine Kills Solipsis" written on it. An update, of course, on the "This Machine Kills Fascists" sticker Woody Guthrie kept on his guitar. But note the change in target -- not from one horrifying ideology to another, but from people to ideas. The Low Anthem kills solipsism, not solipsists -- the idea is not to inspire action but to inspire reaction, to suggest that you unplug and mind the world's tiny seams.
Das Racist 5 p.m. | Orange Stage By Kiernan Maletsky
Das Racist is a little hard to categorize, what with all that shouting and farting around and socio-political criticism. So let's leave it to front-antagonist Himansu Suri (a.k.a. Heems), who described it, at various points during the trio's LouFest set, as: slacker rap rock, rock music, blues music, classic rock, rap music and American music. Like many musicians, he and Victor Vazquez (a.k.a. Kool A.D.) refer to their influences in their lyrics. A few of those: Albert Camus, Richard Hell, Anthony Bourdain, Clipse (the preceding two in a single line), the R&B duo Yarbrough and Peoples, the '97 Celtics, Maya Angelou (with her "bubble butt"), W. E. B. Du Bois...
Obviously there is a density here, belied by the two MC and hype-man Ashok Kondabolu's (a.k.a. Dapwell) live show. At a glance, it's a haphazard train wreck of self-indulgence and laziness. And there's some fairness to that interpretation; the trio will be the first to undercut the importance of its own music. From "Sit Down, Man:" "White people play this for your black friends / black people, smack them."
But the delivery is too quick, too deadpan, too absurd to brush off. In front of a field filled more of the bewildered unprepared than people who knew what they were getting into, Heems demands more mushrooms in the monitor, then Kool-AD flips the thing sideways and uses it as a stool for most of the rest of the set. Heems tries on at least three occasions to start a "U! S! A!" chant. They play air guitar and make comical faces for three minutes and Heems says, "I like that amp solo." He continually refers to songs from the group's as-yet-unreleased debut album, Relax, by their track numbers. He also keeps saying the word "vibey," as in, "You guys feeling vibey?" or "Yeah, we're getting vibey now," which is something like Darryl teaching Michael Scott fake slang in The Office.
In a venue filled with people who came to see Das Racist, so much of this obfuscation and deliberate failure to meet expectations loses its impact; the three are preaching to the choir. Not here, where we've just emerged from the sincerest two hours of the entire weekend.
Heems, by way of a closer, plays Tina Turner's "The Best" off his laptop through the PA, and the three make exaggerated, mock-serious salutations at the crowd. They return a few minutes later (a Deerhunter reference, perhaps?) for a couple more half-songs. Heems raps "Juicy" for a few minutes and they play "Master of Puppets," again through the PA. Kool AD and Dapwell make a big show out of rocking out on an empty stage. It's rock and roll music, you see.