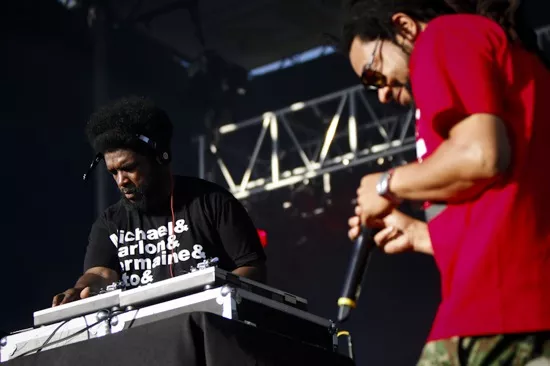 Questlove (DJ set) 6 p.m. | Blue Stage
Questlove stepped onto the Blue Stage with both good news and bad news, he said, but let's face it: The worst news came last night. His band, the Roots, was waylaid by Hurricane Irene, like much of the East Coast, and was forced to cancel its headlining slot for Saturday night. "The Roots have only missed six shows in their eighteen years," Questlove said to introduce his set. "That's the good news. The bad news is that this makes seven."
The drummer and DJ, in Chicago when the news broke that the rest of his crew couldn't make it, was already scheduled to take on the after-party at the Gramophone tonight until he added an earlier DJ stop at LouFest to supplement his band's change of plans. It was a tough call and a mildly nerve-racking one: The signs at the entrance to the festival indicated in bold lettering that "THE ROOTS WILL NOT BE PERFORMING," and the reaction to the news has not been favorable.
Cut to: the dance party. Questlove's set began with an apology, sure, and a genuine one at that, but it quickly transitioned into an outdoor version of the most diverse dance spectacle you've ever been simultaneously surprised, confused and impressed by. The aggressively laidback musician stood passively behind an elaborate technical set-up as he began his set with a grittier, cut-up version of Justice's club anthem "D.A.N.C.E." This was unsurprising.
For the rest of the show, however, few things remained that way. The goal of Questlove's mix was to explore 85 years of music, he told the crowd, and though the songs didn't follow a strictly chronological order, they quickly found a theme in the fact that they had absolutely nothing in common other than their surprisingly successful translation to the outdoor dance floor. It was a magical history tour through serious and silly, classics and guilty pleasures, all augmented by new overtones, Questlove's heavy scratching and bold beats.
It would be almost impossible to imagine a single show including "Rock Around the Clock," "I Want Candy" and the Fat Albert theme, if that set hadn't just happened -- with overwhelming success -- in front of thousands of people who probably began upset that they only got one Root. The setlist rarely spent more than a minute on any of its songs, which included Kanye and Jay-Z, John Travolta and Olivia Newton-John, Jet, Toto, the Jackson 5, the Supremes, J Dilla, Beyonce, Katrina and the Waves and -- we kid you not -- Kermit the Frog. In what might be the strangest turn of events outside of say, Hurricane Irene, Questlove even managed to somehow make Joni Mitchell's "Big Yellow Taxi" danceable by speeding it up and breaking it down.
Within ten minutes (or about fifteen transitions between songs), it became clear that, although there was a lot of pressure on Questlove, there was no longer a lot of reason for it. There was a genuine breeze, like some hokey Earth sigh, as the set ended without the panache it packed during its beginning and middle. Questlove, still nonchalant, lifted his left hand in the air, took off his headphones and spoke into the mic: "Thanks, St. Lou. I'm going to try to get 80 minutes of sleep before my set tonight."