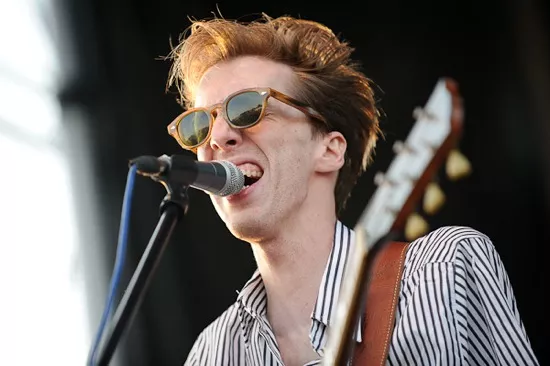 Deerhunter 7 p.m. | Orange Stage
When the first song digresses from semi-palatable, mild-fun-for-the-festival-going-family to a six-minute study in arrhythmic guitar resonance and bass groove, when the bassist spends those six minutes lolling around the middle of the stage, staring unblinkingly into the middle distance and cashing in on a tour's worth of sinistral muscle memory, and when the same crowd that ten minutes ago applauded Questlove's DJ set on the Bud Light-sponsored Blue Stage is now bobbing its heads and holding its iPhones aloft, committing to 720p digital memory twenty seconds of utter unchangingness, you have to start asking questions. Like: How is this working? A krautrock headliner at a Midwestern music festival in 2011? Why are the lawn-obsessed suburban dads in front of you nodding their Titleist-hatted heads to this? Are they wearing Echo and the Bunnymen tees under those Polo shirts? You might also mention here that for you, personally, those six minutes of utter unchangingness -- save for the smirk the lolling/staring bassist finally let slip around the five-and-a-half-minute mark -- were pure bliss.
As the sun sank below the tree line, and Forest Park's resident barn swallows exacted a swift and silent mosquito-pocalypse in the airspace above, graciously obviating any need whatsoever for insect repellent, the band and audience of thousands below proceeded for the next hour-and-change to abide by their apparently tacit agreement to respectively (1) turn in perfunctory end-of-tour festival gig and (2) applaud as if the music satisfied a fairly egalitarian set of expectations chiefly regarding melody, song structure and band-audience dynamics. This meant the band meandered through most of the material from its latest release, a small handful of material from the previous release, one measly song from its antepenultimate and best album, and one Green Fuz (by way of the Cramps) cover. When and in which smoky back room (and by what sociological phenomenon) this agreement was reached is the mystery at hand.
So where's the common ground between Deerhunter and our fairly egalitarian set of expectations, etc.? No way was it the hooky vocals -- the horrifically roily mix turned the melodies into mere suggestions, leaving inexperienced audience members with the burden of imagining how much better the band must surely sound on record. Zero chance it was the constructions of the songs themselves -- several stretched beyond the six-, seven-, even ten-minute mark, some with false endings, many with extended passages of impenetrable noise, and almost all with rambling ambient introductions that blurred the line between art and jacking around. And it wasn't band-audience dynamics -- not after Surfer Blood set the bar for pandering with a "Box Elder" cover, and certainly not after Questove spun an hour-long DJ set featuring deep cuts from the likes of Joni Mitchell and Toto.
All other rational explanations exhausted, it had to be the groove. It had to be the unfailingly transfixing rhythm, the one element that survived the horrific mix, that won the day. Anchoring every noisy digression was a mesmerizing bass line, rarely more than a four-bar phrase but with just enough English to turn an ear. Fitting, then, that the bassist was positioned front and center, claiming the largest swath of stage, unobscured by sunglasses or microphone stand, beating out those winding melodies without so much as a glance at the fretboard, and capping every song with that smirk and a faux-but-thus-reflexively-genuine-dramatic bow.