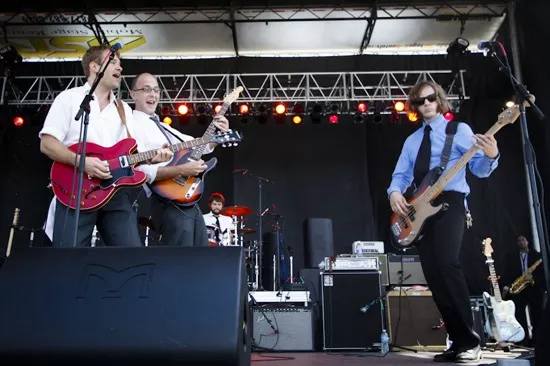 Jon Hardy & the Public Noon | Blue Stage By Kiernan Maletsky
A St. Louis band kicked off Year Two of a very St. Louis festival, where fleur-de-lis greet your every turn and the early-comers were drinking Schlafly beer and perusing the selection at the Euclid Records pop-up store. Even with home field advantage, Jon Hardy & the Public led off with a cover: the Band's "Don't Do It." A fine way to break the silence and a better Jon Hardy introduction for unfamiliar ears. He & the Public come from the bars and back roads and bayous of American rock music: They echo, by turns, a drunken Randy Newman raising sloppy toasts, the Band all dressed up and gone off to the city, a Springsteen pulled a few feet from the edge.
Hardy, who looks like he played football in high school, punches the back of his palm instead of clapping. He falls backward away from long notes and strains against the swells of his songs. His band came dressed in ties; his was gone before he hit the stage. His sleeves started rolled up, a few buttons undone. He's already been to the wedding, already finished the workweek and is now a few drinks into a night that will end in promises and visions of clarity. That's where these songs come from. The lyrics are broad strokes, big emotions, desperate ideas -- the best of the music rises, bursting, and falls, broken.
Of course the sun was out and people were polishing off cups of coffee, so it was a little disorienting. Not enough to be off-putting, and the increasing-by-trickles crowd seemed to have found the more straightforward melodies in the Public's catalog the perfect way to settle into a day of music.
LouFest treats the local bands with the same respect as the out-of-towners: They get the same stage, the same size type on the schedule and the same amount of time -- an hour, which is well beyond the ideal opening set length for just about any band, Jon Hardy & the Public included. The middle twenty minutes dragged, but this band knows how to close: "A Hard Year," the band's current single, followed by Randy Newman's "You Can Leave Your Hat On." Hardy set down his guitar to allow for maximum fist-pumping on "Please Baby Please," off 2007's Working In Love. And we're off.
Troubadour Dali 1 p.m. | Orange Stage By Zach Noland
Troubadour Dali treated the 1 p.m. Loucrowd to a tour of the psych-blues-rock cosmos on the not-sponsored-by-Bud-Light Orange Stage, our disheveled and hair-tousled docents showcasing a convincing admixture of instruments, musical stylings, bodily comportments, and haircuts that one might freely associate with a particular variety of musical acts known best for their variously successful forays into said psych-blues-rock cosmos. Skagging the same suppurating vein as (in what I'm guessing is descending order of desirability if you're in this band) Primal Scream, [obligatory the Brian Jonestown Massacre reference] the Brian Jonestown Massacre, and, well, the Vines, they gave us the harmonies, the slow-burning verses, the jangly rhythms and the freak-out choruses you can expect from a band that puns the word "troubadour" in its name.
Yes, we psych-blues-rock partied like it was 1965, or 1972, or 1991, or 1996, or 2001, or 2011, or really just any time at all within that range. The Troubs' sound is like one of those metaphorical snowballs, one that rolled down the mountain and picked up a twelve-string jangle here, a predilection for bass melodies there, a stony disposition over there, a stray organ in the chorus still farther over there, a couple tambourines God knows where -- and ultimately came to rest sometime just before Screamadelica. All of which might add up to a surfeit of influences, if said surfeit wasn't kind of the point.
That said, and given the setting -- the high heat, the festiveness, the fellowship -- this particular pastiche was actually something close to ideal. And the band mostly (and mercifully) resisted the understandable urge to stretch its two albums' worth of material with protracted passages of feedback and guitar freak-outs to meet the hour-long set length; only twice did the freaking-out clock in past the three-minute mark, and neither instance felt especially taxing. Though I can't say the same for token-chick-waving-tambourine-stage-right, who was stranded with her imagination, a white tambo, and some wicked knout-looking thing.
Sleepy Sun 2 p.m. | Blue Stage By Kelsey Whipple
Somewhere in the middle of Sleepy Sun's less-than-sleepy set, the LouFest sign attached to the left of the Bud Light Blue Stage freed itself and the giant banner went wild in the wind. The broken ties flew out and startled exactly one person. The result was hardly chaos. Let's consider that a symbol: The band it rested in front of was, after all, a strangely feral affair for so early in an afternoon, where we lusted after nothing if not a reprieve from the violent sun. The show was untamed, seemed unplanned and found footing in an aggressively unbalanced live presence that housed more outros than you'd think possible in an hour-long mid-afternoon show that is still basically an opener. It was a bold hour.
Seriously, there were so many outros. The San Francisco band should be used to the sharp temperatures, ostensibly, but the fervor with which the quintet attacked its midday set suggested something akin to heatstroke. Featuring key tracks from both 2009's Embrace and its follow-up, Fever, the setlist traveled through rock stompers; ambient, drug-laced ballads; harmonica folk jams and tortured, Muse-like rock operas, while simultaneously tackling enough spacey outros to convince the audience the end was close to coming for the entire second half-hour. Lesson learned: With Sleepy Sun, it's never actually the closer.
The five guys, dressed in a sloppy mix of Santa Fe chic, alternated between frantic, over-the-top showmanship (If lead singer Bret Constantino had actually jumped from the amp he'd climbed, he would have fallen into about twelve people in the front row) and unsage advice used to overemphasize a quirky stage persona that never tried anything less than very hard. "Drink lots of water and vodka," said Constantino during a break from harmonica and effects petals. "Don't be hot." These words of quasi-wisdom were punctuated by both balls-out dancing (see: the broke-down robot) and legitimate howling (see: the full moon) for a set that was both high on something and heavy on entertainment value.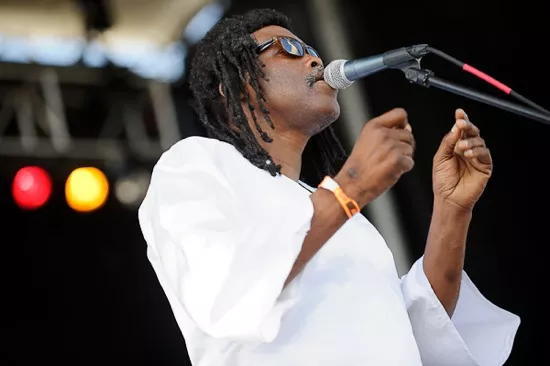 Kings Go Forth 3 p.m. | Orange Stage By Kiernan Maletsky
With the final bright horns and happy harmony falling on the ears of a dancing crowd, let's take this moment to talk about social conflicts. Kings Go Forth takes its name from a 1958 World War II film about an ethnically diverse group of WWII soldiers who fall in love with a French girl with an American mulatto heritage. Tensions and explorations and teamwork ensue.
Kings Go Forth happens to be a great name for a soul revival band, so maybe you aren't supposed to spend a lot of time thinking about how the movie relates. But it does -- this is a group made of funky white dudes from Milwaukee and their towering, deeply religious black front man, Black Wolf. As a whole they find themselves in a culture that rewards this sort of combination with hip cred, and here they are playing a midday set sandwiched between Sleepy Sun and Dom. This shared moment is among people with many different perspectives and experiences.
Black Wolf has said that he doesn't feel like Kings Go Forth is a direct copy of anything that happened in the '70s. Certainly he, an alumnus of the soul movement as it was happening, doesn't think it came from there -- if anything, he suggests, KGF reminds him of church. Indeed, the music is celebratory, exultant. Black Wolf is a good times evangelist and he has a way of commanding a crowd. So if in fact this is meant, on any level, to make you think about how you relate to other people, it is in a "Let's all ditch our hang-ups and dance" kind of way.
It helps that Kings Go Forth does it so well. The nine-piece band is shimmering and assured, digging grooves deep enough that Black Wolf can simply ride them, rolling his eyes back in his head, inflating himself with arms outstretched to prepare for hair-raising wails. He sits cross-legged to absorb solos and singles out crowd members. He does not play at the crowd; he plays with it. He introduces climactic lines in songs with banter and feels his singing so deeply and visibly it resembles some kind of minor rapture.
This was all met with admiration; the crowd (still very much... navigable, we'll say) was all smiles and satisfaction -- when co-workers ask these people about LouFest on Monday, Kings Go Forth will be among the first things they mention.
DOM 4 p.m. | Blue Stage By Zach Noland
DOM had the crowd for forty minutes.
We had a lead singer with a pink guitar and the kind of flowing red locks by which, if squinting and at a safe distance, one might mistake him for Jenny Lewis and, if not, Budnick from Salute Your Shorts. We had hair metal flange on the lead guitar and the vocals, those nasally, queasily off-key vocals that issued from, no surprise, that lead singer with the pink guitar and the flowing red locks, etc., those vocals that sound something like (obvious reference) Girls or (less obvious reference) Tom DeLonge possessed of a healthier relationship with the concept of nuance. We had Peter Buck rhythm guitar, an arpeggiated Telecaster that was audible exactly once in the entire set but sounded like a pretty ingenious detail for those four seconds. We had bass melodies that impressed the ever-present possibility of launching into "My Sharona" at a second's notice. We had synths alternately reminiscent of Scooby Doo and Madonna's earlier material. We had the disconsonance of gender confusion and, in the lyrics, recursive use of prelapsarianisms like "boy" and "girl" (so of course -- of course -- they covered "Boys Don't Cry").
So we had a mélange original, if not in its parts, then in its whole. But since when can a band build a compelling case on sheer originality anymore? Better question: Since when can a band mired in the dollar store wayfarers/cutoff jean shorts/Gomer Pyle hat bill/deliberately asinine forearm tattoo aesthetic transcend its own self-consciousness with another omelet of ostensibly random musical elements culled from the last half-century of popular music, i.e., originality? Dom begs these questions because the immediacy of its particular omelet is undeniable. How and why this omelet sounds so immediate, so Of Its Time, is something we'll probably need more time to deduce -- this band has been around since exactly January.
Surfer Blood Orange Stage | 5 p.m. By Kelsey Whipple
Surfer Blood's set began with the salutation, "How's it hangin', guys?," and it stayed about that casual until it ended. The band's charming surf-shoegaze hybrid takes on a certain sadness live that is hard to shake even as it perfectly complements the sunny sauna that is Forest Park at 5 p.m in August. The weather seemed perfectly matched to the band's effects-pedals shoegaze for an hour that consistently alternated somewhere between between lazy and laidback.
But being low maintenance and low key can also mean a low impact. The quartet hails from Florida -- West Palm Beach -- and the summer sun vibes weigh heavily on its performance, one that lacks live momentum even as it is endlessly beguiling. Surfer Blood hasn't played in St. Louis for more than two years, and its return came with a more direct creative perspective forged by the material on its forthcoming EP, Tarot Classics. The set was rife with new tracks, such as the hypnotizing rocker "Miranda," with a melodic structure only once-removed from the Pixies' back catalog.
"That one goes out to anyone who said we were kind of morbid dudes," lead singer John Paul Pitts told the crowd. "We like our humor to be uplifting." Regardless of their public perception, their live show is exactly that. Although the band's stage set lacks chemistry, the guys consistently focus on the energy levels of their audience and are unafraid to pander just a little. Pavement's "Box Elder," a song about Missouri, made a substantial impact on the St. Louis crowd, even as Pitt's voice wavered somewhere between Morrissey and the dueling vocals of Wolf Parade. The band would have benefited from a later set, perhaps even a sunset, but the audience benefited from the chance to chill out.
DJ Questlove: Review by Kelsey Whipple Deerhunter: Review by Zach Noland The Hold Steady: Review by Kiernan Maletsky