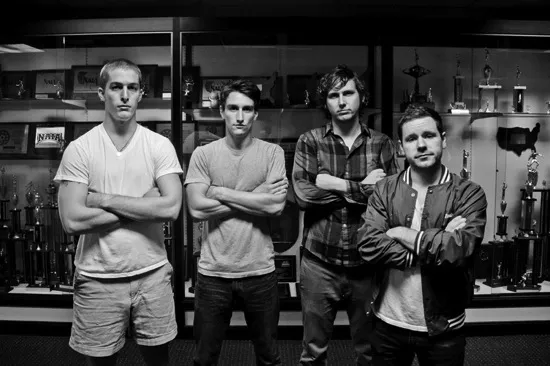 Courtesy of Jumbling Towers
Hopefully Jumbling Towers doesn't need an introduction at this point. The foursome crafts tense, funhouse pop that's sort of mindblowing in its ability to transport you to a mercurial plane of alien weirdness, albeit one that immediately feels like home. From its locally adored 2007 debut to the latest EP,Ramifications of an Exciting Spouse, the oddness and manic creativity has never wavered, and the band is one of small number that never fails to surprise us. It's been a while since we've seen JT, and truth be told, we're not sure we've ever seen the four play in the light of day. We sat down with Louis Wall at Kaldi's last week to get an update on the band, their plan of attack for LouFest, and when we can finally hear some new stuff.
Diana Benanti: What's it like having Nate (Drexler) and Mikey (Kendall) in Chattanooga?
Louis Wall: It's definitely doable in this day and age. We've had a lot of fun with it because Chattanooga is a great town. Small town, great people, great community. I think it's about a third of what St. Louis is. It's kind of a college town, it's got UTC and Covenant. We usually play in a small town called St. Elmo, which is in an historic district of Chattanooga. It's been good to us for sure. It fits the stereotype of Southern hospitality.
It's sort of impossible not to fall in love with Tennessee. And you shot your most recent video in Chattanooga?
People came out of the woodwork to jump on board without payment or anything. They just kind of hooked it up and. Peopl there are insane, they're just out to have a good time. A lot of them are out to have a good time without the influence of alcohol too, which means they're just out to party, you know? They don't care about pretensions or whatever. It's just great.
Has there been any tension in the band since two members no longer live in St. Louis?
No, not really. It's been pretty seamless. The biggest struggle is that if you play a hometown show, you're going to spend $150 on gas. You do have two home bases, but you have to pay to get there, basically. That's been the biggest setback. Other than that, you can blink an eye, and you've got Internet, smartphones, whatever. Nothing's different really. But I hope we don't come across as not a hometown band anymore. We are, Joe (DeBoer) and I will stay here, St. Louis is great. We love it here.
Are you working on any new material?
Joe and I've got about 40 songs that are in pretty good form, and about 20 of those are almost finished. We've got demos to go around for sure.
Is there an overarching theme or vision like on Kanetown City Rips?
Now there is, but when you have that many songs, it's hard to see. It just becomes overwhelming. We record at my home studio. It's given us the freedom to do whatever we want, and basically there's no time limits or anything. So yeah, there's a vision, I think we'll probably release a couple of singles in October, then an EP and an album, we'll hope to have a follow-up album after that in 2012. Lots of stuff coming out.
Have you had any offers from any labels?
We've certainly been officially rejected by a couple. But that's exciting too because it's all about building relationships and knowing that you can't rely on anybody. We do our own thing and we know we've got challenges. But you just kinda do your thing.
With a rejection, do you get any words of encouragement, like a 'keep working on it' or anything like that?
The best thing that comes out of those conversations is "Send me more stuff." And we've got a few labels that are in that category, once we finish a demo we can send it to them and they'll be excited to hear it.
Are you going to be playing any of the new stuff at LouFest?
Yes...question mark? Yeah, that's probably the biggest challenge of being in different cities. We have 30 songs we could play, but you know, rehearsing is kind of at a minimum. It'll be a festival style set with some bangers in there, and some old stuff. I think it's a really amazing thing for St. Louis that this is happening, that we can call something like this our own. We're really really fortunate to be a part of it. To have a major festival, and have it be leaning towards the more interesting side of pop music; I think that's really exciting. Having bands like Chk Chk Chk and Dom...there are a lot of interesting bands. I appreciate his selections. I saw Chk Chk Chk at the Creepy Crawl and they put on an amazing show; that room was always sweaty as balls but that show just lit me up.
Did any of you make it to LouFest last year?
I don't think any of us were able to make it. I really wanted to though.
Do you have any words of wisdom for the music community or your adoring public?
I think being honest and open. That's really all life is. How honest you can be, you know? When you're making music, you're able to create worlds and play make believe, but in that framework, like when you're writing a book or a story, within that framework you're still displaying some sort of truth about humanity. That's the relatablity of pop music, that's the glue that binds this whole thing together; especially in our world.