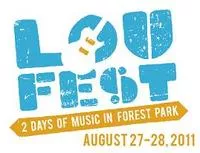 LouFest '11's opening day promises to have plenty of soul, psychedelia, and straight-up rock & roll. Here's a band-by-band primer on what you'll see, how to decide what to skip and what you should know going in.
Jon Hardy and the Public The specs: St. Louis quintet, occasionally accompanied by a horn section.
The sound: A melting pot of American music -- soulful, sometimes a little twangy, other times jangly, with strong storytelling lyrics.
You might know them from: Lots of Off Broadway gigs, NPR's Song of the Day on January 11, 2010, and winning the RFT's Best Local Album in 2008.
Get there early if you like straight-forward, unpretentious, tight performances that will kickstart your energy for the rest of the weekend.
Sleep in if you don't like Springsteen, Randy Newman.
Troubadour Dali The specs: Local psych-rock band often bathed in projected images. Just released a new album, Let's Make it Right.
The sound: A fusion of fuzzy guitars, soaring vocal harmonies and garage beats that hearken Haight Ashbury with enough modern sensibilities to not be mistaken for a throwback act.
You might know them from: Six years of steady gigs around St. Louis, winning the RFT's Best Indie Band last year.
Find a sunny spot for swaying if you like a good beat with your ethereal tripping.
Hit the Nosh Pit for lunch right now if you don't like Jefferson Airplane, so much surrealism in daylight hours.
Sleepy Sun The specs: Santa Cruz, California-based tripsters making what they describe as "California music."
The sound: Even more Haight Ashbury than Troubadour Dali, with extended songs full of jams balancing electric shrieks and blues pathos.
You might know them from: Last year's Off Broadway show and opening for Arctic Monkeys a month later.
Keep tripping if you dug Troubadour Dali's set.
Take a nap if you like your songs with three chords.
Kings Go Forth The specs: Ten musicians from Milwaukee founded by bassist Andy Noble and showcasing Black Wolf, who's been making soul music since the 1970s.
The sound: Big and funky, focused on cinched-tight vocal harmonies, heavy percussion and brass.
You might know them from: playing Off Broadway last March.
Come forth to the stage if you adore Sharon Jones and the Dap-Kings, or want to shake your booty.
Move back if you're ready for something more modern, or lack soul.
DOM The specs: The Massachusetts quintet formed less than two years ago. They released their second EP, Family of Love, this month.
The sound: Lo-fi power pop that includes a Casio keyboard.
You might know them from: the repetition of their indie earworm hit, "Living in America."
Dominate this if you like tongue-in-cheek humor with your DIY tunes.
Go to the retail area and help the American economy now if you can do without so much irony. Surfer Blood The specs: Five guys from West Palm Beach, Florida
The sound: Sand-fuzz that's equal parts Beach Boys and Vampire Weekend
You might know them from: their ever-present song "Swim," which has been paddling for over a year. Long before that, they played with Japandroids at the Billiken Club.
Hang ten if you enjoyed DOM, or were obsessed with Best Coast last year.
Paddle away you get seasick, or are fuzzed out.
The Hold Steady The specs: Brooklyn-based rock & roll, fronted by Minneapolis storyteller Craig Finn.
The sound: A straight-up rock basis for Finn's near-spoken, passionate delivery
You might know them from: A jam-packed show at the Gargoyle two years ago. Years of indie accolades. Movie, TV and video game soundtracks that have featured their song "Stuck Between Stations."
Hold on if you need a sonic blast of unfuzzy guitars and brutal yet catchy lyrics, or need some catharsis.
Hold back if you'd rather have dinner instead of partaking in some emotional expression.
Deerhunter The specs: Multi-genre Atlanta four-piece
The sound: Ambient yet poppy, melodic but rooted in punk, Deerhunter creates hazy dreamscapes without neglecting pop roots. It's tied together with Bradford Cox's tenor.
You might know them from: Cox's appearances in St. Louis with his solo project, Atlas Sound, as well as opening for the Ponys at the Billiken Club in 2007. Their most recent album, Halcyon Days, was one of our favorite albums of 2010
Hunt them down if you like Sonic Youth's quieter offerings.
Hunt for some dinner if you're still amped from the Hold Steady's ferocious energy.
The Roots The specs: Philly-based neo-soul/hip-hop band formed nearly 25 years ago that still records new music (last year's John Legend collaboration, Wake Up!, and the anticipated Undun).
You might know them from: a stint with one of the Lollapalooza tours in the '90s, their breakthrough 1996 video "What to Do," backing Jay-Z on MTV Unplugged a decade ago, as well as his "farewell" concert in 2003, their Grammy-winning album Things Fall Apart, and their gig as the house band on Late Night with Jimmy Fallon.
Don't even question if you're going to stick around for the Roots or not.