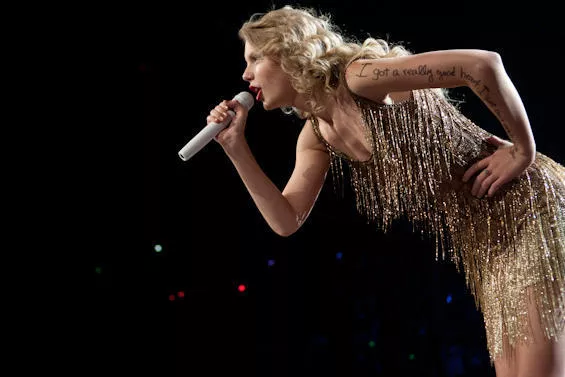 Taylor Swift | Hunter Hayes | NeedToBreathe Scottrade Center August 14, 2011
Taylor Swift has documented her detractors well: They make frequent appearances in her overtly personal lyrics, most recently in her revenge jam "Mean." The song's music video even finds her tied to the train tracks while a Snidley Whiplash-character torments her. It's important to note, however, that these people don't go to her shows. That makes all the difference in a night orchestrated entirely to benefit the singer's strengths, of which there are many, in front of 14,000 people who could watch her take a shit and still come away gushing. The fey singer-songwriter label still fits here, but it's wedged somewhere between dueling roles as a love-spurned twenty-something and a slowly boiling diva persona.
Keep in mind that at least 13,000 of those people have probably never listened to either Jewel or the Dixie Chicks. Although they were likely all familiar with the song that announced her arrival, Tom Petty's "American Girl," or at least the sentiments behind it, most of her audience is too young to trace the lines between Swift and her predecessors. This, while occasionally surprising, does nothing to hinder their interpretation of a show cornered on nonstop entertainment. Last night was Swift's second in a row at the Scottrade Center, and the result was a well-glittered dream machine for those who love her fairy princess leanings.
Check here for a full slideshow of Taylor Swift at the Scottrade Center
The opening of her show found Swift lifted out of the center of the stage in a gold sequined flapper dress inside a cloud of smoke. The expensive and well-received drama continued the remainder of the night, and it found its footing in both literal and figurative interpretations of her anecdotal lyrics. (During "Sparks Fly," sparks flew, for example.) Swift was never too far from a wind machine, and her outfits, all impressive, changed frequently but were never without considerable sequins. The girl likes shiny, and she makes it work for her.
Up close, Swift looks younger and tinier than even her music videos make it seem, and her Leann Rimes vibe would be more distinct if it weren't for completely balls-out showmanship and a prissy princess stage persona. Swift clearly adores her crowd, many members of which spent the entire night holding their fingers up in the heart that is her symbol, but her way of showing it verges on uncomfortable. In between songs, the Hellenic blonde frequently stares into the audience, alternating between coy and outright sassy, as she waits for enough applause to continue to the next. Sometimes, it takes quite a bit of applause. Usually, it just takes a lot.
Those detractors she often sings about, "haters" if you will, took to the Internet to complain about her voice and instrument playing rather viciously during the span of her first world tour. Neither one ever failed her this time around. Although Swift's constant costume changes and frequent running across a massive stage set-up found her voice occasionally breathless and a tad reedy, that voice spent most of the night belting out naïve lyrics, usually in an accent between her own and Dolly Parton's, with a surprisingly experienced fervor. And you can say what you will about her poptastic songwriting, but the 21-year-old future diva plays guitar, piano, ukulele and a pretty mean banjo.
The theatrics were equally diverse: On a stage set-up to look like the inside of a castle, Swift's ballet-trained back-up dancers performed in direct opposition to her black-sporting punk-rock band. The night took a tour through scenes that included a tap-dancing street sweeper, a full-scale wedding, a back-country banjo jam, an occult forest scene and the Romeo and Juliet setup that will forever be married to "Love Story," for better or worse. At one point, aerial acrobats are lowered out of giant bells, writhe wildly in the air and then lower the bell on Swift, who comes out wearing a different tiny sparkle dress than she just had on.
During the spaces between sets, the crowd was quickly distracted by giant storms of confetti or an impromptu ballet, which meant that when she finally did come out with the baby blue ball gown and the white grand piano, we were already completely immersed in the haze she hoped to create. Amid all the hair-flinging and kiss-blowing, it's sometimes hard to forget that this level of entertainment comes with a back-breaking amount of backstage work.
Although Swift called the St. Louis crowd, which she made special effort to return to for two nights, a "daydream," the same word could be applied to her show. By the end of the night, three people around me left with newly taken Taylor Swift cell phone backgrounds, and even the strange moment in which she covered Nelly's "Just a Dream" found enough earnestness to make up for the bewildering selection. The night started in smoke and sparks and ended in confetti, while the still-incredibly-young singer waved to the crowd from above, lifted to the ceiling in a princess podium, and confetti showered on every inch not already covered in it. It's unclear whether Swift is fulfilling her own wishes here or granting the audience theirs, but it doesn't really matter.
Notes, photos and setlist on the next page.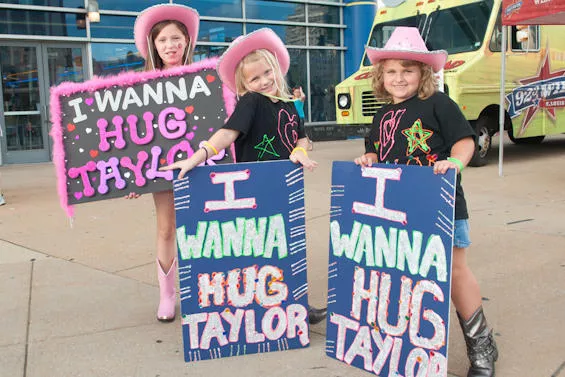 Critic's Notebook While the show stuck a little too close to a few notable stereotypes at times -- fairly tale romances, female revenge, the victim archetype -- the audience really cashed in on them. There were three children dressed as princesses within ten feet of me, and one of them was male. The conversations that filled the spaces between sets revolved around two major themes: 1) comparisons to the last time the Jonas Brothers were in town and 2) complaints that boyfriends wouldn't accompany women to the show. The teenager to my right was taking notes about the show on a Hello Kitty notepad.
Overheard "What is that emo dude doing onstage?" Swift's backing band follows an almost gothic punk aesthetic, so basically the opposite of her own.
During "Mean": "Sometimes I feel like this song is about my boyfriend. He wouldn't even come with me tonight, and he told me he doesn't understand my relationship with Taylor."
I'll spare you the details, but an overly affectionate couple in front of me also rehashed the details of their first make-out session out loud. It was apparently set to "Love Story."
Setlist: 1. "Sparks Fly" 2. "Mine" 3. "Story of Us" 4. "Our Song" 5. "Mean" 6. "Back to December" 7. "Better Than Revenge" 8. "Speak Now" 9. "Fearless" 10. "Last Kiss" 11. "Just a Dream" (Nelly cover) 12. "You Belong With Me" 13. "Dear John" 14. "Enchanted" 15. "Haunted" 16. "Long Live"
Encore 17. "Fifteen" 18. "Love Story"