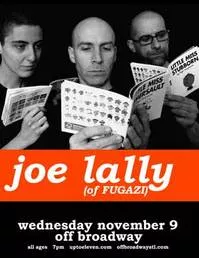 Joe Lally will be playing at Off Broadway on November 9th. It's an early one: Show starts at 7 p.m. No openers have been announced, and unless we are very much mistaken he had locals last time. Ahem.
The ex-Fugazi bass guitarist is touring in support of his April release Why Should I Get Used To It. The album, his third as a solo artist, was recorded in Rome with his current band: guitarist Elisa Abela and drummer Emanuele Tomasi.
Tickets are $10 and on sale now through Up To Eleven Productions.
This announcement actually came through a couple days ago, but we wanted to make sure you heard it. This show is one night after tUnE-yArDs. We know it'll be cold by then, but you may want to consider just setting up a tent in Off Broadway's courtyard anyway.