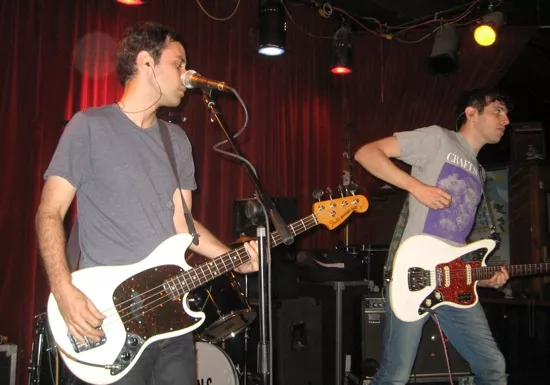 Pains of Being Pure at Heart | Craft Spells Off Broadway August 5, 2011
To my shock, they dedicated a song to me, so let's dispose with any pretense of objectivity right now. Admittedly, the song was "My Terrible Friend," so if they'd sucked live, I could have slammed them and had an excuse ("oh, they thought I was so terrible before? Wait until they read my review!") Fortunately, the Pains of Being Pure at Heart had already won me over by that point of the set, so that's a dilemma we don't even need to visit.
This show was a long time coming. Since 2007, the New York City quintet the Pains of Being Pure at Heart has toured extensively, including several jaunts through the Midwest. Fortunately, a St. Louis date opened just before their appearance at Lollapalooza in Chicago this weekend, so Off Broadway patrons got to see a genuine buzz band in a small, air-conditioned environment.
As noted in this week's print issue, the Pains of Being Pure at Heart comes from a tradition of "twee" styled indiepop -- small and frequently Anglophiliac bands playing catchy tunes with heartfelt vocals and lyrics. Lead singer Kip Berman's fey but forthright vocals perfectly match what are frequently some heavy emotions (sample titles: "This Love Is Fucking Right!," "Heaven's Gonna Happen Now," "Young Adult Friction"). For the band's first album, Archie Moore (ex-Velocity Girl) was called in for production duties, but for follow-up Belong, PoBPaH has gone for it in a major way by enlisting superproducers Flood and Alan Moulder and beefing up the guitar sounds for a thick, pristine final product that wouldn't have been out of place next to My Bloody Valentine in 1991. Yet it's still on Slumberland, the well-regarded California label that has been at the top of the indiepop heap for more than two decades.
At Off Broadway, PoBPaH was powerful and engaging. The past few years of touring have clearly sharpened the live sound; the band were able to replicate the effects-heavy album production with ease without sacrificing an involving performance. Berman sang each song with absolute conviction and earnestness, often in harmony with keyboardist Peggy Wang. In between songs, he gave additional shout-outs to Bunnygrunt, various local athletes, and fans that had driven in from Springfield, MO for the show. The set was fairly evenly split between the two albums, with "Come Saturday" and their theme song particular highlights. For an encore, Berman sang "Contender" solo, and was joined by the rest of the band for "Say No to Love" and "Strange."
The Pains' overall vibe and approach is reminiscent of many other small pop bands from the past twenty years -- Rocketship, Velocity Girl, the more upbeat Sarah Records acts, and especially the legendary Long Island 1990s band My Favorite. Rather than merely following in those footsteps, however, Pains add its own touch to what's becoming a long and well-regarded tradition. And that's true whether or not you've ever heard a note of the music before or met the band members.
The opening act, Seattle's Craft Spells, featured a pleasantly retro-jangly approach that suggested familiarity with Felt, the Smiths and Edinburgh twee-progenitors Orange Juice. Three of the four band members even sported fringe haircuts in the style of Edwyn Collins. While this was an appealing sound, the songs themselves were generally less than memorable, with the same monotonal vocals throughout the set. They retain the potential do something great, but it hasn't quite gelled for them yet.
Notes and set list on the next page.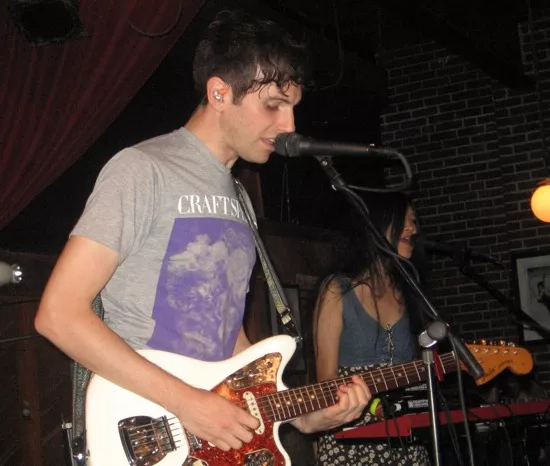 Critic's Notebook:
-- Apparently perturbed by the delayed set times, the attendee next to me suggested this opening line for my review: "Like many bands, these assholes don't have access to a clock." He was better-natured about it than it sounds in print. In fact, although the bands started late, the presence of only one opening act meant that the whole show was over before 11:00 p.m. As far as Rock Club Standard Time goes, that ain't so bad.
-- Guitarist Christoph Hocheim wore a t-shirt that announced, "I SAW JOHN MAUS LIVE." When asked about it later, he refused to give any further information other than that John Maus was "his idol." Turns out I haven't been reading my Pitchfork. If I had, I'd have known that his new album, We Must Become The Pitiless Censors of Ourselves, got Best New Music last month. And this week, he got himself into trouble with some comments about record stores.
Set list:
1. Belong 2. This Love Is Fucking Right! 3. Heart In Your Heartbreak 4. Stay Alive 5. Heaven's Gonna Happen Now 6. My Terrible Friend 7. Come Saturday 8. Young Adult Fiction 9. The Body 10. Everything With You 11. The Pains of Being Pure at Heart Encore 12. Contender 13. Say No To Love 14. Strange