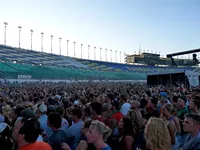 A man in his twenties was found dead in the camping fields at this past weekend's inaugural Kanrocksas Music Festival. The police department in Kansas City, Kansas, issued a press release on Saturday saying that officials responded to a report of an unresponsive person. The man wasn't breathing and was declared dead on the scene.
Update, 8/9: Police have identified the man as Jeremy C. Formby of Olathe, Kansas. He was 26 years old.
As of this morning, the Police Department has confirmed that no foul play had been involved. A toxicology report is pending. Other than the single death, says Officer Brittanie Pruitt, "We didn't have any major problems at all."
Pat Warren, president of the Kansas Speedway, which hosted the two-day festival, says that he's pleased with how things turned out.
"Six weeks ago, there were a lot of local people concerned about what would happen," Warren says. There was certainly some rowdiness, he acknowledges, but no major problems, all things considered: "We're used to holding big, big events, and when you have big events you have issues."
Jason Gonulsen, who co-founded the music blog Speakers in Code, camped at Kanrocksas and did notice some pandemonium, especially on Friday night. Compared with other camping festivals he's attended, there was relatively little oversight or organized infrastructure, he says, both from a security and medical standpoint. "When you roll into Bonnaroo, they tell you exactly where to go," he says. "There are policemen on horseback and clearly marked medical stations."
Comparatively, he says, "At Kanrocksas, there was nothing. At 3 a.m. Friday night, there were a couple fights that broke out," he says. "And your first thought was, well, who's going to stop this, and where am I going to go?"
But even with those precautions, there were two deaths this year at Bonnaroo, as Gonulsen acknowledges. Overall, he says, Kanrocksas "was fun. I had a lot of fun. And any festival you go to where you camp you have to expect that you're not going to get a lot of sleep. Stuff's going to happen."
Gonulsen reports seeing a larger police presence in his area of the campground on Saturday. According to Warren, of the Kansas Speedway, the same number of officers were on duty both nights, but many people left on Saturday after the shows. As a result, on the second night, "there was a higher ratio of police to campers," he says.
Warren also says that Saturday morning's death lead to a more proactive security operation. "After the incident, police were going around, not in an aggressive way, but in a checking way to make sure people were OK," he says. "If someone was having problems, we wanted to get them to a medical station."