Photo by Kiernan Maletsky
Flogging Molly Stagesaurus Rex
The sun has dipped behind the stands; Kanrocksas One is into the home stretch. Flogging Molly gave the stage security a workout, hauling crowd surfer after crowd surfer over the barrier.
The crowd for the second stage was, as it has been for most of the weekend, filled up to roughly the soundboard. You could walk right up to the stage barrier along the sides. But the Irish punks raised thousands of pulses all the same, ripping through drinking songs and freedom songs and songs to violently jig to. Front man Dave King plays the ass-kicking uncle, jovially introducing each song with its subject matter and words like "tipple" and "biddie." He introduced himself before the final song, saying, "You may know me as America's Next Top Model," and, when we laughed appreciatively, he gave us a gleeful winking, "Fuck you!"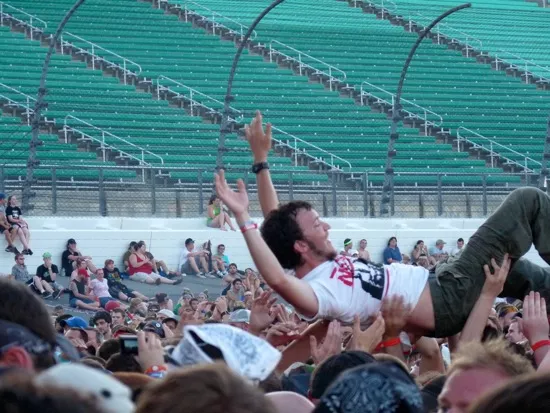 Photo by Kiernan Maletsky
The crowd toward the back had started heading toward Girl Talk ten minutes ago. Girl Talk, the mash-up artist who is playing a nighttime set on the Main Stage, which seems crazy except that it really might be a health hazard to put him anywhere else. The dude's popular, is what I'm saying.
There are very handmade signs all over the place with famous quotes about the power of music. As you enter the field, you walk by one with a Bob Marley lyrics: "One good thing about music, when it hits you feel no pain."