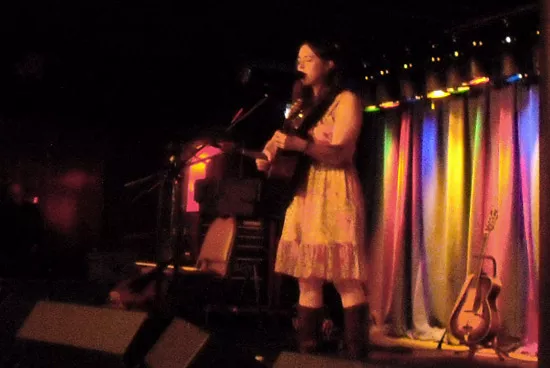 Photo by Roy Kasten
Sarah Jarosz, solo at the Duck Room
Sarah Jarosz | Cassie Morgan and the Lonely Pine
Blueberry Hill's Duck Room
August 4, 2011
My short-term memory isn't what it used to be. One example: I can't remember the last time I was wrong.
Scratch that: I can. This June, when asked how well I thought twenty-year-old newgrass singer-songwriter and multi-instrumentalist Sarah Jarosz might do on a weeknight in St. Louis, I gave a gloomy forecast. She'd never played our city before, the hippie kids aren't hip to her, and her second album, Follow Me Down, had just come out on bluegrass-centric label Sugar Hill, so forget about the Head and the Heart audience.
But when I arrived at the basement club for Cassie Morgan and the Lonely Pine's opening set, I saw how wrong I could be. Packed at 9:15 p.m. with some 200 people, all sitting and standing and listening respectfully to Morgan's quiet, fragile country folk delivery (a new song, "These Years," sounded especially fine) the room demonstrated the power of something. A Grammy nomination? Merle Fest chat rooms? Satellite radio? Bluegrass shows on KDHX? Garrison Keillor? An RFT Critic's Pick?
I wasn't alone in being wrong. "You all are freaking awesome," Jarosz said, thanking the audience for the ninth time, clearly as shocked as the experts. Her set repaid the crowd's enthusiasm. Starting off with "Tell Me True" from her first album, Song Up In Her Head, she and her young cohorts, Nathaniel Smith on cello and Alex Hargreaves on fiddle, established the sound that would carry her through the encore. It's total, deep-in-the-pocket, speeding rhythm, always rocking forward, forward, forward, while the melodies still rise up and over the bluegrass hyper-drive, lifted by her voice.
That voice is her ace. Big, clear and supple, her vocals loop in and around ancient shape-note-echoing tunes, her phrasing just a little wild but always finely pitched. As she hunches over a guitar or mandolin, she has the steely otherworldliness of a bluegrass veteran who knows she can just slay, and so she does, as do Smith and Hargreaves. On Follow Me Down, Jarosz is backed by elite super-pickers Jerry Douglas, Edgar Meyer and Dan Tyminiski, but Smith and Hargreaves sound like the next generation of newgrass killers. The former rocked the cello as if auditioning for Metallica Unplugged, and the latter received (and deserved) the night's first standing ovation.
As a songwriter, Jarosz is still a bit raw, sometimes mawkish. (The solo acoustic "Gypsy" sent me upstairs for a smoke.) But her best songs, "Tell Me True," "Run Away" and "Annabelle Lee" (which cops smartly from Edgar Allen Poe), have that almost-but-not-quite Gillian Welch quality, a sense of craft, patient and precise, in getting everything -- words, melody and, most of all, feel -- just right. And her well-chosen covers follow suit. She closed out the hour-long set with her take on Tom Waits' "Come On Up to the House," savoring the lines "Come down off the cross, we could use the wood" as the crowd clapped and sang along with her. And then, sending everyone to the merch table on the smoking strains of a Tim O'Brien medley, she took one last, jazzy, mathy, flawless solo on the guitar. Some nights everything turns out just right.