Photo by Kiernan Maletsky
Major Lazer Critical Mass Tent
The sun isn't quite set, but it is compulsory dance party time -- the only two shows available in the 8 p.m. to 9 time slot are Bassnectar, entertaining the thousands with club rippers at the Main Stage, and Major Lazer, off in the Critical Mass Tent. DJs Diplo and Switch came out wearing suits, of course, and Diplo told us this was their first trip to the Midwest. Just so you're clear: It ain't all Speedways.
The two DJs aren't actually all that involved the stage show. They stand there, coolly showing us what we want to hear, while a hype man and dancer do the sweating for them. It is seriously hot in there. She is capable of moves that defy the imagination. Observe: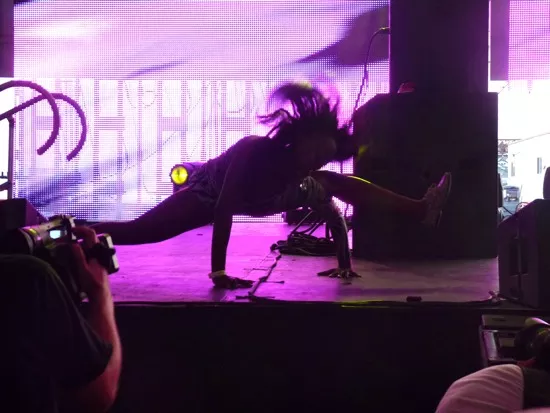 Photo by Kiernan Maletsky
The crowd -- torn, perhaps, between ear candy options -- thins to nothing halfway through the tent: Bikinis up front and comic book nerds in the back (or middle, really).
So it's a little cold, or at least Diplo and Switch are, but they earn their nonchalance with rough pop diamonds they seem to toss out like gumballs. I left early to make sure I'm somewhere in the vicinity of the Flaming Lips. This woman was standing near the soundboard.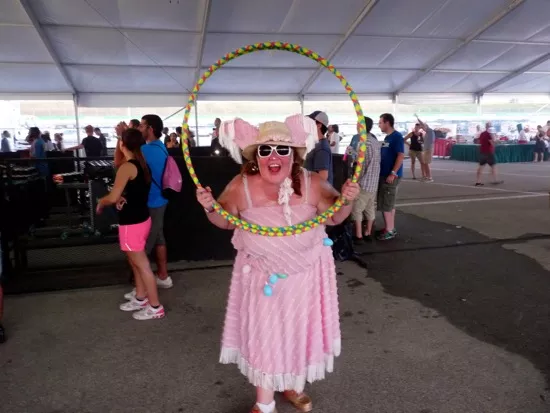 Photo by Kiernan Maletsky
A step back, briefly, for food. Vendors are sparse, but if you wander for a bit you can find actual food carts as opposed to the chicken-finger-emitting in-house concession stands. I wound up at the Good You, a "mobile organic eatery" where I had a burger that, if my very distant memory serves, tasted very much like the best parts of a Big Mac. Fuck yeah health food.
Kelli, left, owns Good You. Photo by Kiernan Maletsky