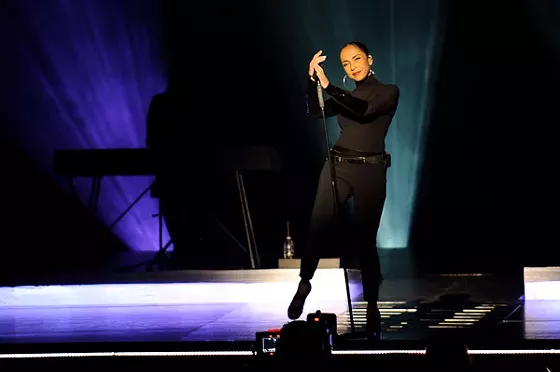 Todd Owyoung
An enigmatic Sade captivated the Scottrade Center crowd last night.
If a lead singer can ever be a cipher, Sade Adu certainly inhabits that paradox. As an artist, she resists both interpretations and expectations. She rarely grants interviews; she's released two albums in the past eighteen years; she only tours when necessary. And the songs she sings with her eponymous band -- at times moody, evocative, sensual and mysterious -- convey strong emotion in the most impressionistic way. If last night's Sade concert at the Scottrade Center had to be boiled down to a symbol, it would be the gauzy, translucent curtain-slash-projection screen that occasionally wrapped around the stage. It created a veil, one that sometimes obscured the singer even as it amplified the mood of the songs.
And the songs sounded spot-on, from the militant snare rolls that attended opener "Soldier of Love" to the note-perfect solos from the band's catalog. In its first St. Louis show in 10 years, Sade (the band) showed a cool precision that matched the steely grace of Sade (the singer). She came up a little flat on both the opening number and its follow-up, the joyful sax explosion "Your Love is King," but she quickly found her footing.
It's hard to think of another soul or R&B singer quite like Sade -- she rarely pushes volume, never goes for dreadful note-bending melisma, and jumps octaves sparingly (but beautifully, as on the stunning "Pearls" late in the set). At 52, she looks and sounds amazing. Even as a new singer, at 24 years old in 1983, she never sounded anything less than adult. That's helped keep the band's sound rooted in flexible but identifiable style, even when the rhythm and instrumentation changes.
Those changes were most apparent on the newer material, particularly "Love is Found," a new track included on this year's best-of The Ultimate Collection. Sampled strings and brash guitars gave the tune a Led Zeppelin / "Kashmir" vibe, and the spare "Morning Bird" featured little more than slow, ponderous piano as a backdrop. "In Another Time," a standout from last year's Soldier of Love, recalled classic soul, and the deathless "Smooth Operator" was just like you remember it, down to the wobbly bass breakdown and the sinister sax lick.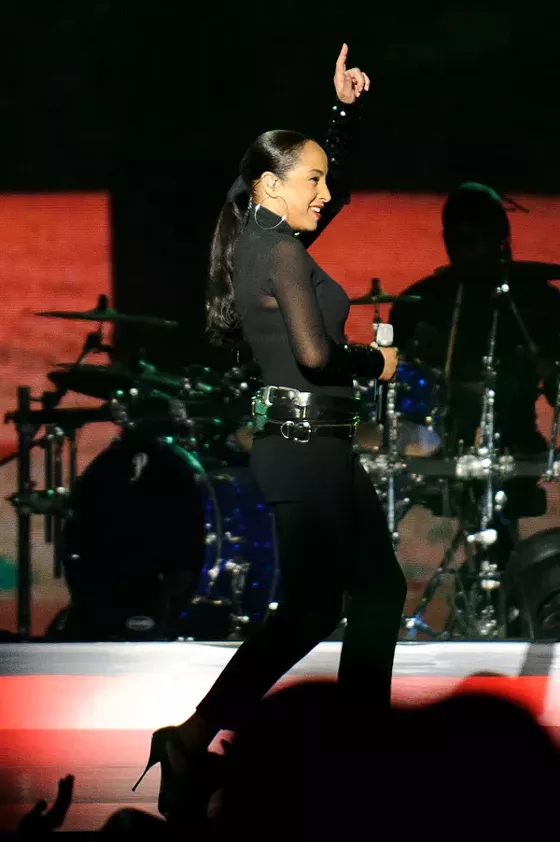 Todd Owyoung
Sade, still gorgeous at 52.
The original members of Sade -- guitar/sax player Stuart Matthewman, bassist Paul S. Denman and keyboardist Andrew Hale -- know their role: to recreate these songs in concert and provide a steady backdrop for their leader's voice. That led to pretty straightforward versions of these songs, down to the original solos. (A medley of "Paradise" and "Nothing Can Come Between Us" was the biggest shake-up, and hardly one at that.)
If you think of Sade's voice as unflappable and refined on record -- and, largely, it is -- last night's show was proof that she can also hit the high notes and stir the crowd into a frothy mass with a few vocal tricks. "Is It a Crime" was the best example of this effect, with Big Band-style swing yielding to some stunning vocal crescendos that played off the jazzy arrangement. But for the band's biggest hits, it took little more than a familiar motif to get fans on their feet -- the syncopated rim shots for "The Sweetest Taboo," the helicopter sound effects for "Paradise." These served as Pavlovian moments of recognition for the polite, if understandably sedate, crowd.
The proper set ended by showing the light and heavy sides of Sade's prowess. "No Ordinary Love" came off like a tempest of deep, dark lust, with Cure-like guitar slashes and moments of ominous thunder in the distance. (The fog machines helped seal the deal.) Next, "By Your Side" was a reminder that even if love is never simple and clean in Sade's universe, simple and clean odes can still exist, even as those odes acknowledge human frailties. And that makes for a pretty great love song.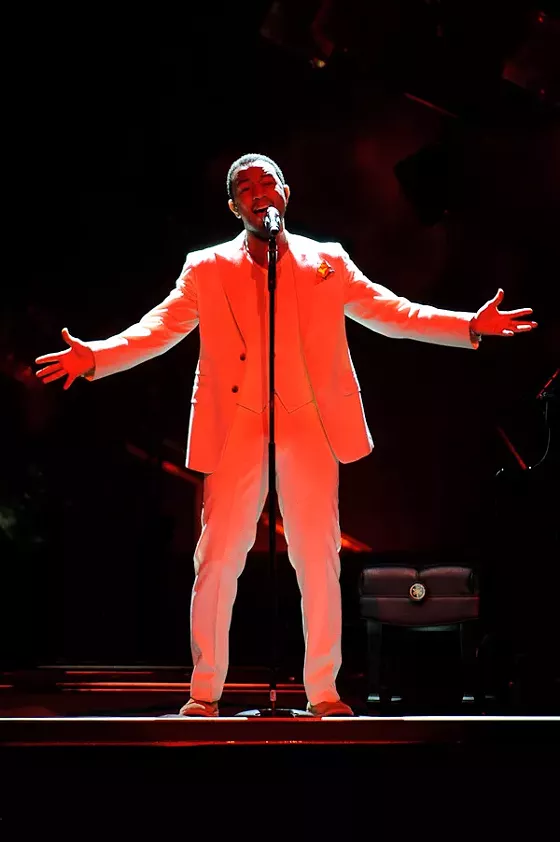 Todd Owyoung
John Legend: He's "Rolling in the Deep."
John Legend's opening set only exists as a fading memory after Sade's masterful performance. The piano-soul crooner has taken his sound in a much more busy, rock-heavy direction, with lead guitar and a three-piece horn section taking up much of the space. Legend opened with his rendition of Adele's summer smash "Rolling in the Deep," proving that you can make ubiquity more ubiquitous. His smooth piano ballads came across better -- "Ordinary People" always sounds good -- but one gets the feeling that Legend has the sound but not the songs to draw sustained attention. His party-starting "Green Light" was a suitable warm-up for Sade, however.
Critic's Notebook Overheard "No it ain't!" -- shouted in response to Sade's continued pleading in "Is It a Crime."
"Well, it only took twenty songs, but there is now a couple in my section dry humping." A friend's text message during "No Ordinary Love." Her subsequent bulletin: "Security broke up the good time."
Harry Nilsson's "Everybody's Talkin'" played after the encore. Great song, but pretty big curveball for the grown-and-sexy crowd. Personal Bias I put Sade Adu in a class by herself. It never feels fitting to call her an R&B singer -- there's just too much else going on in her band's songs. I also suspect that she may be the perfect woman, but that's just a hunch.
Every time I go to an R&B show, I wish rock & roll show-goers would dress a tenth as well as these patrons -- it makes going to a show an event. Were he to come back from the dead and tour again, you'd have white people going to see Sinatra in sweatpants. Setlist
Soldier of Love Your Love Is King Skin Kiss of Life Love Is Found In Another Time Smooth Operator Jezebel Bring Me Home Is It a Crime Love Is Stronger Than Pride All About Our Love Paradise Nothing Can Come Between Us Morning Bird King of Sorrow The Sweetest Taboo The Moon and the Sky Pearls No Ordinary Love By Your Side
Encore: Cherish the Day