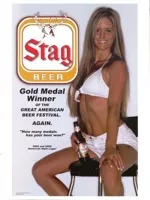 Stag + Feminism = Winning Combination!
Lady-centric lit mag Bad Shoe is having its sixth issue release party next Wednesday, August 3rd, at the increasingly incomparable El Lenador for Johnny Vegas' South City institution Stag Nite. Yes, we are totally excited about this, somewhat-awkward Stag ad notwithstanding. For one, we trust the voices putting this thing together -- Ellen Herget of the Skekses and Pretty Little Empire and Erin Wiles. But more to the point of this here music blog: The performance lineup for this show is top-to-bottom killer. O Fool, Beth Bombara and the heretofore-unannounced Lonesome Cowboy Ryan and His Dried-up Teardrops.
From here we turn to Herget's release on the subject: "'But Elly and Erin,' you say, 'who the hell is that?' To which we say, hey, remember that sharp-dressing, fine-sounding crew, the South City Three? Well, LCRAHDUTD is the South City Three in their natural trio formation (Harmonica player Ryan Koenig takes lead vocals), and they are busting their asses to make this show after playing all night at the Botanical Garden. We'd better show thanks by dancing til the place runs out of beer."
See? Amazing. And we'd like to not only send you to this shindig for free but also offer you what Herget describes as "stack of books from JK Publishing," the house responsible for Bad Shoe and similarly inspiring work coming out of here, Ohio and Mexico. Details below, on both Bad Shoe and the contest.
Once again, we turn things over to Herget:
In case you haven't heard, Bad Shoe is St. Louis's Kick-Ass Award winning, independent, locally-published lit magazine, for women in the St. Louis area who have something to say. (And, occasionally, we let the menfolk speak up too.) August 3rd will be our hottest release show yet, and not just from the weather. We are reading at El Lenador's venerable Stag Nite, with Southside staple Johnny Vegas. Poets are reading at 9; the bands will play after 10.
To earn the prize, in the spirit of poetry, you must construct a limerick in homage to our fair city. We're loosely defining the requirements here; give us a few good lines about St. Louis and you're eligible. "Profanity is acceptable," says Herget. "Go wild, kids."
You can post your limerick in the comments here or on the Bad Shoe facebook page. Be sure, if you're commenting below, to include your email address in your entry so we can tell you if you've won. The contest will close at 5 p.m. on Monday, August 1st. Whatchya got?