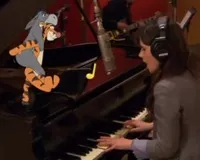 Amidst the flash, bang, and noise of summer movies, there's "Winnie the Pooh", a quiet and relatively bombast-free film that picks up where the 1966 classic left off.
The one difference: hipster queen Zooey Deschanel lends her delightful vocals to the soundtrack, including the beloved theme song and several new songs.
9. "So Long" by Zooey Deschanel,"Winnie the Pooh" soundtrack
See? Delightful!
Deschanel's sweetness might not make her a surprising candidate for the kids music market. Not like some of these other artists.
8. "Mahna Mahna" by Cake, For the Kids compilation Still think that the original members of Jim Henson's studio weren't completely stoned when they developed Muppets? Check out how seamlessly Cake covers one of their early songs. Stoner bliss.
7. "Nasty Dan" by Johnny Cash, Sesame Street Lots of musicians have graced the "Sesame Street" set in the last four decades, reworking their songs into kid-friendly, educational ditties. Cash went one better, of course. He released a full album of kids tunes in the early '70s, when his son was a wee one.
6. "All Around the Kitchen" by Dan Zanes, Family Band album Some parents of today's young'uns might be young and hip enough to remember the Del Fuegos. The 1980s Boston garage band crept up from the underground for a few modern rock hits ("I Still Want You" and "Move With Me Sister") and a beer commercial. These days, lead singer Dan Zanes makes "family music" - folky tunes that kids love that won't make parents want to shoot the speakers. 5. "Clap Your Hands" by They Might be Giants, Here Come the ABCs! album They Might Be Giants was more likely candidates to turn to kids' music -- the band manages to still balance that with the occasional grown-ups only tour. Although frankly, we've found that kids are just as happy listening to "Istanbul (Not Constantinople)", which also teaches them history and geography.
4. "The Disappointing Pancake" by Lisa Loeb, Featuring Steve Martin, Camp Lisa album The ultimate '90s dysfunctional romantic has married, had a few kids, and abandoned angsty love songs for silly kids songs with Steve Martin on banjo.
3. "Pure Imagination" by Maroon 5, Mary Had a Little Amp compilation We hope Adam Levine put on some damn pants when his band recorded their version of the Willy Wonka's welcome song. Even if he did, the song still seems a little dirty, coming from him.
2. "Sad and Dreamy (The Big 1-0) by Alejandro Escovado, The Bottle Let Me Down compilation If we've learned anything from Escovado's decades of songs, it's that life is hard. Even if you're just entering your double-digits.
1. "Biz's Beat of the Day" from Yo Gabba Gabba These days, instead of warbling comedy raps about nose-picking and toilets, Biz Markie's found the audience that would very much appreciate that sort of humor. Call it the high road, then, that he's teaching the next generation how to beat box on Yo Gabba Gabba.