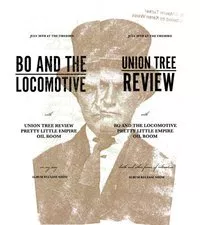 Union Tree Review and Bo & the Locomotive will share an album release show this Saturday at the Firebird -- both are unveiling their debut full-lengths. It's an interesting pairing: UTR is a heartfelt band driven by the gratifyingly earnest expression of front man Tawaine Noah and enough members and instrumentation to qualify comfortably as orchestral. Bo & the Locomotive, meanwhile, is a smaller band literally and primarily the vision of Bo Bulawsky, whose warbling, somewhat wry delivery does not prevent him from being emotionally expressive.
The two bands bear some similarities - the acoustic core of each allowed them to play a series of pop-up shows around St. Louis together a couple weeks ago. And they occupy the same stratosphere in the St. Louis music scene, both musically and socially. We had the two bands ask each other a few questions about what they're trying to accomplish and what it means to participate in St. Louis music.
Bo & the Locomotive. Photo by Michael Meihaus
"Darling" by Bo & the Locomotive
Jordan Howe, Union Tree Review: Recording at a home studio helps shape the record, but it also presents challenges. How do you think that helped define the songs?
Bo Bulawsky: I prefer working with limitations. I'd rather not be able to do everything I want to do and find a way to do it, still, than have all the options in the world and be not happy with what I did with one of those options.
Limitations are a friend of mine, I think, in recording.
Matt Ström, Union Tree Review: What was an unexpected roadblock in recording the album, and what was an unexpected pleasant surprise?
Bulawsky: It maintained a quality that I wanted that the old EP had, which is that it feels like it's a home recording. But that at the same time, in trying to reproduce some of that quality, I lost a lot of the spontaneity. To me it sounds like I was trying to reproduce something. I don't think anyone else will hear that.
Tyler, Union Tree Review: I know you guys just got back off of a fairly lengthy tour. What were your favorite and least favorite aspects of touring?
Andy Arato, Bo & the Locomotive: Probably the least favorite was spending every waking moment with the same two dudes for twelve days [Laughs]. That can be trying. My favorite part was getting to meet people in different parts of the country and see the way they do things.
Ström: Sometimes it feels like you have to choose between being in St. Louis and playing songs for people in St. Louis versus going out on the road, bringing other people's attention here. How do you feel like Bo & the Locomotive balances the two balls?
Bulawsky: I think they go hand in hand, honestly. You can't win one without winning the other. You can't win St. Louis unless you've won people in other places. This is just what I think: Once people in St. Louis, or wherever your hometown is, see that people outside of that town care about your music, then the people in your hometown will say, "This is our band. They're from St. Louis." Your friends will come to any show to support you and maybe a little outside your friend bubble. But it won't spread much beyond that until you're able to convince people in other places.
UTR's turn on the next page.
Union Tree Review. Photo by Jarred Gastreich
"You Are Living" by Union Tree Review
Bulawsky: What's your definition of success for the band?
Tyler: I feel like success as a band is being able to continue playing music and to grow and expand as a band. You can grow to a point within the limitations of a town. Even in a city like St. Louis - there are lots of venues - but you can't play every night of the week because then people aren't going to come out and see you. They'll think, "Oh we'll just come the next day or the next day."
Tawaine Noah, Union Tree Review: Or in a couple of months.
Steven Colbert, Bo & the Locomotive: St. Louis sees waves of young people, new bands, yadda yadda. Why should anyone be excited about bands in St. Louis right now -- specifically, why should we be excited about you in St. Louis music? What do you contribute?
Tyler: I think we are working hard and are active as a band. We have a lot of things we do. We play shows regularly; we try to bring other bands into town. Like, we played with this band Slothpop in Indianapolis and then brought them here and they played with us.
Ström: It's expected - we're working hard for us. That might or might not help St. Louis music. It definitely helps us out. And a lot of bands have been known to do things that are good for them but aren't good for St. Louis music.
One thing I can confidently say that we do is: We get four of five emails per week asking us to play a show, and whenever we have the opportunity and the time to devote to it we say, "I'm sorry, we can't play, but here are some bands doing things in St. Louis music that are really great." And for touring bands, we'll say, "Do you need a place to stay? Do you need help getting in touch with venue owners?" I think providing people with a positive experience when they're coming in from out of town, whether they play with you or not, is something that we do and other bands do. And it's one easy way to make this city more appealing to other people.
Noah: I feel really good and happy about what's going on in the St. Louis music scene right now. And it's cool to be a part of it and to contribute. Because when I am sitting down and writing a song it's usually because I want to write a song. And it's nice that when Union Tree Review puts that song together that we can then take it and give it to our friends and family in St. Louis and they accept it and say, "Hey, that's awesome. We're really happy that you're a St. Louis band." It's really cool to contribute to that from an organic standpoint.