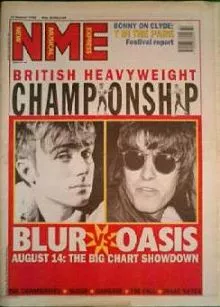 This and that Union Jack dress that Ginger Spice wore are just part of a list of uncomfortable moments in British invasion history.
Arctic Monkeys frontman Alex Turner looked dapper and distinctively British on the cover of SPIN's recent Success Issue. The slight singer sports a skinny suit that echoes the style of fellow Sheffield icon Jarvis Cocker, who in turn tends to model after the Jam's Paul Weller. British influence on the American music scene is less a cycle than a set of waves, often hyped by the UK music press and just as frequently underappreciated on this side.
Although we still have no idea why some bands make it here and others don't, we have broken down the five largest UK invasions on our shores in recent music memory. If you're of the cheesier variety, feel free to listen to "London Calling" as you read.
The quintessential invasion Started around: 1964 Key players: the Beatles, the Kinks, the Rolling Stones, the Who, the Hollies, Small Faces The story: We're all pretty familiar with the lore at this point, but let's recap. The year was 1963, and the setting was America. Fresh off the rebellious legacy of early rock and blues, the country was particularly well-poised for four bowl cut-sporting, smooth-crooning (some people would later even call them fabulous) young men who just wanted to hold your hand. Although the sentiments of the movement later grew deeper and more suggestive with the influx of other bands, it is still identified by a wholesome and endlessly catchy approach to modern pop music. Looking back, this is one of the best "right place, right time" stories ever. Most embarrassing part of legacy: This category leaves a surprising wealth to choose from: Yoko Ono in general, the video for "Dancing in the Streets," the most recent Ringo Starr album, the abomination that is the Davies brothers' modern relationship. Instead, we're going to go with the neverending drunken argument about who's better, the Beatles or the Rolling Stones, a feat that's obnoxious even when you're sober and moderately interested in the other person's answer. (The real answer is the Kinks.) Grade: A+
Never mind the British punk Started around: 1976 Key players: Sex Pistols, the Clash, Buzzcocks The story: Let's look past the Ramones for a second at another of the many angles of punk. It's pretty debatable where punk came from, but it's clear that the British variety began with the Sex Pistols and its short-lived career, much-mythologized legacy and badass fake last names. Its pure aggression and lack of classical talent was distilled by bands like the Clash into a heightened sound that mixed reggae, ska and elements of rockabilly into a more well-rounded reflection of similar sentiments. Today, these three and others are the owners of a simultaneously charming and depressing legacy and the continued existence of hardcore teenage angst. Most embarrassing part of legacy: There's not a lot to pan here, given that this era informed bands such as the Jam, Wire and Siouxsie and the Banshees, but let's not forget Hot Topic. The teenage mall icon would be nothing if not for Sex Pistols paraphernalia and unsubtle references to Sid and Nancy. Grade: B The second British invasion Started around: 1980 Key players: Depeche Mode, the Police, Pet Shop Boys, Duran Duran, New Order, the Smiths, the Cure The story: Although this era is significantly less well-defined in scope, it came with the greatest diversity, the most moodiness and the best hair. It was hard for American pop fans to fight the charms and emotional advances of the second official wave of British music trends, and this period of music is largely defined by its ambiguously sexual lead singers. If you put only the key artists listed above into a room together, the existential lyrics and earnest emotional intentions would be enough to send a space shuttle full of wishes and dreams from here to the moon, if NASA would let you. Most embarrassing part of legacy: Kajagoogoo Grade: B+
The anti-grunge movement: 1990s Britpop Started around: 1994 Key players: Oasis, Blur, Suede, Pulp, Elastica, the Charlatans UK, the Verve The story (morning glory): The problem here is one of motivation. Because most of it was actually rock, Britpop is summed up only by its first syllable, one that anchored the genre firmly across the Atlantic. Britpop started as a reaction to the American grunge music that populated even UK airwaves at the time, and something that begins as an antithesis to US culture can be tricky to translate inside its borders. Although this hasn't stop music like Green Day's "American Idiot," it put a big knot in the potential of Britpop bands like Oasis, whose North American tours were a shambles. Blur, a godlike entity in their home country, still remain most well-known for "Song 2," a jam most Americans will remember as the one in which some dude shouts "Woo-hoo!" on repeat. Because we're grading on success of influence, not awesomeness of music, Britpop moves to the bottom of the class. Most embarrassing part of legacy: The Gallagher Brothers, though consistently crabby and endlessly amazing, have not helped the plight of British musical expansion. They decry their fellow musicians about as often as they publicly criticize each other in a constant stream of hilarious media fodder that begins and ends with their occasionally questionable cultural relevance. Still, they're our wonderwall. Grade: D
Retro-infused garage music Started around: 2002 Key players: Franz Ferdinand, the Libertines, Arctic Monkeys, Kaiser Chiefs, Kasabian The story: This one would be almost a chicken-or-the-egg situation if we weren't fairly sure the Strokes kicked everything off. The success of the leather-clad New Yorkers' Is This It could be felt as far as the ozone layer, which made the new sound of bands like the Strokes and cohorts the White Stripes that much easier to translate across the pond. Those bands have since influenced our own and then been influenced by our own and then, well, you know the rest. June's cover of SPIN finds Arctic Monkeys comfortably at home under a headline reading "How to Make it in America." This is something they could teach to the members of the currently defunct Oasis, whom Arctic Monkeys have cited as a major influence. Most embarrassing part of legacy: Hype. The British music press is not well-known for its reserved critical analysis, let's just say, and it feels like we're currently at the 340347985740398750th coming of the Beatles. Bands such as Arctic Monkeys are the wiring of a machine that can't stop spouting its own praises. Grade: C