Behind the scenes of the Breaks' AUCW photo shoot. Photo by Bryan Sutter
It's back: The event when some of St. Louis' best bands take on an alter-ego for the night. An Under Cover Weekend will take place on September 9th and 10th at the Firebird, but wait: There's more. This year, there will be a third Under Cover show on New Year's Eve. "We will be recruiting three to five team captains," says AUCW organizer Mike Tomko, "who will be selecting who they would like to cover and will be putting together local 'supergroups' to execute their vision on stage."
Also announced today: the complete lineup of both initial nights of AUCW -- you can find that below. Plus, Tomko will be launching the new AUCW web site in about an hour here, so you can keep track of all the announcements and such. Interestingly, it features a conspicuously non-standard number of question marks in place of each band being covered. Look at the bottom of this post to see what we're talking about.
We talked to Tomko about this year's Under Cover Festivities, the photo shoots with Bryan Sutter and Jason Stoff (new this year) and why this is different from the many other covers and tributes performed throughout the city.
First: here are the bands -- the date that follows each name corresponds to the day when the band they'll be covering will be announced. So we'll know on Monday what band Bo & the Locomotive will be performing as.
September 9th Via Dove (8/2) Union Tree Review (8/5) Bo & The Locomotive (7/25) Dots Not Feathers (7/28) Tight Pants Syndrome vs. Paper Dolls (7/29)
September 10th Troubadour Dali (7/27) The Breaks (8/4) False Moves (8/1) The Orbz (8/3) Jump Starts (7/26)
Doors will open at 7:30 p.m. and music will start at 8:30 both nights. Admission is $10 per night and restricted to those eighteen and older.
Kiernan Maletsky: Can you give us any hints about the bands and/or the bands being covered?
Mike Tomko: Hmmmm... Well a number of the famous bands will have played in St. Louis in the year prior to AUCW5. That is kind of a first for us. We also have gotten way stricter this year on our "radio friendliness" rule, which is a good thing in my opinion. This event really is at its best when you have a room full of people singing along.
This was the first year of open applications -- what sort of response did you get there (any particularly left-field things come in)?
We got a lot of what you would expect. A decent amount of really passionate responses, a handful of jokes or seemingly joke submissions, and a bunch that fell somewhere in between. I honestly was completely caught off guard by the number of submissions in general though. 37 in total! Seriously, I didn't even realize there was that many bands in this town, let alone that many willing to throw down for AUCW. That seriously blew me away.
The thing that the submission process did for us this year was it allowed us to be more objective about who we chose to be a part of the 5th anniversary. And in fact, a few alumni from past years did not make it into the lineup this year. It seriously broke my heart to write 27 letters of "rejection". I mean, how do you tell a band who is willing to spend three to five months of their life working their butts off for your event that they can't play? It was so hard to do but ultimately I am really excited about the way that this year's lineup came together. The energy and vibe is very much akin to what it felt like in the first year and I think that was ultimately my goal for the 5th anniversary. To strip things back, at least as far as the lineup goes, to our roots. And, so far everything tells me that this was the right decision.
What's different about AUCW this year?
To be honest, we made so many mistakes in the first four years. It was a really fun journey but this is the first year where I really feel like we have the foundation beneath us that is necessary to execute all of the things that I have wanted to do with this event. So, for 2011, we decided to simply go for it.
For those who are familiar with the event, a whole slew of things are different about AUCW5. For those who are maybe just joining us, this is what you should get used to. I'll go through some of the 5th anniversary highlights...
Website: Our new website is ridiculous. I threw last year's site up in one long overnight coding session and it definitely served us well -- nearly 10,000 pageviews during the 10 days of leaks in 2010 and almost 1,500 for this year's submissions. I had always thought though that we could do better and this year we have definitely taken things to new heights.
My company, TomkoTek, actually took on the development of the site and we've spent the last few months toiling over exactly what we wanted it to be. The result is something that I'm really proud of and I think sets a new bar for "festival" websites in this town. (A cool little tip, try dragging the size of your browser's window from big to small. The website scales all of the way down from large monitors to mobile phones without shrinking the text! This was really important to me because we have such a wide audience for this event and we wanted people to be able to easily get AUCW details from anywhere that they have an internet connection.)
The Weekend and the Reprise: Year one was just a single weekend, as the name suggests. Year two was four nights, divided by decade ('60s, '70s, '80s, '90s), and was our most ambitious year to date at least as far as scheduling goes. Years three and four were both three nights each, which was based on the number of quality responses we got back from the invites that we sent out. This year though, we have a very special little surprise.
The main part of the event, or "The Weekend" as we are dubbing it, will take place at the Firebird on September 9th and 10th. We've gone completely old school and brought things back to being just two nights with 5 bands a night.
We have finally decided though to do something that we have been talking about doing for a few years now and thus have added a very special 3rd night to An Under Cover Weekend 5. "The Reprise: Supergroup Edition", as we're calling it, will also take place at the Firebird and will be on New Year's Eve.
For "The Reprise" we will be recruiting three to five team captains who will be selecting who they would like to cover and will be putting together local "supergroups" to execute their vision on stage. Every year we get so many people who ask if they can put a band together just to play AUCW, which unfortunately doesn't fit into our normal theme, that we decided to do a whole night of it. This is literally a dream come true. We are in talks now with a few people who've already expressed interest but others who might be up for captaining a team, or joining one, can email me at mike@undercoverweekend.com with their ideas.
I'm actually captaining a team this year and am really excited to finally get a chance to play AUCW myself. In the five years that we've been doing this, I've only played on two songs out of the 59 sets from years one to four.
Photo shoots: Both in an attempt to elevate the production of our 5th anniversary, and as a way to generate new outlets for the bands participating in AUCW to show St. Louis their true personalities, we have teamed up with local photographers Jason Stoff and Bryan Sutter to do exclusive An Under Cover Weekend photoshoots. And, over the last few weeks we've gotten all 10 bands down into a "secret" downtown location for what has been the most fun I've ever had doing band photos.
The chemistry between Jason and Bryan was there from the first set of emails between the three of us and at that point I knew we were on to something. What actually ended up happening was way beyond what I could have ever imagined!
How does AUCW differentiate itself from the many other tribute sets played throughout the year in St. Louis?
Back when Gentleman Auction House was still playing shows and I would tell coworkers that I was in a band, they would almost always immediately ask me, "Oh, cool! What songs do you do?" What dawned on me was that for those people that are not immersed in the local music scene here in St. Louis, it is not necessarily obvious that there is such a thriving and talented set of original bands right here in their very own city. And, obviously it is no secret that St. Louisans love a good cover band.
So, with An Under Cover Weekend I set out to try and help the people of St. Louis find their new favorite local band by giving them an opportunity to identify with them over who they pay tribute to. And frankly, it worked. This is the whole reason we have been able to keep AUCW going for the last 5 years. After Fattback's opening set at AUCW1, Annie Zaleski -- former Music Editor for the RFT -- came up to me and said, "Oh, my God! I can't wait to see them be Fattback." I would have been satisfied with quitting after hearing that.
This is a lot of the reason why we have never accepted supergroups. The whole goal of this event is to promote and showcase how amazing the bands in this city are, and to have as much fun as possible while doing it. I'm really glad that we've found a way to balance the two this year between "The Weekend" and "The Reprise."
But, to ultimately answer your question head-on... An Under Cover Weekend typically attracts three types of people. 1) Fans of the local bands. 2) Fans of the famous bands. And 3), friends of those people. AUCW sets itself apart from the other tribute sets throughout the year because it is an earnest display of months of hard work put in by ten-plus of the best original bands in St. Louis who do this for no other reason than because they love doing it.
And, there have been a number of mid-year tribute acts are actually a result of previous years of AUCW. The "Torn and Frayed" Rolling Stones tribute is actually Via Dove's set from AUCW3. "The Chauffeurs", the Duran Duran alter ego of the Bureau that saw a few repeat performances in 2008, came from AUCW1. And Fattback actually had to put out a public cease and desist on people asking them to play Huey Lewis sets at their wedding and/or party. That came from AUCW2 - John Joern was actually brought onto the stage that night by 300-plus people chanting "Huey" in unison!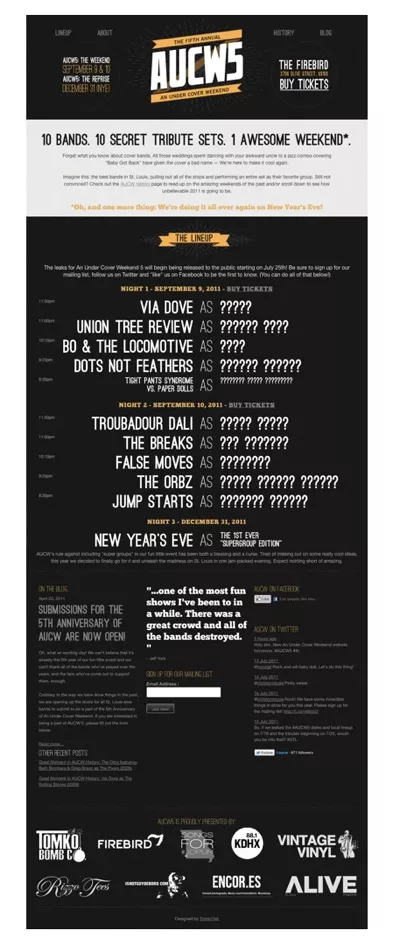 See? Guesses, anyone?