U2 | Interpol Busch Stadium July 17, 2011
U2 may be the least subtle band in history. Last night, the boys took the stage to "Space Oddity," which does not make sense thematically, but does make sense in that the song has a countdown in it and the 360 Tour stage looks like a space ship. Later in the set, Bono sang "Psycho Killer" while images from Iraq played on the big screen. Neither of those was even close to the most ham-fisted thing about U2's two hour set.
But this tour is not the largest and most successful in history on spectacle alone: I refuse to believe that even the most hardened cynic did not find his defenses melted by the opening of "Still Haven't Found What I'm Looking For." Even with the largest crowd in Busch Stadium history in attendance, even though the myriad logistical challenges of this show demand little-to-no spontaneity, U2 still made last night's show feel like a one-of-a-kind experience: a show you had to see to believe.
Interpol -- spectacularly ill-matched to U2 in almost every way -- took the stage (The Claw!) at 7:30 p.m., with the sun still beating down on the aluminum general admission floor and the stands mostly vacant. You don't turn down an opportunity to open for U2 in front of record crowd after record crowd, but let's simplify the difference between the bands with a quick wardrobe comparison: Interpol in basic black or at least business casual, U2 in glitter and exposed sternum and more than one variety of light-up jacket.
Carlos D is not missed as much as you might think. Sonically, of course, Paul Banks will always matter more, and David Pajo brings at least as much legend to the bass guitar as Carlos did. Interpol played an odd set of its most up-tempo hits ("The Heinrich Maneuver," "Evil," "Lights," etc.), all blaring out of a hundred speakers and echoing into the upper decks, the bass so loud it swallowed most of every other noise happening onstage or off. Banks gave an only-slightly smirking thank you to U2, and the band exited to the same creepy ambient music they entered to. If U2 was the swashbuckling heroes of this sci-fi epic, Interpol was the fringe alien race, friendly enough on the surface but untrustworthy, maybe even dangerous.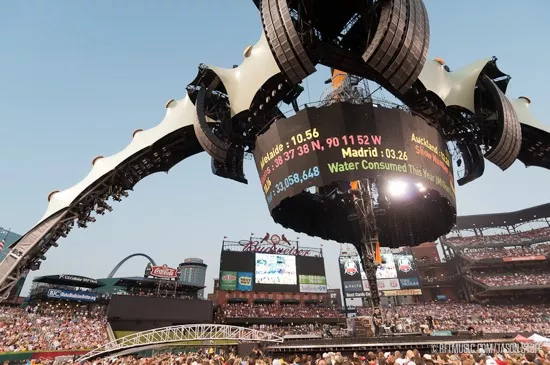 "Space Oddity" kicked in shortly after 9 p.m. and a camera showed U2 entering from some tunnel in order of reverse celebrity, with Bono taking up the rear and flashing a peace sign into the camera at his screaming worshipers. The World's Biggest Live Band took its place in the ring, greeted by 10,000 cell phone cameras, and burst into "Even Better Than The Real Thing" -- a spectacular song by almost any measure. Achtung Baby was pretty clearly the peak of U2's backlash-reaction period in the '90s, and for a moment you almost forgot about the whole carnival ride of the staging. Because what ties every U2 period together, from Rattle and Hum to Zooropa, is that they were all built for stadiums. There is no better situation to hear any U2 song than blown up to enormous proportion, with a sea of waving arms and Bono standing at his mic like he's in a wind tunnel.
The Claw did not remain still for long. Among the many tricks in its bag: Two bridges from the inner stage to an outer ring, both of which remain in more-or-less constant motion. So Bono can be standing on one bridge and the Edge on the other, and the two can start on opposite sides of the stage, moving closer and closer, until they almost get close enough to reach across to each other, which they of course do.
There's more. The many-paneled ring screen can extend toward the stage and contract at various points. There's a disco ball on the very top of the spire, and a another that can be dropped out the bottom, just above the band. They save that little trick for near the end of the show. There are lights everywhere, obviously -- glowing from the disks on the Claw's legs, wheeling around the stadium, blossoming from the stage itself, casting beams in the smoke, shooting toward the sky...
Bono pulled out a setlist from U2's 1981 show at the Graham Chapel, at which the band had so little material it had to reprise the first three songs of its set as an encore. He pulled a folded-up piece of paper out of his pocket and read the entire (short) setlist, implying that he'd dug up the original even though it was probably just a print-out taken from one of several obsessively complete fan sites. It was a great moment either way; despite this being the 107th stop on the 360 Tour, there are little wrinkles added that make each show slightly different. A short rendition of the first verse and chorus of "Hallelujah" was added to the set earlier this month in Montreal. And even though it's among the ten most obvious covers in rock history and also an exceedingly strange segue into "Where The Streets Have No Name," it was enough of a surprise to stir a crowd nearing exhaustion.
---
Click here for a full slideshow of U2 at Busch Stadium
The world's strife, painted in the broadest of possible strokes, was slathered throughout the set. The accompanying animation on the screen for "Miss Sarajevo" was cute toddler sketches of people, and of life, that gradually turned to fighter planes and burning buildings and actual bleeding, mangled bodies, still drawn in a child's hand. It's pure pandering, a cheap grab at emotion, just one of several examples of the grating simplicity of U2's global sympathy. Still, it is hard to completely fault someone for caring, and Bono's humanitarianism has clearly done good things for some people.
There are little droplets of self-awareness amidst all this heart-string-yanking: "As for me," said Bono at one point, "I'm a man of simple means: 200 trucks, 400 tons of equipment..."
For an encore, the video screen used cartoons to construct a rudimentary backstory: Some aliens are riding their UFO home after the show, complaining about their feet and rehashing the awesome, when a giant object hums immediately overhead. (We recognize it as the Claw -- somehow the aliens, who have just attended this very concert, do not.) There is a somewhat awkward attempt to transpose the video screen from the backdrop of the story to an actual piece of the space-ship (the Claw) which is now "landing" in Busch Stadium. A red target appears and we are supposed to imagine it is a steering wheel (?) and then: Bono flies in on a cable with the steering wheel attached to the bottom. And it becomes clear that it is a light-up microphone, and he is wearing a black jacket with inch-long metal studs that shoot out beams of red light. Are you following all this?
The band launches into "Hold Me, Thrill Me, Kiss Me, Kill Me," and it happens for the eighth or ninth time -- this song is so good, so perfect for this setting, that we forgive the excess. Or really: U2 justifies the excess. "With Or Without You" follows and we are all 50,000+ in a Kumbaya drum-circle. It ends, somewhat anti-climactically, with "Moment of Surrender" and we all make our exodus to the streets. The hum of chatter is nearly unanimous: What a show.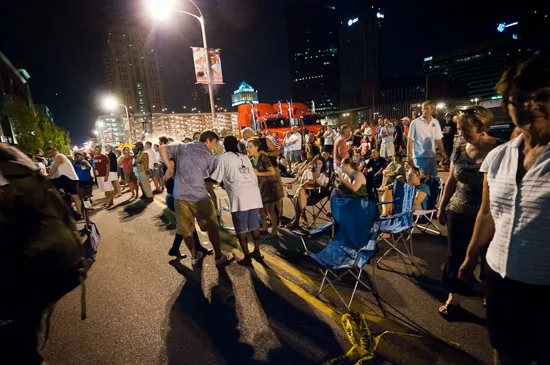 Tickets? We don't need no stinkin' tickets. Photo by Jason Stoff
Critic's Notebook:
Personal Bias: Proud devotee of The Joshua Tree and Achtung Baby, casual listener to most of the rest. I'd be lying if I said the sight of that stage didn't raise my heart rate a little.
By the way: The heat, widely billed as a threat to drop GA ticket holders en masse, wound up being little more than a severe discomfort. A few people had to be carried off, but that will happen. It's July in St. Louis, after all.
Overheard: The perils of crowds large enough that everyone knows they'll never see any of these people again: In line at the ATM, the asshole behind us heckled those taking even a moment longer than he deemed necessary, even clapping one poor woman saddled with a handful of debit cards off as she escaped the scene.
Setlist
Even Better Than The Real Thing The Fly Mysterious Ways Until The End Of The World I Will Follow Get On Your Boots I Still Haven't Found What I'm Looking For into Many Rivers To Cross Stay (Faraway, So Close!) Beautiful Day into Space Oddity Elevation Pride (In The Name Of Love) Miss Sarajevo Zooropa City Of Blinding Lights Vertigo I'll Go Crazy If I Don't Go Crazy Tonight Sunday Bloody Sunday Scarlet Walk On One Hallelujah into Where The Streets Have No Name
Encore
Hold Me, Thrill Me, Kiss Me, Kill Me With Or Without You Moment of Surrender
---
Click here for a full slideshow of U2 at Busch Stadium