Surely you have heard the charges made against Coheed and Cambria's bassist, Michael Todd, alleging that he robbed a Walgreens pharmacy before a performance, leaving with multiple bottles of oxycodone and hailing a taxi to the band's performance in Massachusetts. Hilariously baffling? Of course. But of all the many crimes musicians have committed that make us ask, "What the fuck?" does this one even make the top ten?
From possible pee fetishes and false imprisonment to starting forest fires, we've rounded up some of the weirdest crimes rock stars, rappers and other musicians have committed.
10. Barry White Seventeen year-old Barry White stole $40,000 in Cadillac tires and served four months in jail. Reportedly, White was inspired to straighten up and focus on music after hearing Elvis' "It's Now or Never" when he was serving his sentence.
9. Johnny Cash Though this "Ring of Fire" singer was never actually arrested for it, the singer started a forest fire when his truck caught on fire in 1965 at Los Padres National Forest in California.
The unintentional fire destroyed over 500 acres of land and killed 49 condors, an endangered species. The U.S. government sued Cash, who didn't care about "those damned yellow buzzards." The case was eventually settled and Cash paid $82,000.
8. Bob Dylan Rock/folk icon Bob Dylan was arrested on July 23 in Long Branch, New Jersey, after a resident called the police and told them that an "eccentric-looking old man" had made his way into their yard, which had a for-sale sign.
Police officers found Dylan, who was on tour with Willie Nelson and John Cougar Mellencamp. They "failed to recognize him" and, when he told them he had no identification, drove him back to his hotel. A police sergeant who met the pair at the hotel looked into the backseat and said, "That's not Bob Dylan."
Fortunately for Dylan, the pack of over-sized tour buses in the parking lot clued in the police officers that they might be mistaken, and Dylan's passport was recovered and shown to the officers to prove that the strange man walking around in the rain was, in fact, Bob Dylan.
7. Ozzy Osbourne Metal legend Ozzy Osbourne has done some crazy stuff, including biting off the head of a bat onstage. After a performance in San Antonio, Texas, in 1982, the intoxicated Osbourne, reportedly clothed in one of his wife's dresses, urinated on a cenotaph that was dedicated to those who died at the Alamo.
Osbourne was "arrested and charged with public intoxication" and banned from the city of San Antonio for ten years.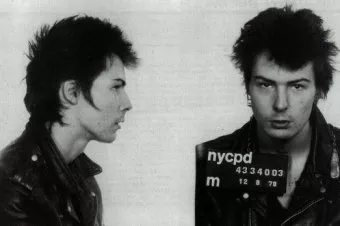 6. Sex Pistols With a name like that, it would be almost disappointing if the entire English band of punk rockers didn't get arrested for harassing the Queen of England.
On June 7, 1977, the date of the Queen's Jubilee holiday, the band set sail on a boat, appropriately named the Queen Elizabeth, and attempted to play "God Save the Queen" outside of the Palace of Westminster, floating down the Thames River.
The police reached the band's boat, with drummer Paul Cook yelling "'No fun! No fun!'" Everyone aboard was removed from the boat and arrested -- eleven of the group spent the night in jail.
5. Max Collins '90s alternative band Eve 6 front man Max Collins went on a naked romp in his hotel after the band performed at a music festival in May 2003.
In his first go-around, Collins made his presence known at the main desk and asked for some shaving cream. He returned shortly after, "clad only in Barbasol," and was seen playing the lounge piano and riding in the elevator.
After being escorted back to his hotel room, police found Collins and jailed him on charges of indecent exposure. He was released on bail later that morning of Tuesday, May 27, 2003.
4. Jim Morrison The Lizard King attempted and failed to incite a riot at a performance in Miami, Florida, on March 1, 1969, and exposed his penis onstage.
The Dade County Sheriff's Office put out a warrant for Morrison's arrest, and he was charged with "lewd and lascivious behavior, indecent exposure, profanity, and drunkenness." Reports also state that Morrison was also charged with "simulated oral copulation on guitarist Robbie Krieger during the concert."
Morrison went to trial in September 1970 and was convicted. He faced a six-month prison term, as well as a $500 fine, but Morrison died before carrying out his sentence.
Thirty years later, Morrison was posthumously pardoned by the state of Florida.
3. Chuck Berry Hometown hero or no, you can't have this list without Chuck. The rock and roll originator has stolen cars, been charged with armed robbery and even transported a fourteen-year-old girl across the state lines for "immoral purposes" -- but that's not why he's on here.
In 1990, "several women sued him, claiming that he had videotaped them in the bathroom of a restaurant he owned in St. Louis" called Southern Air. According to reports, it's "estimated that it cost him $1.2 million as well as substantial legal fees to reach a settlement. His lawyers said he had been the victim of a conspiracy to profit from his wealth." During a house raid, police did find footage of women using the bathroom, as well as a considerable amount of marijuana, but Berry avoided felony marijuana and child abuse charges by agreeing to plead guilty to one misdemeanor count of marijuana possession. "Berry was given a six-month suspended jail sentence, placed on two years' unsupervised probation, and ordered to donate $5,000 to a local hospital."
2. Boy George Ah, Boy George. On December 5, 2008, The Culture Club frontman and '80s pop all-star was charged with false imprisonment of Auden Carlsen, a Norwegian escort who said Boy George invited him to his home "to pose for photographs." Carlsen, who was told by Boy George that he would get what he deserved as the singer brandished whips and other sex objects, "claimed he escaped after wrenching a hook out of the wall."
On January 16, 2009, Boy George began his fifteen-month prison sentence, but only served four months, released on home detention curfew.
Unfortunately, there's plenty more where that came from.
1. DMX This rapper is no stranger to jail time and has quite the diverse criminal record. However, one instance stands out among the rest:
On June 25, 2004 DMX, whose real name is Earl Simmons, reportedly "crashed his sport-utility vehicle through a parking lot gate at Kennedy Airport after telling the attendant to let him leave because he was a government agent." Police found crack cocaine in the vehicle and the rapper was charged with "criminal impersonation, criminal mischief, menacing and driving under the influence of drugs or alcohol." Jackie Hudgins, who was also involved, was charged with "criminal possession of a weapon and drug possession." Reports also state that Simmons "tried unsuccessfully to force another motorist from his car" when he tried to convince the attendant that he was an FBI agent.
DMX pleaded guilty to the charges on December 8, 2004, but was sentenced to a conditional discharge, which he later violated.