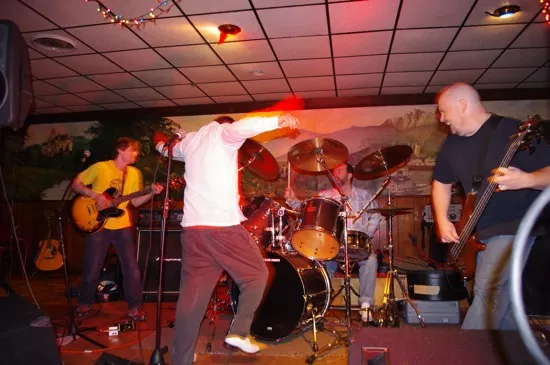 Photo courtesy of R6 Implant.
The good thing about a band calling it quits in St. Louis is that its never really done. R6 Implant is playing a farewell-of-sorts show on Saturday at Cicero's, but this isn't goodbye forever. The bill is shared with the Lion's Daughter, Galaxicon and Iron Hills. We talked to a few members of R6 Implant (comprising Shawn O'Connor, Derek Yeager, Dave Winkeler and Scott Randall) in advance of this weekend's hurrah.
Diana Benanti: How did you guys get started playing together?
Scott: After Fragile Porcelain Mice broke up Dave & I wanted to continue to make music so he reached out to his cousin Jim about possible drummers. He recommended Shawn. We first met at the Jesus Lizard show in Chicago in November 2009 and we got together later that month. Derek came along in the spring of 2010.
Derek: I came in late as a replacement.
Shawn: yeah, basically the weird two degrees of Kevin Bacon thing here is that Dave's cousin is the bassist for The Conformists. When I went up there with those dudes, Dave came up to him and asked if he knew any drummers. I happened to be standing right there, which I guess means anyone who happened to be standing next to Jim at that moment was destined to be in the R6 Implant.
How do you guys find the time for multiple musical endeavors?
Scott: This is the only musical endeavor I am currently in. I am not good at multi-tasking.
Derek: Very good communication
Shawn: Sleep is for little girls. This is a rock band filled with dudes. Mostly bigger dudes. And I believe the good lord invented caffeine for this very reason. Also, not watching TV and eating dinner off your lap while you drive from work to band practice results in incredible efficency.
If your bands were people, who would win in a fight: R6 Implant, Yowie, Fragile Porcelain Mice or Sine Nomine?
Scott: Sine Nomine. They are younger and in better shape. Mike scares me somewhat. I think he killed a drifter in South City.
Derek: Sine Nomine would win the fight. Sorry fellas, no harm intended. I think I can fight and Mike does fight twice a week with mixed martial arts.
Shawn: Well if our bands were people I imagine that Sine Nomine would be a big biker swinging a brick bat, Yowie would probably be a limber expert in the art of drunken boxing, and Fragile Porcelain Mice, being now deceased, would basically just lie there. R6 Implant would practice the same martial art as Patrick Swayze in Roadhouse, and basically not need to fight most of the time because of superior intellectual abilities and charm. If all four were to fight each other at the same time, there would be a lot of blood, bile, and probably some vomit. This is what usually happens at R6 Implant shows on the stage.
To what extent do your other bands inform the music R6 Implant plays? Scott: While this project is different from Fragile Porcelain Mice musically, people could draw comparisions to FPM because of my voice. I can't help it. If I could sing like Jeff Buckley I would, but I am kind of a hack at this music stuff.
Derek: Greatly. We are the culmination of our other projects. Voltron in a sense and I am the right ear.
Shawn: I draw heavily on the style I use in my Night Ranger cover band, Mr. Christian. I assume that is the one you are referencing.
You take your name from some whacked out Scientology shit. What is the significance of the R6 Implant? Are any of you actually thetans?
Scott: I defer to Shawn's knowledge. I believe like Scientology we are also banned in Germany.
Derek: It cleared the Mysapce band test, trying to get the church to take us to court so we can get some promotion and it sounds good. No we are not Thetans.
Shawn: First off, we can neither confirm nor deny whether the name has any relationship to the highly respected articles of faith or copyrighted materials of any religion, corpopration, religious coporation, or corporate religion. This is due to the band's sincere respect for diversity, which is informed by an intense mixture of both loathing and terror of lawyers, an emotion we like to call lerror. We have lerror of lawyers...changing the subject from potentially litigious discussions, a friend's son thought the name had something to do with an oversized breast implant. I'm not sure how to interpret that, but I guess he doesn't have access to wikipedia. Or if he does, he is not using the intenet for that purpose. So that may be the significance of the R6 Implant. Further potential significance lies in the fact that some really terrible band with guys from Voodoo Glow Skulls or some such garbage decided to name their band R6 Implant like a year and a half after we were around. When we confronted them about it, they decided to change their name to R6I, which stands for R6 Implant. That is what I call originality. Please, anyone reading this, contact them and tell them how much you dislike them.
Read the rest of the interview and listen to "Meth Party" on the next page. Meth Party by R6 Implant
Describe your sound in three words.
Scott: BASS, BASS, BASS.
Derek: The R6 Implant.
Shawn: Rock. Balls. Ouch.
What should we expect from the show this weekend?
Scott: One should expect odd looks and a lot of out of shape panting.
Derek: Aimless banter, lots of sweat, crazy time signatures and ear plugs galore.
Shawn: Either the most intense rock experience of your life or a pretty damned good show. This may depend in part on how many rock experiences you have had in your life.
One sort of interesting thing -- I am having a hard time figuring out what sort of bill we should be on, and this weekend we are on a basically metal sort of bill. So one thing you should expect is seeing if the show feels like a "one of these kids is doing his own thing" sort of moment or not. We don't seem to fit very well with any bill we are on in some ways, but then it seems to usually work anyway. So we will test to see if this works with the metals. I hope so. In the past we have played with everything from extreme improv noise to hobo folk to jazz, so I think throwing the metals in there is a necessary experiment. Whether the combo works or not, the other bands are very good.
So, you're taking the summer off. What's your preparing-to-record process going to be over the next few weeks?
Scott: Once we reconvene we will finish up writing a few more songs and then tighten up them up for mass consumption.
Derek: Finishing a couple more tracks and finessing the completed tracks to our liking.
Shawn: We're not taking the summer off so much as stopping playing quite so many shows for a while. It just gets old playing in front of all the screaming, adoring fans several times a month. I mean, sure, I love to be the one meaningful thing in these dullards' otherwise tedious lives as much as the next guy, but we need to earn it more through our playing, not just our striking good looks and charismatic personalities. So during this slight break from shows we want to write some more and put out a really good album. We have several new songs in the hopper that sound as though they are going in a little bit of a different direction than what came before them. So I am hoping to see where they go and then figure out what we want the album to sound like- no necessarily just a collection of all of the songs we have written. Also, preparing to record for me is one of my least favorite parts of being in a band, perhaps even worse than the "naming the band" phase. So my preparing to record process will involve a lot of being very annoyed and waiting for the relief of the just after the recording phase.
What can you tell us about the full length? Are you recording here in town? Are any songs from the EP going to appear on the new album?
Scott: I'm sure we will record in town and yes most, if not all of the songs from the ep will be on the full-length, re-recorded or digitally remastered by Jimmy Page.
Derek: Should be around 12-13 tracks long. We will probably record in town and all the songs from the demo will be on it.
Shawn: Scott will do standup in between tracks to make sure the album has that live sound we are looking for. And that ain't no EP; it's just a demo. You should ask for a partial refund if you thought it was an EP. Probably most or all of those songs will make it on the album.
Do you have any plans to tour in the fall?
Scott: We would like to do some out of town shows. Maybe the record may open some doors for us to travel a bit.
Derek: Not yet, but it is not out of the question. Would be regional weekends as we all live the corporate life.
Shawn: Absolutely none whatsoever. We all have day jobs (and some of us night jobs too), as we are not hepcats. So touring for us will involve things like breaks in our various jobs and all of that stuff. Probably a real tour could happen in winter. I think tours are basically just for fun these days anyway, unless you sell a lot of T-shirts.
Anything else we should know about R6 Implant?
Scott: I guess we can tell people about the Bandcamp & Facebook page for selfless promotional purposes or something witty.
Derek: Better know a little math. Preferably algorithms.
Shawn: We are really desperate for approval. Come hear our band and then talk about it in polite terms even if you don't mean it.